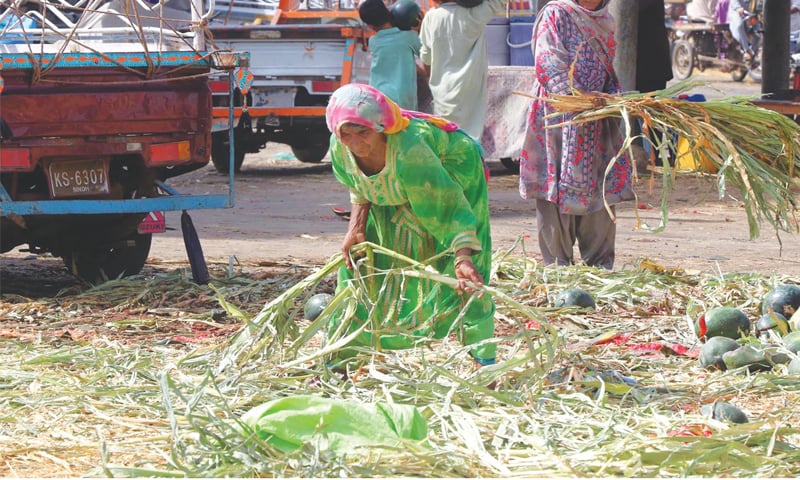 KARACHI: Various processions and numerous meetings were held by different organisations in the city, like elsewhere around the globe, to celebrate International Labour Day on Tuesday.
Trade union leaders in their speeches paid rich tributes to the workers of Chicago, who laid down their lives and fought against long working hours and less wages and demanded better working conditions, better wages, etc, over a century back.
The workers in processions throughout their routes were chanting slogans in support of labour rights and were also carrying banners inscribed with their demands.
A procession organised by the National Trade Union Federation was taken out from Regal Chowk.
It passed through various city roads and concluded at the Karachi Press Club and turned into a public meeting.
The NTUF leaders — Nasir Mansoor, Rafiq Baloch, Zehra Khan, Bashir Mehmoodani, Saeeda Khatoon, Saira Feroz — in their speeches condemned the capitalist system and said that on one hand it had increased poverty, unemployment and exploitation and on the other it created social, political and economic problems.
They said that overwhelming majority of the over six and a half million strong workforce in the country was denied right to collective bargaining and to participate in trade union activities.
They said that laws relating to minimum wages, eight-hour shift, etc were rarely implemented as majority of workers did not even get appointment letters so they had no access to social security and pension funds.
They said that workplace safety related rules and laws were not implemented properly as was proven in the cases of Ali Enterprise (Baldia Factory) fire tragedy and Gadani oil tanker disaster that had left hundreds of workers burnt to death.
They said that Pakistan had ratified 38 conventions of the International Labour Organisation but these were rarely implemented.
They said that industrialists and exporters were earning billions of rupees owing to the GSP Plus status granted by the European Union, but flouted the labour laws that they were bound to follow under that GSP Plus.
They demanded that minimum wages be fixed at Rs30,000; labour inspection system be revived; workers' rights as enshrined in the GSP Plus be ensured; trade union activities be allowed in all industrial units; contract system be abolished, etc.
Municipal workers
The central procession of the Municipal Workers Trade Unions Alliance was taken out from the Karachi Metropolitan Corporation's head office on M.A. Jinnah Road, which after passing through various city roads, including I.I. Chundrigar Road and passing along Shaheen Complex, concluded at the Karachi Press Club, where it converted into a meeting.
Various other processions of municipal workers were also taken out from DMC South, KMC Workshop, Machinery Pool Depot, North Nazimabad, Malir, Baldia Town, Korangi, DMC West and Shah Faisal zone which also after passing through various city roads joined the main procession and concluded at the press club and converged into the central meeting.
MWTA leader Zulfiqar Shah on the occasion demanded that all contractual workers be regularised, deceased quota and son quota be implemented, salaries and pensions be paid on time, utility allowance, project allowance, secretariat allowance, etc, be paid to all workers, etc.
Joseph Sanam, Shabbir Jadoon, Jan Mohammad Baloch, Yusuf Bhatti, Shakoor Tanoli and others also spoke at the meeting.
PML-N meeting
Speaking at a meeting, Pakistan Muslim League-Nawaz labour wing leaders Rahim Awan, Sabir Shah, Akram Malik and others said that while various facilities and better working conditions were being provided to workers in Punjab, the condition of workers in Sindh had not yet improved and their issues had not been solved and they were still facing hardships.
They claimed that owing to better and business-friendly policies of the federal government the economy of the country was picking up and job opportunities were increasing while workers were getting their benefits.
Published in Dawn, May 2nd, 2018