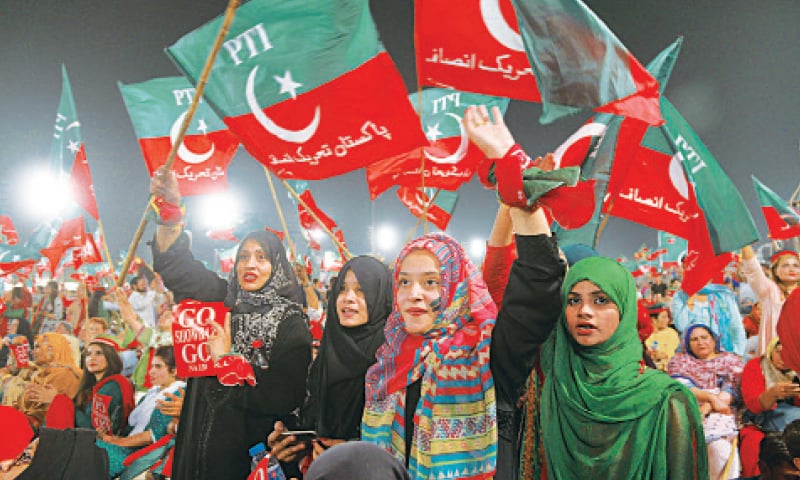 LAHORE: Carrying his four-year-old daughter on his shoulders, Muhammad Hanif seemed to have a spring in his step as he was moving towards the Pakistan Tehreek-i-Insaf's public meeting at Greater Iqbal Park on Sunday.
At the gate for the common visitors he was struggling to enter the venue because of rush. But once in, there was a palpable sense of relief on his face. Asked why he was risking the life of his daughter by choosing this gate to enter the venue instead of the one meant for women and families, he said: "I did not think of it because I was so excited. Now I have managed to enter... it is fine," said Hanif who came to the venue from Wasanpura.
Inadequate arrangements by police and party workers at the gate exposed the visitors to a stampede-like situation.
"I have come here to support Imran Khan believing himself to be the last hope for the country. He has raised a slogan against corruption and promised to deliver on every front. People should give him a chance," said Hanif who said he used to support Benazir Bhutto before the 2013 election.
The PTI jalsa was impressive in size and significance reminiscent of the sights of the mammoth gathering of the party on Oct 30, 2011 when its supporters saw a scent of hope in the air.
As expected this time too, Greater Iqbal Park was splashed with hues of red and green, and came alive with the participants of all ages. Men and women came wearing scarves and caps, and children had their faces painted.
According to estimates, Sunday's event was bigger than the one of 2011 and some PTI workers Dawn spoke to, attributed it to the fact that people had gathered from all over the country.
Contrary to the PML-N Quaid's claim that the youth had stopped following Imran Khan, the young people turned up in droves. The Azadi Chowk bridge was filled with people who secured prime positions after getting there in the afternoon to have a clear view of the gathering.
Apart from those inside the venue, a large number of people were outside looking for refreshments because most of them had arrived from other parts of the country earlier in the day.
Muhammad Ali, along with other party supporters, travelled all the way to Lahore from Skardu. "I was an old worker of the PML-N but I quit it because it created no job opportunities for the people of my area. Now we are looking up to Imran Khan to go by his commitments about provision of health, education and jobs."
Irfan, Azeem and Abdul Rehman, all residents of Jhelum, said they were undergraduate students and hoped that they would get jobs after completing their studies.
"I have come all the way from Jhang to attend this rally," said Mubashir Ahmed, a shopkeeper.
"Khan Sb's command is something we can't ignore." To show his love for the leader, Ahmed had chosen to wear sunglasses typically worn by the PTI leader. His wife and sisters accompanied him, both dressed in red and wearing green bangles. "I think he can bring about real change now," said the PTI supporter.
While the political climate seemed sedate in many parts of the city where shops were shut and no one was seen outside on the roads in other parts, people were still readying to join in rally by mid afternoon.
At PTI's Garden Town office a huge crowd of motorcyclists had collected along with three or four vans from an entourage from Sindh. Covered with party skins the vans spoke of promises that Imran Khan was making including "One Pakistan not two".
Near the venue were those cashing in on the opportunity by selling small party flags and other paraphernalia.
"Today people from all walks of life should come out to show that they have the power to vote," said Nargis, a schoolteacher. "This is how change will come... through us voters."
"There were the avid supporters who have now begun to use the new buzzword "khilari" or player, aligning themselves to the PTI party imagery. But apart from these "players" who had begun filtering in even around 1pm when sun was blazing overhead, there were some others who remained cynical supporters of the party but still wanted to see what the "captain" would say.
Elsewhere in the city though previous PTI supporters who did not attend the rally spoke about their disillusionment. "The 2011 rally had more excitement and a more organic feel to it than this one," said a university professor.
"The current situation seems a little forced even though a lot of people will be joining in. But the 2011 rally actually started a movement towards attracting more people especially the youth. There was promise, there was hope. Now it feels like more of the same," he said.
Earlier in the day Ferozepur Road and Raiwind Road were blocked with a constant stream of vehicles coming in. The heat of the day did not stop people from traveling this far even though there were some cases of people fainting or being dehydrated.
"We are braving the heat to make our point," said one man, "and our point is change."
Published in Dawn, April 30th, 2018