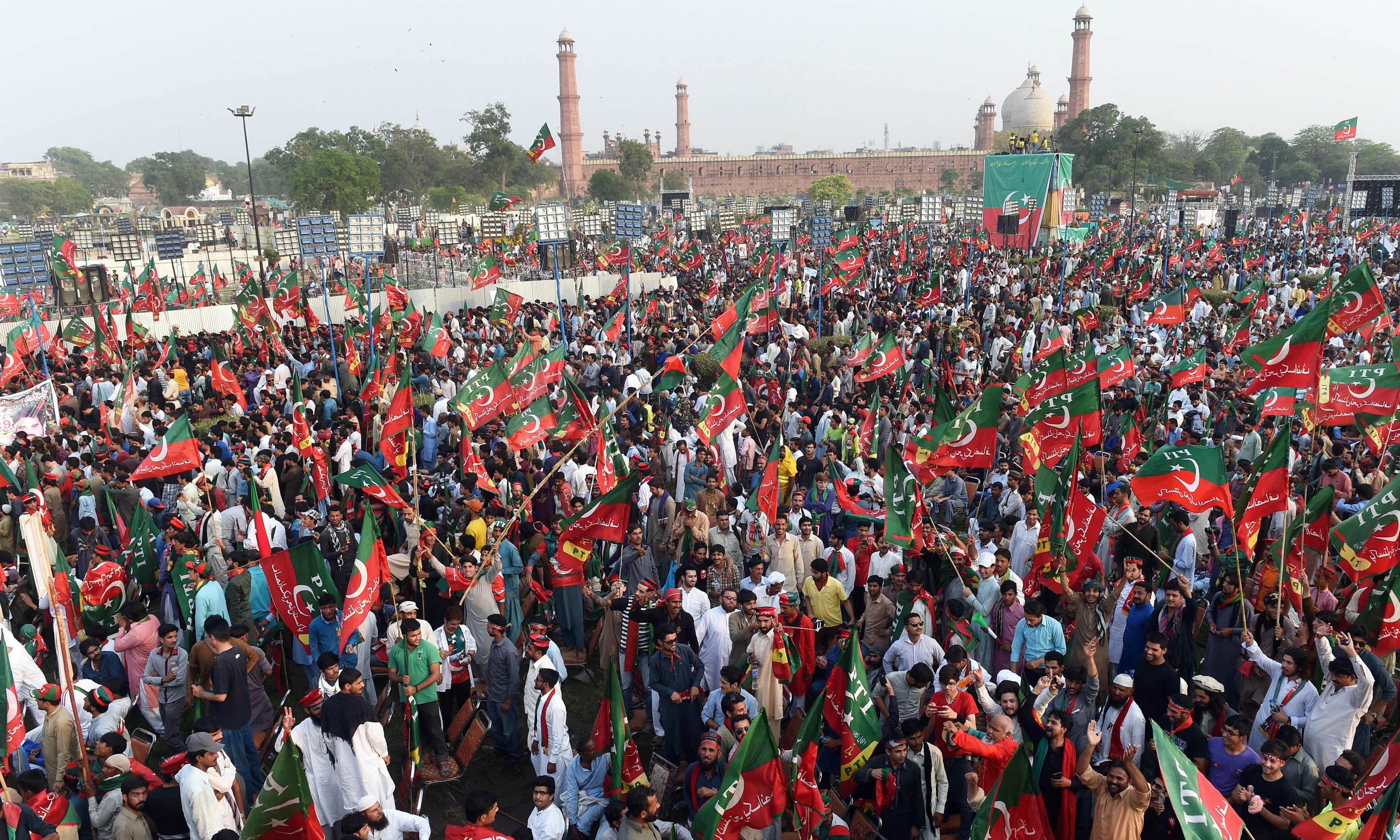 As elections inch closer, political parties are preparing to get a head start in their campaigns, with the PPP, Pakistani Tehreek-i-Insaf (PTI) and Jamiat Ulema-i-Islam-Fazl (JUI-F) holding their rallies in different parts of the country on Sunday.
'Mother of all jalsas'
The PTI is holding its gathering at the historic Minar-i-Pakistan in Lahore with "dou nahi, aik Pakistan" being the main theme of the event. Caravans have arrived from all over the country to join the rally, which is touted as being the main power show of the party in the city before the federal and provincial governments end their respective tenures next month.
Tens of thousands of PTI supporters and activists have gathered in Lahore as the party launches its campaign for July elections.
Chanting slogans for change and waving flags, PTI supporters gathered at Minar-i-Pakistan in great numbers, in the power base of rival and former Pakistan premier Nawaz Sharif.
PTI chief Imran Khan, while addressing the "tsunami plus" rally, unveiled his 11-point agenda which he claims will bring about the change the country sorely needs.
The PTI chief said that his 11 points "will make Pakistan one again (as he sees Pakistan having broken off into two - one for the rich and one for the poor) and uplift the poor sections of society".
1. Education
"No country has ever progressed without laying emphasis on educating its people," stressed the PTI chief saying that the current government has failed to provide its people with the access to education. He regretted that the country has dual educational systems and vowed to provide good education to all sections of society.
2. Health
The party, once in power, will ensure that health insurance is within reach for all and will implement a healthcare system for the facilitation of quality healthcare.
Imran mentioned that two days ago Shaukat Khanum hospital had cleared a very tough examination conducted by an international commission which subsequently awarded the hospital a "world-class" status.
He said, "75pc people are given free treatment and our doctors and nurses do not discriminate between patients."
3. Debt repayment
Imran said that the country is sinking further and further into debt and borrowing more to pay off old debts. He vowed that he will gather money from Pakistanis themselves to rid the country of its debt.
"They [Pakistanis] are infinitely generous when they trust someone, when they know it [the money] won't be stolen to make big mansions, when they know it will be used for their betterment," said Khan expressing confidence in the people to stand with him and his mandate.
The PTI chief also vowed he will strengthen financial institutions. "You will not have to ask for loans or beg or be humiliated or lose your freedom or dignity," he exclaimed.
4. Controlling corruption and money laundering
"Pakistan has reached this point due to corruption. I will strengthen NAB and will give more money to courts...we will strengthen FIA," he promised.
"Have you heard of any party who removes 20 elected parliamentarians [from the party] due to corruption?" he questioned the droves of people gathered to listen to him.
5. Industrial growth
"We will reduce taxes on exports to compete with India for investment and business," said Imran vowing that the party will provide investors with ease of doing business and good governance.
"Pakistanis abroad are our greatest assets," he said, adding that these measures will attract investment from Pakistanis living abroad.
6. Employment
Imran said that cheap housing, businesses, education, especially technical education is linked to employment. He said PTI will provide the citizens with technical education so that they can secure skill-based employment. For this they will build universities like the one in Haripur which will focus on providing technical education.
7. Tourism
Imran Khan said that tourism will bring much needed flow of funds and generate employment all over the country like it had in Khyber Pakhtunkhwa.
He said PTI will work towards developing hotels and amenities in serene locations. He promised to unveil four new locations every year to attract tourists from all over the world.
8. Agriculture emergency
The PTI chief acknowledged the importance of the farmer saying they are the backbone of our country and announced that the party had declared an "agriculture emergency".
He regretted that farmers work hard all year long and at the end do not get good rates for their produce.
He vowed to bring down the "sugar mill mafia" and promised sugarcane growers he will get them the money owed to them.
9. Strengthen the federation
Imran said that all provinces will be given their rights acknowledging the struggles faced by smaller provinces.
"As soon as we come [into power] we will announce a South Punjab administrative division and address all issues in that region."
He said Fata will be absorbed into KP and the people of the tribal areas, who have sacrificed immensely owing to the US war waged in the area, will be given due representation.
He said that PTI will implement a local government system in which direct election of mayors will take place like they do in other cities of the world.
10. Environment
Imran Khan said the party will ensure that every household in the country gets clean water. He said that their party will launch tree plantation drives as the one which recently took place in KP, in which more than 1 brillion trees were planted.
11. Women empowerment
The PTI chief said he will give importance to educating young girls. For every 100 colleges for boys, we will establish 30 colleges for women, he added.
Imran Khan said that they plan on establishing women police stations to facilitate the provision of justice for women. He further unveiled their plan to give rights in property sharing to women.
'Peaceful Karachi'
In Karachi, the PPP stepped up its efforts to gain space left vacant by the ouster of Altaf Hussain and the subsequent divisions within the Muttahida Qaumi Movement (MQM).
After years of negligible activity in the city's central district, PPP Chairman Bilawal Bhutto Zardari addressed a landmark gathering in FC Area's Tanki Ground on Sunday night.
Speaking at the rally in Liaquatabad, Bilawal said that Karachi's problems can only be solved "by one who loves Karachi, who was born and raised here".
Referring MQM as "Mustakil Qaumi Museebat" (Continuous National Trouble) the self-dubbed "son of Karachi" said, "The party [MQM] had failed to take responsibility for the city's woes. It asks people to vote for them but curses PPP for mismanagement."
He said MQM does not want to clean the city because their politics is "hung up on trash". Bilawal said, "The party [MQM] fears that if the city gets cleaned then their political grip too will be wiped away".
Recalling MQM's refusal to work with PPP, Bilawal pointed out "if they [MQM] are not willing to sit with us [PPP] and solve the problems [both parties have with each other], how will they solve Karachi's problems?"
Referring to PML-N, he said that "those wishing to turn Karachi into New York should first clean the gutters of Gawal Mandi". He said, "He who speaks of respecting the vote will no longer get respect".
Earlier, criticising the role of the MQM in the past decades, PPP Karachi President Saeed Ghani on Sunday said his party's leadership was born in Karachi and is "purely Karachiite".
"We assure the people of Karachi that we will not poll [fraudulent] votes by occupying schools [which serve as polling centers]. Our slogan is 'peaceful Karachi, sub ka Karachi'," he said expressing hope that the turnout would be larger than expected.
Meanwhile, the Jamiat Ulema-i-Islam-Fazl (JUI-F) is holding a conference in Mardan where the party's chief, Fazlur Rehman, as well as Jamaat-i-Islami's Sirajul Haq are expected to speak.
Pashtun Long March to Swat
The Pashtun Tahaffuz Movement (PTM) is meanwhile gathering at Swat's Kabal ground in continuation of its movement for basic rights and restoration of dignity of the people of Federally Administered Tribal Areas (Fata) and Khyber Pakhtunkhwa (KP).
Manzoor Pashteen, Ali Wazir and other prominent leaders of the movement are expected to speak at the jalsa. The movement will highlight the plight of missing persons and their families in the country.
With additional reporting by Mohammad Raza.