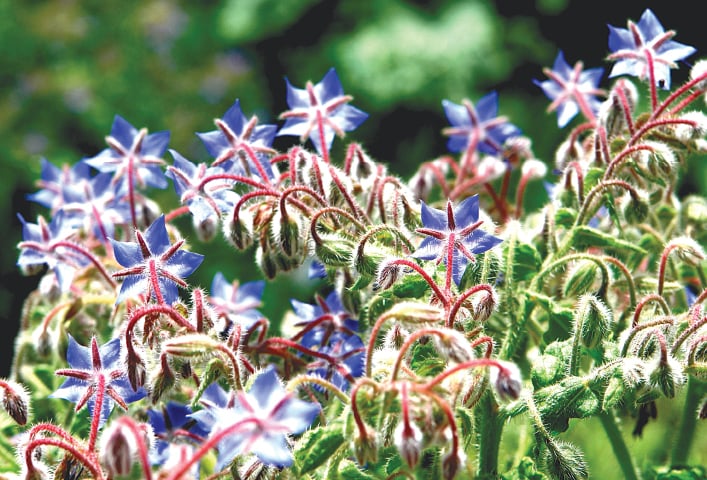 Q. I want to create a rooftop garden using plastic containers measuring three feet by three feet and three feet high. I am worried about the weight once they are filled with a mixture of sand, clay soil and manure. Can I use polystyrene (thermopore) in the soil mix to reduce the weight as I do not want the roof to come crashing down?
A. You can, but its weight must also be considered. It is always best to seek the advice of a structural engineer before investing in a rooftop garden or, at the very least, to ensure that planting containers/pots are carefully placed on top of the strongest sections of the roof; these usually are load-bearing beams which should have been designed to take a huge amount of weight. The use of polystyrene/thermopore renders edible produce un-organic but this, I guess, is the least of your worries.
Q. I planted an Amaltas in my Islamabad garden about four years ago. It gets plenty of sun, has grown quite tall and appears healthy but hasn't flowered yet. Please help.
All your gardening queries answered
A. Amaltas — botanical name Cassia fistula — can be finicky about coming into bloom, either deciding to put on its first floriferous show at the early age of two to three years or hanging on until the ripe old age of five to six years. It sounds like yours is waiting, so please be patient and wait, too. Tip: Now that it is fully established, do not water more than twice a week in summer and once a week in winter; overwatering, in this case, results in foliage not flowers.
Q. Can I grow borage, chamomile, chives and basil in Karachi? I brought the seeds from Australia but have no idea how or when to sow them.
A. All of these can be sown in autumn or, you'll be pleased to know, right now. Sow seeds at a reasonable distance apart, just under the surface in good quality, well- draining — preferably organic — compost in seed trays or pots. Keep in a sunny spot, water daily but do not drown them, and germination should be fairly rapid. Once seedlings reach approximately two to three inches in height, carefully transplant them into either prepared garden ground, preferably a spot where they get no more than four hours direct sunshine as temperatures will soon be climbing, or into a suitable array of pots/containers to be placed here and there. Borage seedlings are quite large and fast-growing and easy to plant out individually, and the same goes for basil. But both chamomile and chive seedlings are finer and best planted out in small clumps. Basil, being a sun lover, will take more hours of sunshine per day than the other herbs mentioned here.
Q. Can the following seeds be grown in Karachi: Bonsai blue Mestasequoia, Bonsai Azalea, Bonsai pink Camellia, pink rose tree, Japanese flower seeds, Phalaenopsis orchids and white wisteria seeds?
A. Mestasequoia is a Chinese Dawn Redwood tree which can achieve a height of 50 metres and more and whilst the seed packet may suggest 'Bonsai' this is certainly not the case. Bonsai trees/plants are trained, branch and root-pruned, into the botanical art form known as Bonsai and it can take many, many years to produce an acceptable specimen. There is no short cut and no actual Bonsai seed. The seed may be of a species suitable for Bonsai training but that is it. The same applies to the Azalea and Camellia seed you mention. None of the aforementioned species are liable to perform well, even if left untrained, in the Karachi climate.
Rose seeds are very difficult to germinate, requiring periods of freezing then heat then freezing again, and not recommended in Karachi. Depending on exactly what the Japanese flower seeds are, they may or may not be suitable; this cannot be ascertained without full information. Wisteria though can be grown from seed in Karachi but is liable to take five to seven years before flowering. Not having personally grown orchids from seed, I suggest that you contact the Karachi Orchid Society for expert advice regarding Phalaenopsis germination and care.
Q. I have been enjoying juicy maltas from my tree for the past seven to eight years. Lately, though, the fruit is either very low in juice or is completely dried up. Please advise how I can resolve this issue.
A. Tree nutrition and regular, heavy irrigation are the answers.
Q. Should I try growing olives in Sialkot? If so, where can I get saplings and where can I obtain useful information on growing them in this particular area?
A. Worth a shot. Contact your local agricultural department for saplings and localised advice or do a Google search for the Olive Society of Pakistan.
Q. Should seeds be covered with polythene when sowed in cold weather?
A. It depends on the seed species being propagated, some require exposure to cold but others do not.
Q. What is best for decomposition — fresh cow dung or dried cow dung?
A. Dry cow dung is older and, therefore, decomposes faster.
Please continue sending your gardening queries to zahrahnasir@hotmail.com. Remember to include your location. The writer does not respond directly by email. Emails with attachments will not be opened. Commercial enquiries will be ignored.
Published in Dawn, EOS, March 11th, 2018