The Potohar region is one of the oldest in the world, and requires a lot of archaeological work, while cultural and archaeological sites in Rawalpindi and Islamabad need protection and preservation, Dr Ghaniur Rehman, the director of the Taxila Institute of Asian Civilisations (TIAC), said.
TIAC is a department of Quaid-i-Azam University (QAU), which offers MPhil and PhD programmes in archaeology.
The department's museum includes several showcases that offer glimpses of the evolution of human history. While discussing fossils exhibited in one of the showcases, Dr Rehman explained that these fossils are said to be millions of years old.
Dr Rehman explained that after passing through various stages, human beings developed the Indus Valley Civilisation. He said the Stone Age had three sub-stages, and in the last stage human beings developed villages.
"In the third stone age period, man found villages to live together instead of nomadic life. In the fourth stage, the villages were developed into towns and in the next stage the towns developed into big cities in the Indus Civilisation, such as Mohenjodaro and Harappa," he said.
Another QAU faculty member, Dr Sadeed Arif, said the Potohar region has a number of archaeological sites that need preservation and research.
In Rawalpindi, he said, there are pre-partition temples and historic buildings that are illegally occupied or being used for other purposes.
"The government should take steps to preserve all historic buildings and archaeological sites," he said, adding that in Islamabad, a baradari, a temple in Saidpur and other sites such as the Shah Allah Ditta caves, have been left unattended. No steps are being taken to preserve such historic assets which, if preserved, could boost tourism, he said.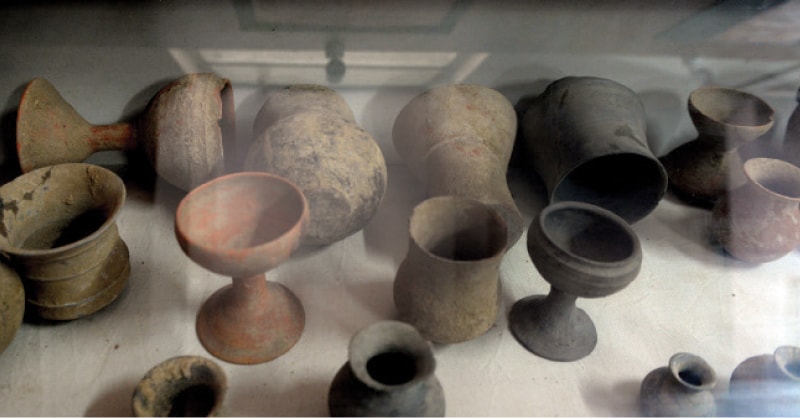 While discussing the TIAC, QAU faculty members said the institute was established in 1967 as a centre for the study of the Civilisation of Central Asia.
Renowned archaeologist and historian Dr Ahmad Hasan Dani, known as the father of archaeology in Pakistan, served at the institute for a long time, during which he carried out valuable research.
After launching its MSc programme in 2010, the TIAC also began offering a four-year BSc programme in archaeology, in which more than 60 students have been enrolled.
Dr Sajid Awan, a student of Dr Dani, said archaeology was the baseline of all social and natural sciences.
"Let me appreciate the research work of TIAC, but I would say that there is a dire need of modern scientific archaeological labs in TIAC and other such institutes, as unfortunately our researchers, in this modern age, still do carbon dating, which is the oldest and conventional method," he said.
Sources in the university said that although QAU has been producing a large number of graduates, students are finding it difficult to find work after they leave university.
"There is a need to introduce this important subject at the college level across the country, so that graduates in archaeology get a chance to work in the government sector," said a student.
Dr Rehman, agreeing that the subject does need to be introduced at the college level, argued that there is still a lot of scope in the discipline. "Currently, six of our former students are in European countries," he said.
Published in Dawn, January 7th, 2018