I met Kareema at a community centre in Canada over a cup of qahva, an effective ice-breaker which she made and then served me.  We exchanged greetings and introductions. She had moved to Canada from her hometown Kabul a decade ago. She had invited me to help her prepare a nazr (offering) that she was going to serve to hundreds of people at the community centre.   
When I entered the centre's kitchen the following week, Kareema and her family members were working their magic on enormous cauldrons of food bubbling in various stages of cooking. The menu was a popular Afghan combo: Kabuli pulao, qorma-i-sabzi (vegetable curry), grilled murgh (chicken), kachalu (potato wedges, parboiled and then deep fried) and fresh salata (fresh salad of tomatoes, cucumbers, carrots and iceberg lettuce). She had spent the night in the kitchen cutting, chopping and dicing the ingredients in a labour of love. There were enormous quantities of spices, some of them quite expensive such as cardamom powder and saffron threads.
Kareema motioned to me to join her in making maleeda, a typical Afghan dessert. In a huge pot she poured in vast quantities of flatbread (made from all-purpose flour and whole-wheat flour) ground to a fine powder. Into this powder, she added roghan (oil), sugar and cardamom powder.  I quickly noted down the ingredients, but when I asked her about the quantities, she gave me a bemused look. There was not a spoon in sight. Sleeves rolled up to her elbows, she used her years of experience and her hands as measuring and mixing spoons, tossing in and mixing the ingredients with gusto. I marvelled at the sheer amount of work that must have gone into first making all those flatbreads, then grinding them all to powder.
An Afghan couple cooks a feast to serve their community in Canada 
In preparation for the Kabuli pulao, there were scores of large colanders heaped with fragrant basmati rice parboiled in saffron and bayleaf water. Kareema's husband lined the base of a deep vat with a sheet of aluminum foil, greased it with cooking oil and then placed large pita breads on the foil to make a base. On this base, he laid a smooth layer of the rice from the colanders. Kareema stood beside him with a jug of each of the oils from the fried chicken and the spinach curry, and a bowl of cardamom powder. After every few colanders were emptied into the vat, she would sprinkle the two oils and cardamom powder like she was casting a spell over a cauldron. Once again there was not a spoon in sight, except for the giant ladles taller than the chefs wielding them. Pros don't need measuring spoons. 
When the last colander was emptied and all the layers had been assembled, Kareema made five holes in the rice, down to the bottom of the vat, with the handle of a wooden spoon that was bigger than her. "This is to let the steam out, so that the rice doesn't become soggy," her husband explained with gestures when I asked what she was doing. They covered the mouth of the vat with a cloth, to absorb moisture from the steam, and sealed the vat with a fitted lid, then motioned to me to contribute some manpower to heave a pot, weighing a ton, on to the lid for pressure-cooker effect.
In a while, the Kabuli pulao was ready to be served — a heavenly mix of crisp and silky rice, warm spices, soft and sweet sultanas and toasted nuts.   
To garnish the rice, Kareema had prepared trays of julienned, caramelised carrots; blanched, slivered and toasted almonds and pistachios as well as toasted aromatic sultanas.  
When the rice was emptied from the vat, the bottom of the vat yielded the crispy base, the tahdig. Kareema's husband gave me the delicious task of breaking this crust into pieces. Since I had been dreaming of tahdig, this was like manna falling into my lap. I peeled off the steaming foil from the crust, tearing it into smaller pieces and discreetly eating more than my fair share of this delectable, buttery, delicately fragrant crust.   
For gravy, there was qorma-i-sabzi, a spinach stew. This is made by sautéing onions in olive oil till they are tender, then adding crushed garlic, salt, cracked black pepper; turmeric, coriander and cayenne pepper powder and stir-frying the spices. To this spice mixture, you add chopped spinach, cilantro, parsley, whole green onions, and dried dill, then braise the greens, stirring occasionally and adding oil and beef broth as needed. The greens are slow-cooked till they become tender and reach a creamy consistency.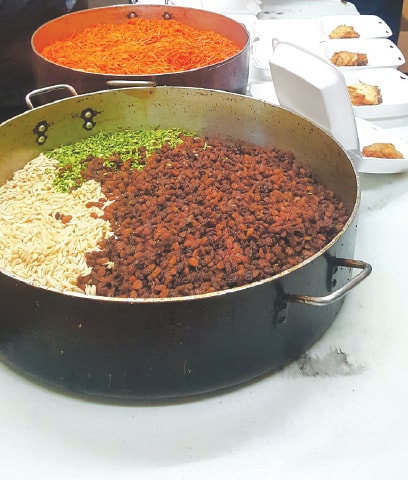 To prepare grilled murgh, chicken quarters were rubbed with a rich spice mix that includes salt, ground black pepper, cardamom, cayenne pepper, cumin, coriander, turmeric powder, lime juice, drained yoghurt, cashew nut paste and ginger and garlic paste. The chicken pieces are pricked all over and left to marinate for up to six hours, then browned on all sides in heated oil, and finally grilled until fully cooked with crispy skin. The kachalu and salata were the sides of the day.
Finally, the guests began to arrive. In a traditional Afghan setting, guests are seated on the carpeted floor and served endless rounds of fragrant qahva in dainty glass cups, accompanied by endless rounds of sweet appetisers that include several varieties of dates drizzled with honey and coconut flakes, gaz (date biscuits) and various forms of pastries and halwa. It is a homely affair, and often the guests help in serving as well.
When the guests had been served and the prayers had started, it was time to rush back to the kitchen and pack the food in boxes. We made an assembly line and layered the food as fast as our hands could move: first the pulao, then a dollop of sabzi, a piece of murgh on the side, topped with kachalu and a sprinkling of carrots and nuts. The salata and maleeda were in separate containers, and the tahdig was served on a tray. Soon we had prepared more than a hundred food boxes. Serving the delicious, hot, free meals on a cold autumn night was food for the stomach and the soul.
Published in Dawn, EOS, December 31st, 2017