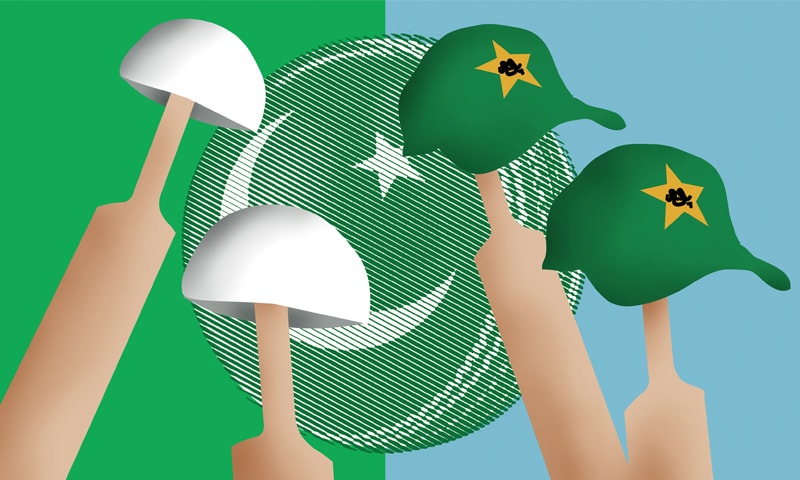 At this year's prestigious ICC Champions Trophy in England, the Pakistan cricket team was the lowest ranked squad. Yet, after losing its first game against India, it exhibited one of the most remarkable turnarounds in international cricket. As if out of nowhere, it went on to defeat the much higher-ranked sides in the tournament before completely annihilating archrivals India in the final.
Led by a new captain, Sarfaraz Ahmed, the team carried a large number of young players, many of whom were hardly heard of just a year or two ago. Almost all of them had emerged from the two editions of the Pakistan Super League (PSL) launched in 2015 by the current Chairman of the Pakistan Cricket Board (PCB) Najam Sethi. "For quite a while, a Pakistan cricket team hadn't played this kind of exciting and tide-changing cricket which they were once known for," commented a British broadcaster after watching Pakistan win the tournament. He was right.
Between the late 1970s and 1990s, Pakistan cricket teams were considered to be some of the most exciting and unpredictable sides in the world. Suddenly, raw talent was flung into the international cricket arena. Some of it would drown and some would stay afloat, eventually reaching the heights of sporting stardom. Most of these Pakistani teams during the abovementioned period were largely driven by impulse, instinct and an attitude which saw them flaunt their cricketing abilities with reckless abandon.
Corporate interest generates exciting cricket while players become more professional, keeping all sorts of controversies at bay
But all this was a double-edged sword. While this scenario produced some rather spectacular cricketing feats and sights, it also made these Pakistani teams equally volatile. They became vulnerable to the temptations of some unsavoury practices such as match-fixing, players' rebellions, dressing-room intrigues, etc. Yet, none of this was unique to Pakistan cricket.
In the last episode of his nine-part series on the history of American baseball, celebrated documentary filmmaker Ken Burns explored how, in the flamboyant decade of the 1970s, major-league baseball teams in the US became extremely exciting to watch. But Burns also showed that concurrently many players got embroiled in various money and drug-related scandals.
Donald Hall, too, in his book Dock Ellis in the Country of Baseball looks closely at the double-edged wonders of major-league America baseball in the 1970s. Teams began to play the most exciting and flamboyant type of baseball and produced enormously talented players, many of whom were almost treated like rock stars. A lot of them also began to behave like rock stars. In the 1970s, this often meant that a player's colourful and impulsive attitude towards playing baseball often mirrored his equally colourful lifestyle. A number of them lost control and ended up on the wrong sides of the law and life.
As we shall see, the example of 1970s American baseball is an important one in the context of this article. Former Indian batsman Sunil Gavasakar writes in his 1977 book Sunny Days that it was under Ian Chappell that the Australian team began to change the way cricket was played. According to Gavaskar, from 1970 onward, Chappell and his men began to wear their hair long, didn't bother "to properly button up their shirts", and, above all, introduced a tactic which began to be known as "sledging."
Sledging involved a bowler and the fielding side trying to unsettle a batsman by passing rude comments, curse words and sardonic jibes at him. Chappell's fast bowlers would chug beer in the dressing room and openly comment that they loved to see a batsman's blood on the pitch. Chappell who was also a fan of American baseball, had picked all this up from the way major-league baseball teams were changing shape in the US in the 1970s.
The Pakistan team (under the gentle Intikhab Alam) had faced the wrath of Chappell's men in 1973, losing all three tests. Later in 1976, Pakistan expected the same. Now under Mushtaq Muhammad, Pakistani players were badly sledged during the first Test. In response, the Pakistani vice-captain wrote a scathing article titled "The Ugly Australians". Mushtaq Muhammad in his 2005 autobiography writes that by the second Test, his men had quickly learned (from the Australians) "the art of sledging". Mushtaq writes that he gave his players a free hand to sledge back — a "mission" mainly led by Javed Miandad and Sarfaraz Nawaz. Pakistan squared the hot-tempered series by winning the third test. Mushtaq writes that this is the point from where Pakistan cricket changed (for the better).
This aggressive and flamboyant style of cricket born during the 1976 Australian tour evolved further through the 1980s and the 1990s, especially under the captaincies of Imran Khan, Javed Miandad and Wasim Akram. And just as had happened in American baseball of the 1970s, this on-field flamboyance was mirrored in the players' many off-field antics. But, alas, the levee broke and Pakistan cricket was flooded by match-fixing accusations, drug-related scandals and serious dressing-room intrigues.
Former chairman of the PCB Shahryar Khan alludes to this in his 2013 book The Cricket Cauldron. He wrote that when Inzamamul Haq became captain in 2003, he introduced a heavy dose of religiosity in the team to undermine the squad's flamboyant but volatile culture. Shahryar Khan writes that since Inzamam believed that the previous culture had led to disaster, he used faith as a controlling tool and a way to strengthen his own position as skipper.
But many cricket experts have lamented that this tactic turned the Pakistan cricket team into becoming docile, distracted and unevenly split between cricket and the players' new-found interest in faith. Despite inculcating the 'fear of God' in the players, some of them could still not be kept away from spot-fixing and dressing-room intrigues.
When he became skipper in 2011, Misbahul Haq, too, found a solution by offering a much-sedated approach. However, not only did he do this by largely pulling back the faith factor, he did so because by then Pakistan cricket had become completely isolated due to the 2009 terrorist attack on the Sri Lankan team in Lahore. Misbah had no option but to take things slow and remain cautious. He eventually became the country's most successful Test captain, but Pakistan suffered in the shorter formats of the game which had become too frantic for Misbah's cautious ways.
In the 1980s, corporate money had helped streamline American baseball's misfiring passions, bringing in more professionalism but, without stemming the innovative and flamboyant manner, the game had also begun to evolve in the 1970s. I believe the same has begun to happen in Pakistan cricket. Heftier corporate interest (PSL) encourages the players to play more exciting cricket because now the audiences are not just crowds, but consumers generating money for the sponsors. This kind of professionalism will also make sure that the players become brands and look after themselves as brands, keeping away from any political, social or even religious controversies. This should be encouraged.
Published in Dawn, EOS, November 5th, 2017