THE WEEK THAT WAS
Piyari Bitto | Express TV, Saturday 8.00pm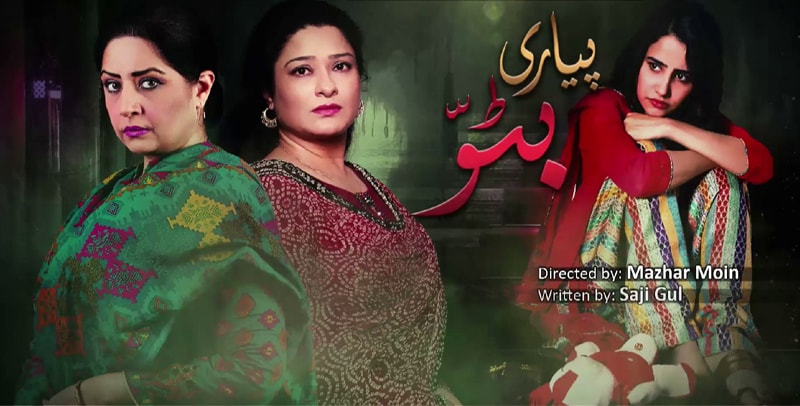 If the preamble about a clueless Shakira (Sania Saeed) struggling with her memory before the story goes into flashback wasn't so stretched, the kick-off of the much-hyped serial wouldn't have been so watered down. The first half of the first episode could easily have been cut. Three episodes down, director Mazhar Moin and writer Saji Gul test our patience as the four main characters — sisters-in-law Shakira, Shakeela (Atiqa Odho) and Rukhsana (Farah Shah) and their problematic niece Bitto (Saniya Shamshad) — are gradually introduced. But the characters are dark and real and there's promise ahead. While the Sania-Atiqa comeback in a drama serial may be the main attraction, Farah Shah and Saniya Shamshad may just steal the show here.
Alif Allah Aur Insaan | Hum TV, Tuesday 8.00pm
Perhaps the most meticulously produced serial, this is a milestone for Imran Ashraf and Ushna Shah. Ashraf as the transgender-turned-barber-turned-stylist is immaculate in his role that could so easily have gone overboard. Beggar girl Ushna Shah upgrades her life as a courtesan's maid and later poisons the cruel woman to transform herself into the beautiful Rina Begum. She is all set to fulfill her dream of walking on money by becoming an actress. Ushna doesn't let her beauty eclipse her talent for acting as well as dance. Director Ahson Talish also got Kubra Khan to show some emotion instead of her usual focus on snappy line delivery. Adept at courtesan culture nuances (Umrao Jaan, Geo TV), Ahson Talish is doing some fine direction and even appeared in a cameo a la Subhash Ghai in an episode, marking an important turn in the story that continues its steely grip on viewers.
What to watch out for
Mein Akeli | Geo TV, Wed-Thurs 9.00pm
Sunita Marshal and husband Hasan pair up on-screen for the first time ever in Geo TV's Mein Akeli. After a memorable performance as a young, single mother in ARY's Naimat last year, the dusky damsel has our hopes high as she plays Zara, the sole breadwinner of a middle-class family whose life gets even more complicated when she is conned into marrying a devious and jobless man played by her real-life hubby. Sister Banita is also part of the cast but we can't wait to see some on-screen chemistry between Sunita and Hasan.
Published in Dawn, ICON, September 24th, 2017