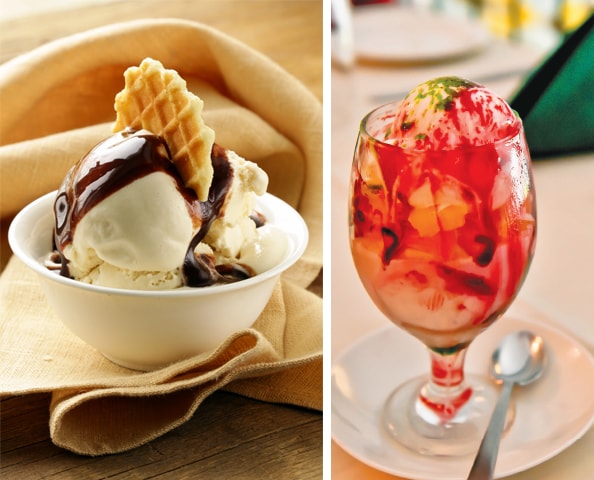 With Karachi's never-ending summers, it's always good idea to go and cool off with a bowl of ice cream; after all what can be better than indulging oneself with a trip to one's local parlour? And there's something about this concoction of cream, sugar and flavouring that's nostalgic. Everyone, after all, has a favourite childhood memory of ice cream — whether that's buying a choc bar from their local school canteen or heading out with the family to the local, neighbourhood spot to devour a swirl of ice cream served in a sugar cone.
For the previous generation of ice cream-lovers the choice often stopped at soft-serve ice cream in three flavours: vanilla, chocolate and strawberry but those days are gone. Now, one is spoilt for choices, from unusual flavours such as injeer and green tea to experience: you can watch your ice cream being made in nitrogen in front of you or watch it juggled; and you can pick and choose what you want to a T. But who has the most divine chocolate ice cream and which has the most unsual flavours in town? Eos has compiled a master list of where to go…
THE CLASSICS
Peshawari Ice Cream
First formed in 1948, Peshawari Ice Cream is still tucked away in its original location near Empress Market. You'll find it busy whenever you go, even on an afternoon on an odd weekday and it's one of the only places in the city where you'll find unusual and delicious flavours such as injeer and sharifa.
We pick the best ice-cream parlours to satisfying your inner sugaraholic
According to our server the most popular flavour are Pista and Peshawari but it's the other ones (besides injeer and sharifa of course) that are worth a trip such as kajoo, pineapple, rose jelly, tutti frutti, zafran almond and mango (the type of mango used changes throughout the summer — anwar ratol, saroli and dasehri ice cream is made through the mango season). The specials that stand out are the Mango Special (scoops of mango ice cream along with pieces of chaunsa mango and jelly) and Peshawari Surprise, a generous serving of scoops of pineapple, Peshawari and kajoo ice cream topped with kajoo, almonds, pistachios, pineapples, injeer and red cherries. The best thing about Peshwari Ice Cream is that they use fruits that are in season so every time you go, there's a different flavour for you try.
Bang for your buck: The Peshawari ice cream is priced at 90 rupees per glass and the other flavours at 100 rupees per glass (around two scoops), it's a very generous serving at a very reasonable price.
Shezan Ampis is one place that'll take you back to the glory days of the '70s. They have three basic ice cream flavours: strawberry, chocolate and vanilla but no one does specials like them. Shezan Surprise with its generous helping of fruits and nuts is a delight and the Chocolate Nut Sundae is chocolate deliciousness in a bowl.
Bang for your buck: A scoop will set you back 200 rupees per scoop and the specials start at 350 rupees but it's worth every paisa
Tucked away in Khadda Market, Ebby by Majeed Ice Cream is easy to miss and usually only serves three to four flavours at a time and only in litre packs. Pistachio, Pink and White and Mango shall all make you nostalgic and put you in a sugar coma.
Bang for your buck: One pack costs Rs 650-750 rupees and you'll have to hunt a bit before you can find this hole-in-the-wall gem but the ice-cream more than makes up for it.
If you've been to a wedding in Karachi and had ice-cream, you were most likely served Ice Berg. Skip its parlour in Saddar — the individual servings are nothing to write home about — but its specials, sold in litre packs, are worth buying. The company makes mouth-watering chiku, mango and Sicilian ice cream and is ideal to store in the freezer for craving emergencies.
Bang for your buck: Starting at 170 rupees for a litre, Iceberg has one of the most reasonably priced ice creams in town.
Hidden behind one of the most popular nihari eateries, Shabbir has been serving the local community for the past 25 years. No ice-cream is sold in scoops instead you have to get litre packs — their standout flavours include Gateau Parfait, Rose Rabbri, Pista and Zafran. You'd have to head all the way to North Nazimabad to get your dose of ice-cream but make it into a trip and stock up for the month.
Bang for your buck: At 170 rupees per litre pack, a trip to this hole-in-the-wall eatery will be worth your while.
THE FANCIER SPOTS
One of the few upscale ice-cream eateries that are still around from the '90s, Gelato Affair has every flavour you can possibly imagine — from grape and bubble gum to dark chocolate. Granted some of their flavours are a hit-and-miss but they do some really well including Bounty, Date and Nut, Dark Chocolate, Mocca Magic, Strawberry and Twicks. It's also the first parlour to introduce gelato and those to-die-for waffle cones to Karachiites.
With a dizzying number of options, you'll be spoilt for choice but there's something for everyone at this well-known parlour. And you can't go wrong with their specials such as Safari Break and Cookies 'n' Mint Sundae. It's also the only place in town — besides Mövenpick — that serves that good old classic, Peach Melba (and yes it's delicious).
Bang for your buck: Specials start at 239 rupees and it's also the only ice cream parlour in the city where you can get every flavour under the sun.
For the previous generation of ice cream-lovers the choice often stopped at soft-serve ice cream in three flavours: vanilla, chocolate and strawberry but those days are gone. Now, one is spoilt for choices, from unusual flavours such as injeer and green tea to experience; and you can pick and choose what you want to a T.
The one place in town where you can get a variety of intensely-flavoured ice creams is at Mövenpick: from espresso (which does taste every bit like a cup of caffeine) to hazelnut, no place captures the flavours quite like this high-end eatery. The parlous does a good job with conventional flavours such as strawberry and chocolate but the other ones to try (besides the ones mentioned above of course) are: pistachio, mint, macadamia, raspberry and crème brûlée.
There isn't much that you won't like at Del Frio —pick from any of their many flavours (Chocolate Fudge and Belgian Chocolate always hit the spot) or from their specials such as Sweet Explosion, Classic Hot Fudge or Nutty Dream. And did we mention their delicious waffle cones?
Bang for your buck: At a very reasonably-priced 135 rupees a scoop, a trip to Del Frio is light on the wallet and pleasing to the taste buds.
You really can't go wrong with anything you choose at Boston Creamery. Located in Ocean Mall's food court, you'll spot a lot of children lined up for a treat — and that's for a good reason. The parlour does some really fun flavours such as Cheerfully Chikoo, Raspberry Ripple and Praline 'N' Cream, the staff are friendly and their waffle cones are exquisitely crunchy to boot.
Bang for your buck: A single scoop costs 200 rupees but you won't regret spending it.
Coldstone Creamery is an ice-cream lover's dream. Name any dessert under the sun and you'll find it in ice-cream form at this parlour; Coldstone churns out ice-cream pies, ice-cream cookie sandwiches, ice-cream cupcakes and ice-cream cakes. The texture of the ice-cream is the most interesting you'll see and if you're a sugaroholic, this is the place to be.
Don't bother having just a scoop of ice cream — what are worth digging into are what the parlour has dubbed 'special creations'. Germanchökoltekke, Peanut Butter Cup Perfection and Cookie Doughn't You Want Some are a delight but really you can't wrong with anything on the menu. Their waffles are crunchy and delicious and they even do a waffle cup. The cherry on top of the ice cream — if you ask the server, they might juggle ice cream for you. What more can an ice-cream aficionado want?
Bang for your buck: Good ice cream doesn't come cheap and Coldstone Creamery is a reminder of that. One scoop of the 'special creations' shall set you back 330 rupees but it's worth splurging on for once in a while.
Hotspot was once the place to go if you were a teen craving dessert and it was one of the first places in town to really go out of your way to indulge your sweet tooth. There are countless specials and flavours to pick from including The Premuim Ice Cream Sundae and they do a good job with flavours such as Dutch Chocolate, Nutella and Caribbean Cappuccino. With its famed décor of retro film posters at Hotspot you get to satisfy not just your inner sugaroholic but also your inner movie buff.
Bang for your buck: A scoop with set you back 290 rupees but it's worth making a trip Not purely an ice-cream parlour Lals is, nevertheless, is well-known for its gelato and does some flavours well including Belgian Chocolate, Pistachio and Mango.
Bang for your buck: You'll have to shell out around 200 rupees for a scoop but one should treat oneself now and then
Tired of the usual flavours such as chocolate and strawberry and hankering for something different? There are plenty of options. Fuschia does a wonderful job of Thai-flavoured concoctions such as Japanese Green Tea Ice Cream and Thai Tea Ice Cream which has the added touch of chai patti. Chop Chop Wok does a delicious and satisfying Fried Ice Cream. Scream, the new Hotspot for Gen Z makes ice cream by dipping it in nitrogen. Pick a flavour and watch as the cooling wisps of the gas evaporate and your ice cream appears before you, ready to be devoured. The flavours that you'll get the best texture with are strawberry cheesecake and blueberry cheesecake; skip the rest.
And last but not least who can forget those childhood favourites — the soft-serve ice creams. Kababjis and Kaybees both are ideal places to get one and while the choice of flavours is often limited (usually chocolate, vanilla and coffee are available), nothing hits the spot like these swirls of deliciousness in a sugar cone.
Published in Dawn, EOS, August 27th, 2017