Former prime minister Nawaz Sharif on Friday resumed his road trip back to his hometown, Lahore, via the Grand Trunk (GT) Road after an overnight stay at a hotel located on the banks of the River Jhelum.
During the journey, he touched base briefly at Kharian and Lalamusa and stopped for a longer period at Gujrat in the afternoon to address supporters.
The Sharif convoy reached Gujranwala, its final destination for the day, at night, where he addressed a large crowd.
PML-N workers in Gujranwala had set up a stage and sound system for the former premier to address his loyalists.
According to the schedule issued by PML-N, Sharif will spend the night in Gujranwala and leave for Lahore in the morning. He is expected to reach Lahore at 4pm on Saturday.
'Nawaz Sharif is with you today'
"Nawaz Sharif is with you today," the deposed prime minister told his supporters in Gujranwala. "You elected him, did you not? They have removed Nawaz Sharif, but they cannot remove him from your hearts," he said.
"They've only removed me on paper. Is this removing me at all? [If it were up to you] you would make me prime minister again tomorrow. However, it is not my goal to be the PM again," he said.
"My case in Gujranwala's court is to find out why the people of Gujranwala think I was removed," he continued.
"Was it because I eliminated load-shedding? Was it because the economy was improving? Was it because people were getting jobs? Was it because roads were being constructed and factories were being set up?
"Or was it because peace was being brought to the country?" he asked, to a resounding "no!" at each question.
"These things did not suit them [the conspirators]," he continued. "They could not tolerate this. They were thinking: 'If this continues, Nawaz will be elected again."
"Tell me, people of Gujranwala: was this not what they were thinking," he asked to a resounding "yes!"
"There have been conspiracies for the past three and a half years. When our progress sped up, the conspiracies also sped up."
"There is [still] no allegation of corruption against me. There is not a rupee of corruption linked to my name — even those who disqualified me admit that," he claimed.
"Then why did they remove me?"
"I turned this country into an atomic power. Is this how you treat someone who did that for his country?"
"They removed me twice from power before; and this time, again, I was not allowed to complete my tenure," he railed.
"Does the vote of 200 million count for nothing?" he asked.
"If there is any value in your vote, you will have to hold these people accountable," he urged.
"Pakistan's 70th birthday is around the corner. You should take an oath to never let this happen again," he said. "And when the people of Gujranwala take an oath, they stand by it. I know," he said to loud cheers.
"All those who gave the verdict [against me], look at Gujranwala's verdict!" he raged. "They do not accept it!"
"Will you bring back Pakistan's honour?" he asked his supporters. "Will you demand that your vote hold its value?" he asked to resounding cheers.
"My heart beats with the heart of our youth. I will not rest till you get respectable employment in this country. I have come to set you alight today," Nawaz said.
"Come, let's change the Pakistan. Let's write a new history for our country!"
"O people of Gujranwala! I know you will not disappoint me. I have faith in you and I am proud of you. I will stand by you as we do it together."
"Take an oath today. Say, we will do this together!"
"Do you accept what I say? Answer me!" he roared, inviting loud cheers of "We accept!" and "We are with you!"
"I will give you my programme — will you follow me when I do?" he asked, inviting cheers of assent.
"This is our country. We will grow and prosper together," he promised. "We will fulfill all our hopes and dreams together."
"Fulfill your promise to me, and with your hand in mine, we will take this country to new heights," he said. "Say with me: God willing, we will do this!", he said, inviting cheers of assent.
Nawaz also expressed his grief at the death of a nine-year-old run over by his convoy earlier in the day. He promised that he would visit the child's family himself and provide them help and support throughout their lifetime.
"Stay happy and stay blessed, people of Gujranwala. You have kept my honour, and I will keep yours, God willing!" he said in conclusion.
Gujrat stopover
Before Gujranwala, the Sharif convoy had made a stop in Gujrat, where the former PM offered Friday prayers and held a consultative meeting with local workers.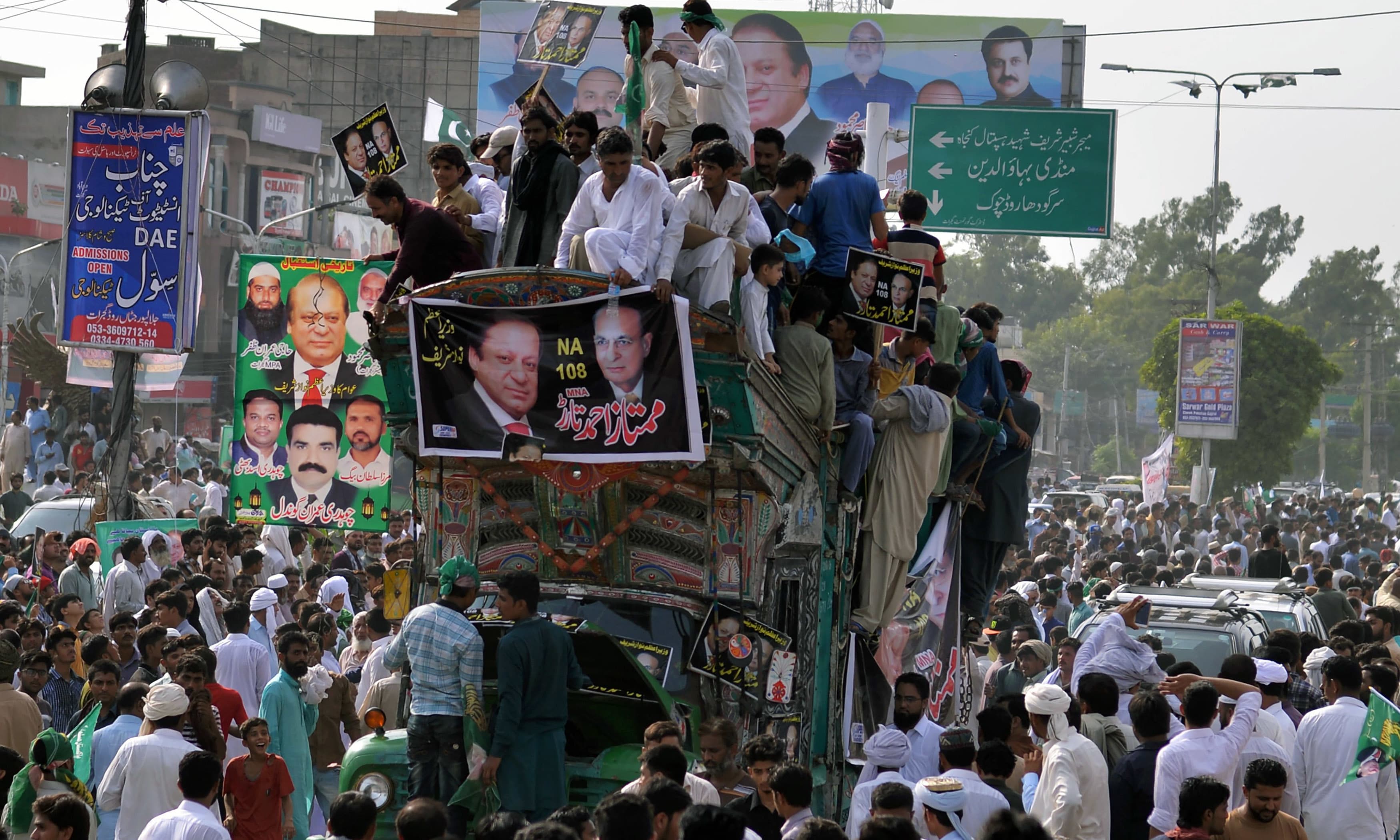 Preparations were made for him to address supporters at Gujrat's GTS Chowk.
"Lahore is not the final destination, it is just the first stop," PML-N's Talal Chaudhry had said of the party's plan. "This grand dialogue will move forward and the supremacy of the people will come into play," he had claimed.
'Wait for my message'
"I am back in the court of the people," Sharif had told his loyalists in Gujrat. "I have filed no appeal in the courts, my only appeal is in yours," he said.
"Have you accepted the decision of that [Supreme] court?" he asked.
"People accuse us of hiring people to attend our rallies. Are you for hire?" he asked, to which the crowd responded, "No!"
"Why did you people give me your votes in 2013?" he asked, reminding people of the promises he had made to them and attempted to deliver on.
"Today, your fans work. Your tubewells work, industries are running, agriculturists are in business, cities are alight ... Next year, we will say goodbye to load-shedding for good," he said.
"So why was I de-seated? Someone tell me how I committed corruption. There is not a single stain of corruption on me," he claimed.
"The judges themselves say that Nawaz Sharif has not committed any corruption," he added, echoing his speech from yesterday and the day before.
"They removed me because I did not take a salary from my son. What kind of father takes a salary from his son?" he asked.
"They took your votes, ripped them up and returned them to you," he thundered.
"This is the respect given to your vote. Your vote has not been respected at all," he said.
"Is this acceptable to you? How long will this go on? For 70 years, a mockery has been made of this country. I cannot bear it anymore. Can you?" he asked, reiterating points made in speeches over the past two days.
"This is the third time they have done this to me," he said. "First, a president removed me; then Pervez Musharraf, a dictator, removed me; and now the judiciary has removed me. Tell me, what should we do now? Should I sit at home? Or should I fight this injustice?"
"You do not want me to sit at home. You do not want me to accept this decision. What do you want me to do? Will you stand with me? Will you stand with me as I bring the nation out of darkness?"
"No one will be able to stop Pakistan from progressing, I promise you, but then you will have to do as I ask you to," he told them.
"This is about the honour of 200 million people, and no one will crush this honour under their foot," he said.
"Will you wait for my message?" he asked, to which the crowd responded, "Yes!"
Child run over
Sharif's rally was marred by the death of a nine-year-old child near Lalamusa, who was run over by an Elite Forces vehicle part of his convoy.
None of the cars in the convoy had stopped to take account of the child's injuries, DawnNews had reported.
The child was taken to a local hospital where he was pronounced dead. His father had fainted upon seeing his son's body and had also required medical attention. Initial reports suggested that he was being treated for a heart attack.
Convoy resumes journey on day 3
Nawaz Sharif was said to be in good spirits as he spoke to reporters in an informal setting before resuming his journey from Jhelum to Gujranwala on Friday.
Although there weren't enough supporters on the road earlier in the day, a satisfactory crowd had gathered by 10am, and the former PM seemed happy with the numbers, DawnNews reported.
As the convoy approached Kharian, anti-Nawaz songs could be heard played inside Kharian Cantonment, DawnNews reported. There was an estimated crowd of about 2,000-3,000 people waiting to welcome the procession in the area.
The convoy then moved onto Lalamusa, after which it proceeded to Gujrat, where DawnNews came across defaced posters of the former PM.
Reactions
PML-N leader Talal Chaudhry today, reiterating the ousted premier's statements, said Sharif has not set out to be restored to power, but is undertaking the rally to "end the insult to the people's mandate".
PPP Chairman Bilawal Bhutto Zardari, during a press conference today, claimed that "there is not threat to democracy or the system, but a threat to the person of Nawaz."
"Whenever there is a threat to democracy, we will come forward... The PPP has never supported the PML-N, but always supported democracy," he said.
"When in government, Nawaz Sharif forgets the Charter of Democracy and social contract but suddenly realises them later, which means that he is not genuine," he said, adding: "Had you [Sharif] taken up this narrative from the beginning, things would have been different... There is no role of the military and judiciary in Parliament."
Awami Muslim League leader Sheikh Rashid, speaking to DawnNews today, said that Sharif had only one day left to demonstrate "his show of power".
"You can push all you want, but ultimately, all you will be doing is issuing statements," Rashid said. "He is unable to specify what his mission is."
Nawaz's Jhelum address
The rally, which started on Wednesday, halted at Jhelum yesterday where Nawaz addressed his supporters at Sohawa Junction and levelled his harshest criticism yet against the judiciary.
Nawaz spoke specifically about the five judges who formed the full-bench of the Supreme Court and passed the verdict that disqualified him under Article 62 of the Constitution in the Panamagate case.
"I became the prime minister of Pakistan through votes, whereas five honourable judges sent me home. Only those who vote politicians into power have the right to depose them," Nawaz had thundered.
Apparently addressing the judges who had disqualified him, Sharif bellowed: "How will you answer your God? What answer will you give this nation? The people want answers to all these questions."
Police today arrested a 'suspicious individual' from outside a hotel, where Sharif spent the night. The man insisted on meeting the former prime minister, DawnNews reported.
Lack of planning in PML-N
A two-hour delay in Nawaz's departure from Rawalpindi a day earlier and his rush to reach Jhelum as the rally proceeded indicated a lack of planning and coordination within the ruling PML-N.
The rally was initially made to wait outside Punjab House in the hope of attracting more and more people, but when it did not happen, the convoy rushed out of Rawalpindi district, bypassing the planned stopovers in Rawat and Gujar Khan, disappointing the local leaders who had set up camps to receive their leader.
Interestingly, the vehicle Nawaz Sharif was travelling in sped up all of a sudden while passing through the constituency of former interior minister Chaudhry Nisar Ali Khan, making it difficult even for the other vehicles, including those carrying the personnel of protocol and security, to keep pace with it.
The former interior minister was present in the Parliament House when Mr Sharif's convoy was passing through his constituency, and attempted to shut down speculation over his absence from the rally yesterday.
Speculators said that the key spots were skipped due to low turn outs.
The PML-N supremo expressed his displeasure over the arrangements and asked Senator Pervaiz Rashid and Khawaja Saad Rafique to convey this to leaders of the party's local chapter.
According to local leaders, Nawaz Sharif made his anger known by not inviting any of the local leaders to the container except Chaudhry Tanveer and his son. He also did not mention the local leadership in his speech.
Nawaz criticised over rally
PTI Chairman Imran Khan took to Twitter on Thursday to criticise statements made by ousted prime minister Nawaz Sharif against the judiciary.
Imran challenged Nawaz that he can do whatever he can think of to shift the blame, "but in the end you can't avoid the sinking feeling that the game is over and you have lost".
The PTI chief also criticised Nawaz for taking refuge in the container and hiding behind a bulletproof glass. "Speaking from a bulletproof car doesn't inspire confidence in already-dwindling crowds."
Responding to the criticism levelled by the PTI chief, Sharif's daughter, Maryam Nawaz, replied to Khan's tweet saying, "Nawaz Sharif's struggle is bigger than all…".
"You [Imran] have lost it completely. Your heartburn is understandable. You're irrelevant," she said.
Tehmina Durrani, wife of Chief Minister Shahbaz Sharif, also shared a string of tweets targetting the rally, lending credence to the perception about rift in the Sharif family.
A day after requesting Nawaz Sharif to "spare Shahbaz Sharif the responsibility of protecting and assisting his own party's rally," Durrani went a step ahead on Thursday and held Nawaz's "immature advisers" responsible for his ouster.
Durrani also took on the advisers to Nawaz whose "ill-advice" caused him the unceremonious departure from the Prime Minister House.
"Nawaz Sharif Sahib you hired the most mediocre advisers. You rejected your most sincere, politically experienced and astute colleagues. Your advisers are immature, untutored in vision - your welfare and your role - they lost it for you. Pakistan is a complicated nation... they don't know," went another tweet.
It added, "Nawaz Sharif lost the opportunity of making Pakistan a social welfare state. I pray that Nawaz Sharif Sahib arrives home safely... and fires all his advisers."