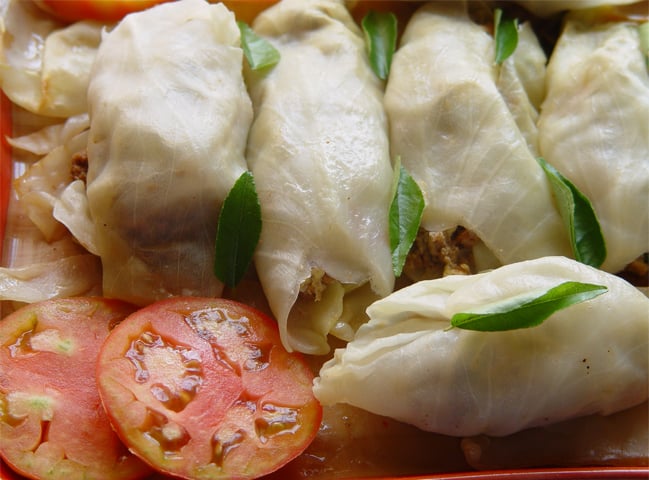 In summer, most people do not have an appetite for heavy food so the easiest food to prepare and eat is either salads or a cold entree that can accompany a main dish. Here are two healthy and delicious interesting recipes that you can make with a main dish. These can be served on a platter or served individually.
CHICKEN WITH WALNUTS (from Turkey)
INGREDIENTS
2 chickens, medium-sized, cut into big pieces
1/2 kg walnuts, coarsely chopped (keep two whole for decor)
125 grams bread crumbs
1 onion
1 carrot
White pepper (to taste)
Red pepper, a pinch
3 garlic cloves
Salt to taste
Dinnertime ideas to make your taste buds tingle
METHOD
Take a wide pan and boil the chicken in two cups of water, with onion, carrot, salt, and pepper.
When the chicken is tender, remove from heat. Discard the vegetables, and save the stock.
Debone the chicken and cut into small pieces.
In a food processor, grind the chicken with few walnuts, bread crumbs, garlic, red and white pepper, and salt. Add a little stock and more walnuts; grind more till it is pasty. Taste for salt and pepper.
Spread in a round dish and decorate with walnut halves.
You can also serve individually in small salad bowls on salad leaves.
Serve cold with crackers.
ARAMBASICI (from Croatia)
INGREDIENTS
2 cabbage heads
700 grams minced beef
1 onion
2-3 garlic cloves crushed
1 pinch nutmeg
1 pinch cinnamon powder
2 cloves
2 eggs
Salt and pepper to taste
1/4 cup oil
METHOD
Place mince in a bowl.
In a pan heat oil, and add the chopped onion. Fry until onion is transparent and then add it to meat. Add garlic, nutmeg cinnamon powder, crushed cloves, egg, and salt. Mix the ingredients well to a smooth paste, if need be add a tablespoon of water.
Separate the leaves of the cabbage head and cut the thickness of the central stems.
Put a spoon full of mixture in each leaf and roll up beginning from stem to side, tuck the sides well. Put a tooth pick through the roll to hold them together. Make rolls till the whole mixture used up.
In a pan put a little oil, cover with the remaining cabbage leaves. Arrange rolls on top and pour enough water to cover rolls. Cover the pan and simmer on low heat till done.
Do not stir while cooking; just shake the pan occasionally.
Serve hot.
Another way is to prepare it in the same way and fry in a little oil till crispy.
These can be served as a snack.
The recipes are from Zeenat Azra's book From My Table To Yours
Published in Dawn, EOS, July 16th, 2017