Pakistan Army on Saturday issued a stern warning to India against any misadventure along the heavily militarised Line of Control (LoC) in Kashmir, which saw cross border shelling almost throughout the day, leaving at least 13 people wounded in different parts of Azad Jammu and Kashmir (AJK).
Among the injured were eight women and a toddler.
"The Indian army has been targeting innocent civilians on both sides of the LoC in recent past. Any misadventure by Indian army across the LoC will be a miscalculation, shall be responded with full force and could lead to unintended consequences," said the Inter-Services Public Relations (ISPR).
The strongly worded message was delivered in the wake of Chief of Army Staff (COAS) Gen Qamar Javed Bajwa's visit to the LoC in AJK's Nakyal sector in Kotli district.
Local officials and ISPR said that five persons were injured by Indian firing in Khuiratta and Charhoi sectors of Kotli district and the rest in Samahni and Baroh sectors of Bhimber district.
Terming the Indian firing as "unprovoked", the ISPR added that Pakistani troops are befittingly responding to the firing.
Civilian officials said that the total number of injured people stood at 13.
Times of India has reported at least two deaths and three injuries on the Indian side of the LoC owing to the cross-border firing.
"Indian troops resumed shelling at 7am without any provocation, targeting the civilian populations," said Chaudhry Zulqarnain Sarfraz, Senior Superintendent of Police (SSP) in Kotli district.
The SSP identified the injured persons as Mohammad Younus, 35, Samina, 30, and Rehana, 26, in Nidhi Sohana village of Khuiratta sector and Afraz Begum, 42, and Musarrat Bibi, 55, in Sabzkot village of Charhoi sector.
He said a house, owned by one Rehmatullah, was gutted in Sabzkot village after a shell landed on it.
In Samahni sector of Bhimber district, which is adjacent to the Charhoi sector of Kotli district, the shelling continued till evening in intervals, said Deputy Commissioner Chaudhry Guftaar Hussain.
"The shelling started at 7am and is continuing intermittently," he told Dawn.
Among injured were were Mohammad Sharif, 58, in Chahi village, Nisar Ahmed, 26, in Tander village, Anila Bibi in Kathyala village, Lubna Mehfooz, 26, and her 2-year old son Abdul Mueez in Danna village, and Zamurd Begum, 58, Shazia Parveen, 37, and Muhammad Inzimam, 17, in Baroh village.
In another statement issued later in the evening, the ISPR added that the ceasefire violations by Indian forces had continued throughout the day.
"Exchange of fire continues (in Baroh sector) and Pakistani troops are aggressively engaging Indian bunkers (that are) firing on civilians (in AJK)," said the ISPR.
COAS visits LoC amidst firing
Chief of the Army Staff (COAS) General Qamar Javed Bajwa on Saturday visited the troops deployed along the restive LoC amidst exchange of heavy fire between Pakistani and Indian troops.
Gen Bajwa was accompanied by 10 Corps Commander Lt Gen Nadeem Raza and DG ISPR Maj Gen Asif Ghafoor.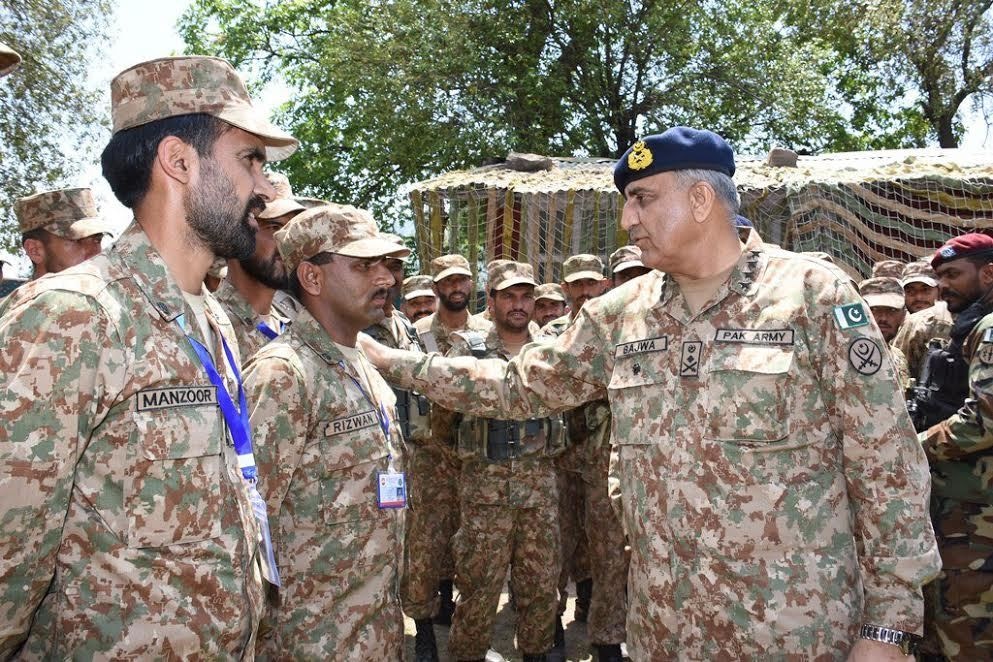 According to a statement by the ISPR, Gen Bajwa appreciated the high state of operational readiness, effective response to Indian ceasefire violations and high morale of troops, after army's local commander briefed him on the prevailing situation.
Tensions are once again running high between Pakistan and India at the LoC particularly after India alleged earlier this month that the Pakistan Army had killed two Indian soldiers and mutilated their bodies in Battal sector (Indian Krishna Ghatti sector).
The Pakistan Army denied the charge, saying such an act was against the values strictly adhered to by it.
Earlier on Thursday, one person was killed and ten others wounded in Kotli and Bhimber districts in indiscriminate Indian shelling. One of the injured persons – an elderly woman – succumbed to her wounds on Friday.