May 01, 2017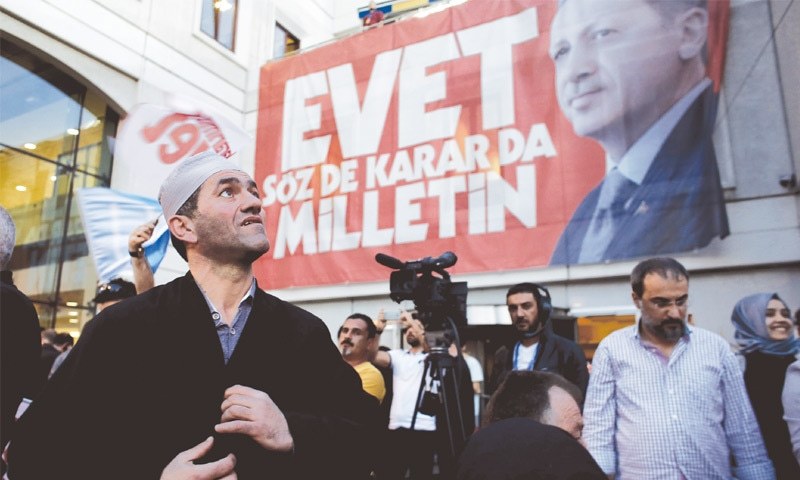 TO succeed, a politician needs not just charisma and a message, but a fair amount of luck. Over the years, Recep Tayyip Erdogan has demonstrated that he is luckier than most: consider his close shave in the failed military coup last July when he escaped from his hotel shortly before a group of commandos came to arrest him. And then, while he was in mid-air, a Turkish F-16 had his plane in its sights, but the pilot refrained from pulling the trigger.
The latest manifestation of Erdogan's good fortune came when he held his referendum to give himself extraordinary powers, and the right to stay in his thousand-room presidential palace until 2029.
Turkey's friends and allies were appalled by this display of vaulting ambition, and the media around the world was full of stories about how the vote had been rigged. But just then, two events at distant points of the globe intervened and diverted attention from Turkey. First, Trump attacked a Syrian base in retaliation for an alleged gas attack on civilians. Then, North Korea's sabre-rattling and the American response further distracted us from the Turkish referendum.
I have been following events in Turkey for years for mostly personal reasons. I first went to Turkey as an 18-year-old student, having won a Cento (The Central Treaty Organisation, dissolved in 1979) scholarship to study chemical engineering at Ankara's Middle East Technical University. I soon decided that a career as a chemical engineer wasn't for me, but came to love the country, its people and its food. Since then, I have returned as often as I could to meet old friends, travel and check out the restaurants. To see the country I have long regarded as a second home being reduced to a banana republic has distressed me beyond words.
I was witness to the attempted coup in 1963 when the commandant of Ankara's military cadet college placed his students in the firing line even though the other plotters had backed out. The coup was soon crushed after I saw a cadet shot, and at least a couple of soldiers killed by friendly fire from an air force jet.
So military coups are nothing new in Turkey, but what has changed is the public rejection of military intervention. In fact, I considered Erdogan's emasculation of the generals and their political ambitions to be his greatest contribution. However, it was his rapid transformation of the Turkish economy that gained him his tremendous popularity.
Historically, the country has been divided between the conservative Anatolian heartland and the secular, westernised urban elites centred in and around Istanbul, Izmir and Ankara. They generally looked down on their more religious compatriots, and together with the military, considered themselves to be the keepers of the secular torch lit by Mustafa Kemal Ataturk, the father of the modern Turkish state.
But with the political and economic rise of the Anatolian hinterland, the fault line in Turkish society widened and became more pronounced. Battered by a series of court cases that saw several senior officers jailed, part of the military felt it had to act to preserve Turkey's secular character.
Another factor in this volatile cocktail is Fethullah Gulen, a self-exiled cleric living in the United States. Over the years, his followers have risen to senior positions in the military, the police, the judiciary and the bureaucracy. Although allies in facing down the military earlier, Gulen and Erdogan fell out a few years ago when voice recordings purporting to be of those close to the president were leaked. These appeared to implicate the inner circle in serious corruption. This triggered a backlash, with many senior police officials and judges being fired.
According to some Western reporters, plans for the July coup were picked up by Russian intelligence, and passed on to Erdogan. As soon as the plotters realised they had been exposed, they acted before they were fully prepared. What they didn't expect was the popular resistance from Erdogan's civilian supporters in which several hundred were killed.
In the ensuing crackdown, thousands of soldiers, officers, policemen and civil servants have been arrested or sacked. The media has been crushed, with over a hundred journalists in jail and scores of media outlets shut down. Opponents of Erdogan have asserted that most of these people had nothing to with the Gulenist movement, but have been victimised due to their opposition to the government.
Whatever the reality, the fact is that currently, Erdogan is master of all he surveys. Even though he won the referendum by the narrowest of margins, he is convinced that he has a mandate from the Turkish people to push through a series of constitutional changes that will give him virtually dictatorial powers. But the divisive campaign and the controversial vote has only exacerbated the country's fissures.
Erdogan supporters feel their victory represents the defeat of westernised Turks who once looked down on them. When I was first in Ankara and Istanbul, women with headscarves were few and far between in the more affluent parts of the cities. Now, their daughters walk in these areas without looking out of place.
But the fact remains that at least half of all Turks don't want Erdogan to have the untrammelled powers he will soon enjoy as a result of the referendum. We have already seen him equate legitimate political opposition with treachery. His foreign policy has dragged Turkey into external conflicts. Perhaps most damagingly, his refusal to negotiate a peaceful settlement with the marginalised Kurds will prove to be a huge blunder that will lead to spiralling violence.
More power will do nothing to heal any of these wounds. In fact, an executive president with few checks and balances will weaken Turkey in the long run. If nothing else, he will not be trusted by many of his own people, or by the outside world.
Published in Dawn, May 1st, 2017