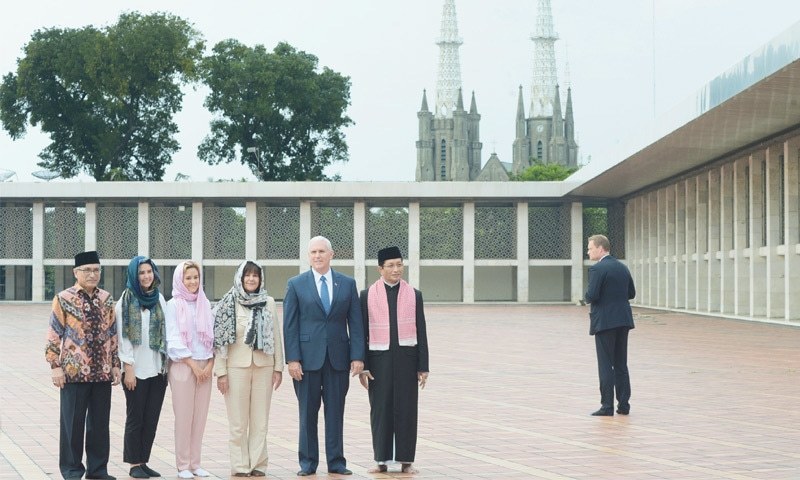 US Vice President Mike Pence on Thursday toured the biggest mosque in Muslim-majority Indonesia during a visit seen as a highly symbolic gesture from an administration that has been accused of stoking Islamophobia. After kicking off his stop in the world's most populous Muslim-majority country by praising its moderate Islam as "an inspiration", he visited Istiqlal Mosque, whose vast white dome towers over downtown Jakarta. He slipped off his shoes before being guided around the mosque, which is also the biggest in South-east Asia, accompanied by his wife and two daughters in headscarves, as well as Istiqlal's grand imam.
His visit represents the most high-profile outreach to Muslims by the Donald Trump administration since the brash billionaire came to office and echoes a similar trip by Barack and Michelle Obama in 2010. Since becoming president almost 100 days ago, Trump has hosted leaders from majority-Muslim Jordan, Iraq, Saudi Arabia and Egypt.
But his administration has also tried to ban travellers from several Muslim-majority nations, citing concerns about terrorism — an effort currently being challenged in US courts. As a presidential candidate, Trump often appeared to flirt with the far right as he railed against "radical Islamic terrorism".
But Pence struck a starkly different tone during his visit to Indonesia, which has often been praised as a successful Muslim democracy where most practice a moderate form of Islam and coexist peacefully with substantial religious minorities. "Indonesia's tradition of moderate Islam is frankly an inspiration to the world and we commend you and your people," he said after talks with President Joko Widodo at the presidential palace in Jakarta. "In your nation as in mine, religion unifies, it doesn't divide."
At the mosque in Jakarta, Pence and his family also toured the cavernous main prayer room — which was empty during his visit but fills up with tens of thousands of worshippers during key dates in the Muslim calendar — and admired the towering dome. Pence then held an interfaith dialogue behind closed doors with representatives of the Christian, Buddhist, Confucian, Hindu and Muslim faiths.
Published in Dawn, April 21st, 2017