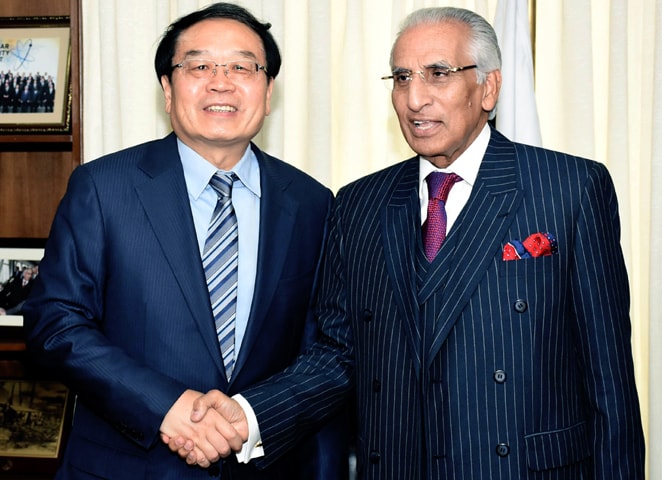 ISLAMABAD: Pakistan and China on Monday discussed all aspects of bilateral ties with focus on security, economic development and the China-Pakistan Economic Corridor (CPEC).
The meeting between Special Assistant to the PM on Foreign Affairs Syed Tariq Fatemi and a visiting Chinese security official took place at the Foreign Office. Chinese State Commissioner for Counter Terrorism and Security Cheng Guoping is in Pakistan on a three-day visit, said a press release issued by the FO spokesperson.
The meeting was followed by delegation-level talks and a working lunch.
Both sides noted that the all-weather friendship between the two countries had withstood the test of time, notwithstanding changes in international, regional and domestic environments.
Noting the importance of CPEC for the economic development of Pakistan, the two sides stressed that timely completion of the economic corridor projects would not only give a boost to Pakistan's economy but would also significantly contribute to regional connectivity, peace and development.
Mr Fatemi said Pakistan was fully committed to the timely and effective implementation of all projects under the CPEC.
He affirmed that friendship with China was the cornerstone of Pakistan's foreign policy. Pakistan supports China on all its core issues and opposes any attempt to undermine its sovereignty. Pakistan would continue to support China's efforts to combat the evils of terrorism, extremism and separatism, he added.
He appreciated China's forthright position on Pakistan's counterterrorism strategy and thanked the country for its support to Pakistan's national security and territorial integrity.
Mr Cheng said that his country attached great importance to its relations with Pakistan, and supported its sovereignty, independence and territorial integrity.
He thanked Pakistan for its consistent support to China on issues of core interest to it. He also lauded the sacrifices rendered by Pakistan and its security forces in its fight against terrorism, extremism and separatism which had helped maintain regional peace and stability.
The two sides expressed satisfaction at the continued progress in bilateral relations in all fields and expressed their resolve to work towards solidifying political relations, deepening economic bonds and security cooperation and closer people-to-people contacts.
Published in Dawn February 7th, 2017