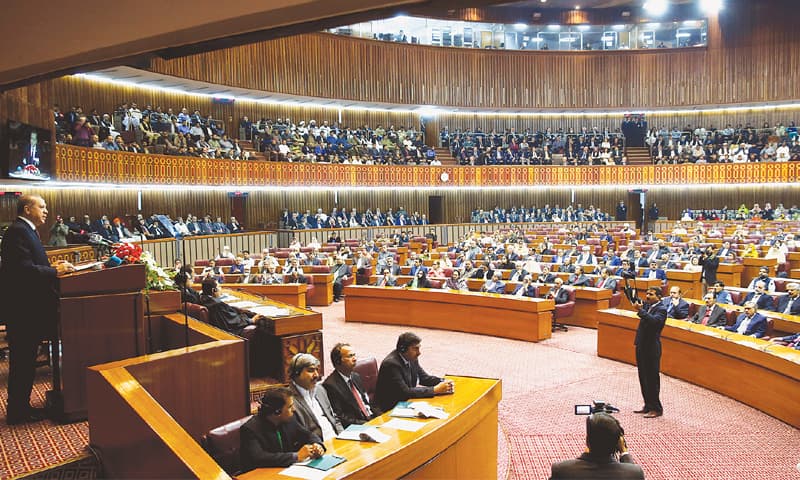 ISLAMABAD: Warning that religious cleric Fethullah Gulen's organisation could harm Pakistan if the group was allowed to carry out its activities, Turkish President Recep Tayyip Erdogan on Thursday sought enhanced cooperation with Pakistan in the ongoing war against terrorism.
"I wholeheartedly believe that [Gulen's] organisation will be eliminated as soon as possible without harming brotherly Pakistan," said the Turkish president during his record third address to the joint sitting of parliament.
Mr Erdogan, who has previously addressed the Pakistani parliament twice when he was prime minister, expressed "deep concern" over increasing tensions between India and Pakistan over the Kashmir issue, saying "Turkey stands ready to make any effort possible to this end".
"We should eliminate these killers — who have no other skill than to shed Muslim blood — from the Islamic world and from all over the world, as soon as possible. Otherwise, neither Turkey, Pakistan, the world of Islam, nor humankind will attain peace," he warned.
---
Turkish president assures of support on Kashmir issue
---
"If we cannot overcome our problems hand-in-hand as believers of this holy religion, we cannot save Muslims from the pit of impunity that they have fallen into."
Describing the US-based cleric's group as Fethullah Gulen's Terrorist Organisation (Feto) and equating it with Al Qaeda and Daesh, Mr Erdogan declared that these terrorist organisations were "the agents of the war carried out against Islam, which are only and solely harming Muslims".
"I would like to state once again that Feto is a bloody terrorist organisation posing a threat not only to Turkey, but to all countries in which it operates," he said, claiming that the organisation was being operated from Pennsylvania — where Fethullah Gulen lives in exile — and has a network in 120 countries.
"I appreciate the recent decisions taken by the Pakistani government in this direction and I thank you for your strong support in our fight against Feto," Mr Erdogan said, referring to Pakistan's recent decision to expel the staff of Pak-Turk schools, which are run by elements allegedly linked to Gulen, who is considered the main architect of the failed military coup that shook Turkey in July.
Amidst desk-thumping by the parliamentarians, the Turkish president pointed out that Pakistan was the first country to stand with Turkey after the July 15 coup attempt.
Mr Erdogan was of the view that the terrorist organisations tried to find a basis for themselves by playing up divisions and differences among Muslims. "In order to save Muslims from this servile situation, we have to eradicate all means of exploitation; from sectarianism to ethnic discrimination," he said.
Terming relations between Turkey and Pakistan of an "exclusive nature far beyond diplomatic contacts", he called for strengthening cooperation in the fields of trade and investment.
The Turkish president thanked the Pakistani nation for their support and assistance during the War of Dardanelles and the 1999 earthquake in his country.
The Turkish president also stressed the need for better relations between Pakistan and Afghanistan, saying: "This cooperation is indispensable not only for the peace and security of the region, but also for the economic potential of this [area] and carrying out important infrastructure projects."
Talking about the Kashmir issue, he said the latest developments in Kashmir once again demonstrated the importance and the urgency of the solution of this problem.
"We are aware of the distress and suffering of our Kashmiri brothers and sisters. The international community should exert further efforts in order to solve this issue which has political and humanitarian dimensions, according to justice and law," he said.
"We wish that Pakistan and India take into consideration the demands of the Kashmiri people to find a solution to the Kashmir issue through direct dialogue."
Earlier, in his welcome speech, National Assembly Speaker Ayaz Sadiq declared Mr Erdogan "a most respected brother, a trusted friend, a visionary leader of the Muslim world, a statesman and the most popularly-elected president of Turkey."
"The credit goes to your inspiring leadership that the heroic people of Turkey, especially the brave speaker and the courageous members of the Grand National Assembly of Turkey, rose in one voice to protect and preserve their constitution and democracy," the speaker said.
Pakistan Tehreek-i-Insaaf (PTI) lawmakers boycotted the session to protest against Prime Minister Nawaz Sharif for his alleged corruption. Khyber Pakhtunkhwa Chief Minister Pervez Khattak was also not seen among the distinguished guests in the galleries where three governors — as the ailing Sindh governor was unable to attend — and three chief ministers were seen sitting besides the three services chiefs, including army chief Gen Raheel Sharif.
Joint press conference
Earlier, addressing a joint press conference with Prime Minister Nawaz Sharif, the visiting Turkish president thanked the Pakistan government for expelling Turkish teachers from Pak-Turk schools around the country.
He urged Turkey's other friends around the world to emulate the Pakistani example by acting against Gulen's institutions and organisations in their countries.
Mr Erdogan recalled that Turkey too was taking steps to curb the Gulen Network. The Turkish government has, since July, suspended, dismissed or detained at least 110,000 people, including soldiers, judges and teachers, who it believed to be supporting the botched coup. The country has also further closed more than 130 media outlets and detained journalists and opposition lawmakers.
Western countries have accused President Erdogan of using the coup as a pretext to stifle dissent at home.
On the occasion, PM Sharif hoped that that Turkey would continue to march towards peace, progress and prosperity.
The two leaders held one-on-one talks and also led their respective sides at delegation-level meetings before the press interaction.
Punjab Chief Minister Shahbaz Sharif, Finance Minister Ishaq Dar, Defence Minister Khwaja Asif, Petroleum Minister Shahid Khaqan Abbasi, State Minister for Health Saira Afzal Tarar and Foreign Secretary Aizaz Chaudhry attended the talks.
Published in Dawn, November 18th, 2016