Turkish President Recep Tayyip Erdogan addressed a joint press conference in Islamabad alongside Prime Minister Nawaz Sharif on Thursday where he announced the Turkish government is determinedly taking on what he termed the Fethullah Terror Organisation (Feto).
He said, "We are in the process of warning all of our friends and countries across the globe with whom we have solidarity" against Feto ─ what Turkey calls an alleged terrorist organisation headed by US-based self-exiled cleric Fethullah Gulen who President Erdogan accuses of instigating a botched coup to remove him from office earlier this year.
Pakistan had earlier promised Turkey it would look into the affairs of the Pak-Turk education network that Ankara wanted shut down for its alleged links with Gulen.
"It is now certain that behind the [July 15] coup attempt we have the Gulenist terrorist organisation and its leader residing in Pennsylvania," Erdogan alleged.
"It is necessary to dismantle this evil network... The terrorist organisation is a threat to the security and public order of Pakistan," he claimed.
The Turkish president claimed Feto "has been hiding behind the facade of acceptable concepts and terms such as delivering service, education and dialogue... But we saw on July 15 that they would not refrain from aany methods, including bloodshed to gain their purposes."
"They have undertaken infiltration operations aimed against the Turkish armed forces, the Turkish police force, the juidiciary and different levels of ministries by using and hiding behind these innocent concepts."
"An on that night [of the coup], these people [Feto] carried out... all the heinous acts that you can imagine by utilising taxpayers' money," he claimed.
"They bombarded the national assembly of Turkey, the presidential complex, the headquarters of special forces. They bombed civilians... But our nation took ownership of its independence... and democracy."
"The recent development in solidarity and support has been the decision to ask Pak-Turk staff to leave by Nov 20," Erdogan said. "This organisation will find no shelter in Pakistan."
"The students in the Pak-Turk schools will be taken care of the to the highest standards thanks to joint cooperation" between Pakistan and Turkey, Erdogan claimed.
"I am thankful for the solidarity demonstrated by the Pakistani administration on this matter... And for their decisive stance against this organisation," Erdogan said today.
"Some columnists in Pakistani newspapers were underlining or making innocent statements or remarks but they are not welcomed by us," the Turkish president said, in an apparent reference to recent coverage of the expulsion of Pak-Turk schools' Turkish staff from Pakistan.
PM Nawaz and Turkish President Erdogan addressed a joint press conference following a one-on-one meeting and delegation-level talks in the capital.
'Keeping close eye on LoC tension'
Erdogan said both leaders had "touched upon recent developments" regarding the Kashmir issue.
The increasing number of problems and tension along the Line of Control (LoC) are having a signifcant impact on our brothers and sisters in Kashmir, and have come to a point where we can no longer ignore them, he said.
"We are keeping a close eye on tension along the LoC and the loss of life," he said. "The issue of Kashmir needs a resolution based on dialogue between Pakistan and India, in line with UN resolutions and bearing in mind the demands of our brothers and sisters in Kashmir," he said.
Erdogan addresses joint session of parliament
Turkish President Recep Tayyip Erdogan in a record third address to a joint session of parliament on Thursday lauded Pakistan's commitment to upholding democracy.
"Pakistan, with its stance against the July 15 coup attempt, perpetrated by Feto, showed that it also stood by the Turkish Nation in its second War of Liberation."
The Erdogan reiterated the view that "Feto is a bloody terrorist organisation posing a threat not only to Turkey but to all countries in which it operates."
He alleged that Feto has a network in 120 countries, and Gulen is trying to establish rule from Pennsylvania.
"I wholeheartedly believe that this terrorist organisation will be eliminated as soon as possible without harming brotherly Pakistan. I appreciate the recent decisions taken by the Pakistani government in this direction, and I thank you for your strong support in our fight against Feto," he said.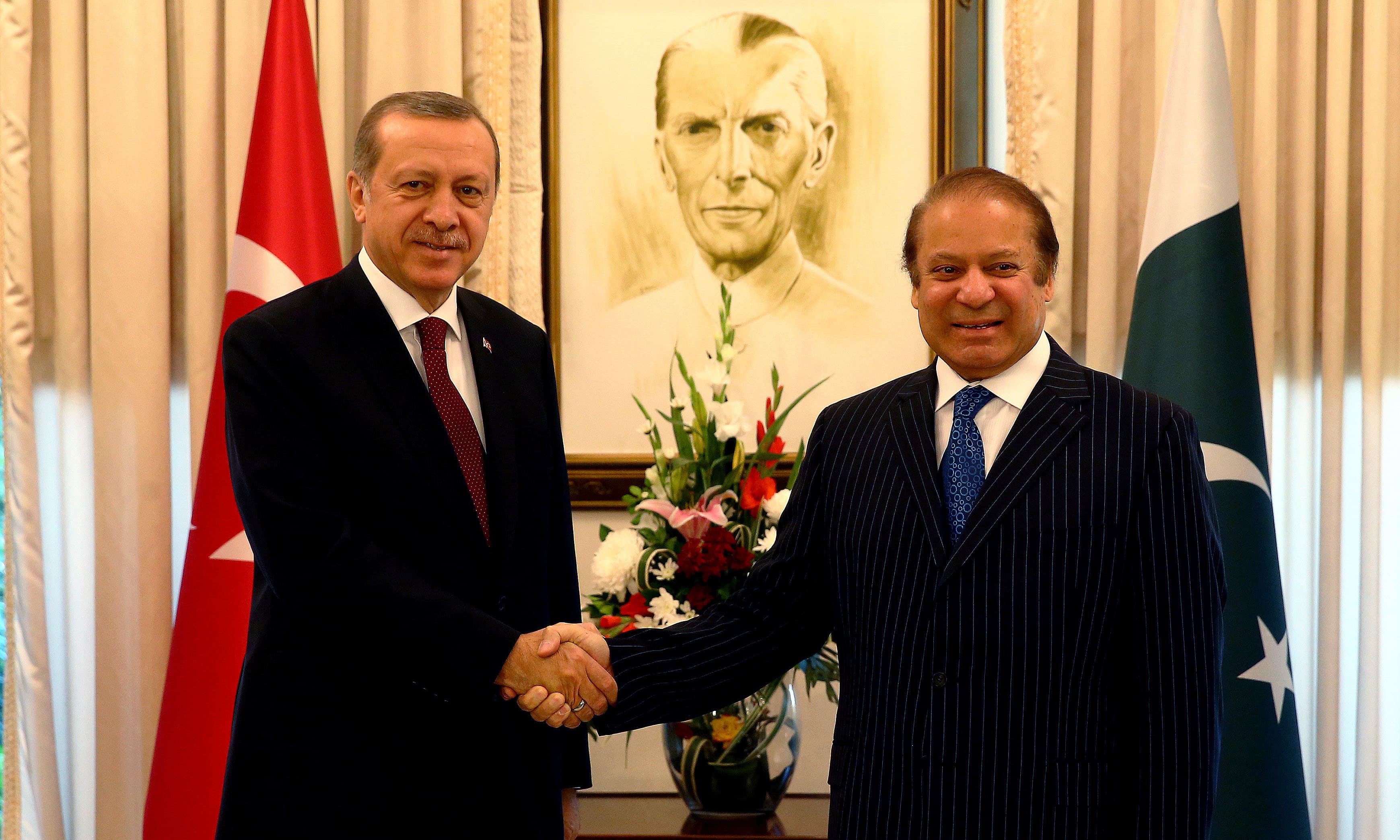 The Turkish president called for enhancement of bilateral cooperation and solidarity against "terrorist organisations".
"Terrorist organisations such as Al Qaeda and its affiliate Daesh are the agents of the war carried out against Islam which are only and solely harming Muslims. We should eliminate these bunches of killers, who have no other skill than to shed Muslims' blood, from the Islamic world and from all over the world as soon as possible."
"Terrorist organisations are hurting both Islam and Muslim countries... And everyone knows the West is helping them," he alleged.
He spoke of the need for progress in an 'Islamic' way and to fight against anyone "who is a threat to our future".
"In order to save the Muslims from this servile situation faced, we have to eradicate all means of exploitation from sectarianism to ethnic discrimination spreading among the Islamic nations."
We must fight together against those who are desiring to turn the Muslim world into a geography in which division, defeatism, instigation, hatred and ignorance prevail," he said.
He reiterated that Pakistan and Turkey are brotherly nations and said both countries had strengthened bilateral ties in recent years.
"The Kashmir issue, which we follow carefully and could not have been solved for almost 70 years, continues to hurt our conscience. The latest developments in Kashmir once again demonstrated the importance and the urgency of the solution of this problem," he said.
"We are deeply concerned about the increase of the tension. The international community should exert further efforts in order to solve this issue which has political and humanitarian dimensions, according to justice and law."
Erdogan called on Pakistan and India to take into consideration the demands of the Kashmiri people and find a solution to the issue through direct dialogue.
"Turkey stands ready to make any effort possible to this end," he said.
"Yesterday evening, the president and today the PM met me and we discussed Pak-Turkey ties. I hope very soon we will take our relationship forward through the strategic council."
The High-Level Strategic Cooperation Council established between Turkey and Pakistan in 2009 has brought an institutional framework for our relations, he said, adding that both countries had come a long way since then by signing 51 agreements and documents within the council.
"Together, we should put into practice new projects and new partnerships which will provide employment for our people."
"We should resolutely maintain our existing cooperation in order to deepen our relations in developing investments, infrastructure projects, health and defense industry."
"Scholarships from Turkey are helping Pakistani students complete their Masters, PhD and undergraduate study."
"500 Pakistani students will be able to go to Turkey for PhD scholarships every year in light of a document signed between Pakistan's Higher Education Commission and the Turkish higher education body," he said.
Erdogan is on a two-day official visit to Pakistan, during which he has held one-on-one meetings with President Mamnoon Hussain and Prime Minister Nawaz Sharif.
The Pakistan Tehreek-i-Insaf 'leadership' boycotted today's session of parliament on the grounds that it would take place under a 'controversial' prime minister who is facing charges of corruption.
"We welcome the Turkish president to Pakistan but at the same time, we do not want to endorse a prime minister who has broken the country's law and has engaged in corruption," PTI Chairman Imran Khan said earlier.
Turkey will march forward under Erdogan's leadership: Nawaz
Prime Minister Nawaz Sharif also addressed the joint press conference after a one-on-one meeting with Erdogan and expressed confidence that "Turkey will continue to march forward on the path of peace, progress and prosperity under President Erdogan's charismatic leadership."
Nawaz appreciated Turkey's bid for Pakistan to join the Nuclear Suppliers Group, adding that it had "strengthened Pakistan's position."
"We believe that our close relationship serves as a stability factor in the region," the premier said.
Nawaz said "2017 marks the 70th year of Pak-Turkey diplomatic relations" and will be celebrated in a "befitting manner."
He said that during talks with the Turkish premier they agreed to "transform our special relation into a strong strategic part."
The PM said that "increased trade must be the nucleus of the robust economic relation we envision."