Back in the day, I remember spending hours after school at the British Council Library that once stood at McNeil Road.
The eventual closure of the library left a void I always sought to fill in this overwhelming city with giant mega-structures but no libraries.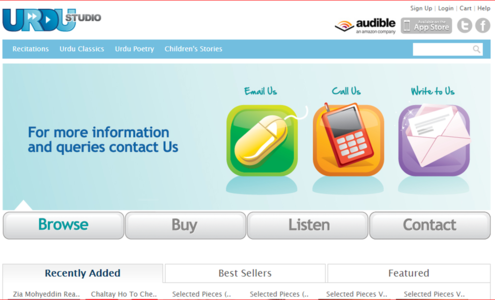 From then on, I began my search for good, affordable books in the clustered market of Urdu Bazaar, in the limited stalls at Frere Hall and at high-end book stores.
A friend who noticed my relentless quest for a 'great' and 'affordable' book service was kind enough to tell me about Kitabain.com ─ an online book purchasing service.
I spent hours browsing through the collections on Kitabain.com and, while doing so, also came across two more ventures by the same entrepreneurs ─ The Reader's Club, an online library and Urdu Studio, an online portal for Urdu Audiobooks.
Now, one would wonder, what motivated the young entrepreneurs to enter the online book retail market in a country where books are hardly appreciated and reading as a past time is diminishing with each new generation.
The people who brought us an online world of books
Usman Siddiqui, Jawad Yousuf and Rumman Siddiqui run the three startups, providing a wide range of affordable reading facilities to the people of Karachi and Lahore. All three are graduates from American universities and equipped with the latest knowledge of software and online technologies which they aim to utilize in the local market.
Usman Siddiqui has a degree in Industrial Engineering and Operations Research, with highest distinction, from Purdue University, Indiana, USA.
He worked with Supply Chain Planning Software at i2 Technologies (now JDA software), Dallas, USA, before returning to Pakistan.
Jawad Yousuf has a degree in Actuarial Sciences from Purdue University and a Masters degree in Statistics from the University of Illinois at Urbana, Champaign.
Rumman Siddiqui has a degree in Accounting, with distinction, from Purdue University, USA.
From 25 to 7,000 books
Here's what Usman had to say to a few of my queries.
What inspired you to delve into the world of books, keeping in mind the deteriorating reading culture that we have here?
We never really sat around looking for business ideas. Having seen the growth and evolution of startups in America during our time there, both my partner Jawad and I were immensely motivated to delve into a technology based venture but only if we could answer two primary questions:
Are we solving an actual problem?
Can we make someone's life better by addressing it?
We got into books by a combination of chance and preparation.
We are both avid readers and happened to be looking for a specific book back in 2008. When we didn't find it, we immediately realised that many other people might have the same problem. It was then that we decided to build a platform where people could share books. After a few iterations we decided to offer our own collection for rental.
We started off in May 2009 with about 25 books. Our collection now has close to 7,000 books.
Did you face any failure in the beginning that could have potentially turned this idea into smoke?
This might sound like a cliché now but we were (and still are) truly obsessed with making this idea work from the moment we decided to go ahead.
We had no idea about technology providers in Pakistan, the book business, logistics etc but that was our motivation to learn about all these different facets.
Being a very customer-focused startup, which now has thousands of registered users, we pride ourselves on delivering a great product and experience.
This means being on our toes 24/7, ready to jump in to resolve any potential problems or always thinking about new offerings. An issue is as significant on a Saturday night as it is on a Tuesday afternoon. There can be no totally 'off' days or procrastination about doing our best.
Add this to the fact that we have to constantly keep our eye on a whole host of moving parts from technology, to suppliers, to logistics to keep the services running smoothly, gives you a new found respect for a fast moving, customer facing initiative.
Life has certainly changed from being just a passive consumer of many services to being on the other side of the table and wearing many hats.
It has been an exhilarating learning experience, which has given us exposure to technology, books and above all some wonderful mentors! Would not have been possible without taking this leap in 2009.
What were the challenges you had to face and continue to face in this business?
Given limited financial resources, it is always a tough balancing act to prioritize where to spend the money. Is that advertisement in the newspaper more important or do we add the new feature customers are clamoring for? Do we buy new books for our library or do we spend that money on producing a new audio book?
Marketing has remained a challenge but we are just starting to use Facebook to reach a lot more people.
How does it work?
For all three websites, the registration procedure is pretty simple. All you need to do is register with your gmail or Facebook account, enter your desired address and begin browsing. Once you place your order for a purchase or borrowing, you will get a phone call (I received a personal phone call from Usman) and an email confirming the purchase. Within two days, you'll get the books you required delivered to your doorstep, in good condition.
Being a request-driven company, they also provide books that are not easily available in conventional bookstores; provided the books can be obtained in Pakistan through one of their vendors. However, getting books from abroad may be a bit of a challenge at the moment.
For those of you who want to hear Faiz Ahmed Faiz's work read out by the likes of Zia Mohyeddin or indulge in the great words of Naseer Turabi, you can simply listen on Urdu Studio's online portal, or buy a copy of the audio through credit card or through offline payment modes exclusively for users in Pakistan.
The way forward for TRC, Kitabain and Urdu Studio
In the words of Usman, 'We want books and reading in Pakistan to be synonymous with The Reader's Club and Kitabain!'
They are also planning to expand their services to other cities soon and to partner with like-minded organizations for maximum reach and impact.
In a country where the love of seasonal Lawn prints precedes the love of books, startups like these are a great way to help reinvigorate a vibrant reading culture and give easy access of books to thousands of people who have been deprived of good quality libraries for as long as one can remember.
Now you can follow Dawn Business on Twitter, LinkedIn, Instagram and Facebook for insights on business, finance and tech from Pakistan and across the world.