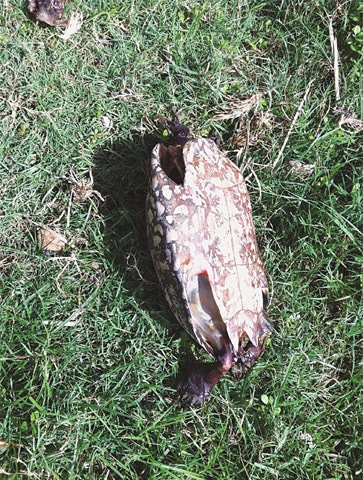 KARACHI: Dozens of freshwater turtles were found dead on Saturday along a lake in Sukkur where they were released a week ago, it emerged on Sunday.
According to sources, scores of turtle remains were found along Kallar Lake, some 15km from Sukkur, where they were released following their seizure by the wildlife department in a raid on a Defence Housing Authority (DHA) bungalow in Karachi.
"I found them dead on the vegetation along the water body. They were about 90 in number," a villager who counted the remains told Dawn on the phone.
Sources said that turtles also suffered mortality, around two dozen deaths, according to some media reports, during their travel from Karachi to Sukkur as they were kept in plastic bags and were mishandled while being unloaded from the truck. A number of turtles, sources added, fell from the truck as the barrier was lifted to take them out. The staff dragged them in bags to throw them in the lake.
"Some turtles had already died before they could be released," said another villager who witnessed the turtles being released. The allegations are not without grounds as a video recently shared on social media clearly shows turtles being mishandled during the unloading process.
"The fact that turtles were not quarantined also made them very vulnerable to external risk factors. It's important to quarantine such animals to ensure that they are healthy and safe to be released in the environment," said a wildlife official on condition of anonymity.
Upon contact, provincial wildlife conservator Saeed Baloch rejected the information that the released turtles had died in large numbers or were mishandled, though he admitted that a few turtles may have died during unloading.
"I have no such information. It was a major seizure and releasing more than 700 turtles was by no means an easy task," he said, adding that mortalities could occur during handling such a large number of animals.
The department didn't have the facility to quarantine or tag turtles, he replied to another question.
"Besides, the law says confiscated animals should be released as soon as possible into the wild, which we did.
"The staff of the World Wide Fund for Nature-Pakistan (WWF-P) was also there at the time of the turtles' release. You should also ask them about these allegations. Some of their staff members are trained in turtle handling," he said.
Criticising what he described as a 'media trial', a wildlife official, who was involved in the raid and release of the turtles, said that reporting on turtle mortalities would demoralise the staff. "They did a wonderful job by confiscating and sending these creatures back to their habitat. But, instead of praise, we are being discouraged to carry out our duties," he said, while arguing that WWF-P equally shared the 'blame' for poor handling if it was the case.
Some experts, however, believed that though the wildlife staff had potential for investigation, they lacked training to handle animals and there was a dire need to equip them and provide them with relevant training, facilities as well as increase their numbers.
The WWF-P official based in Sukkur said that he could only give a statement on Monday when he would join the office after holidays.
Case history
A total of 780 live freshwater turtles identified as black pond species (Geoclemys hamiltonii) were confiscated in a major raid on traffickers in DHA. Twelve suspects, including three Chinese, were arrested and sent to judicial custody. Later, nine suspects including the three Chinese were granted bail.
Investigations showed that the turtles were all trapped from the Chotiari Dam area in Sanghar. Two key wildlife traffickers, Pappu Punjabi and Nawab Khan, were declared absconders in the case.
The turtles, most of them female, were later released by the wildlife department into either the Kallar lake or the Nara canal, both located in Sukkur.
All freshwater turtle species of Pakistan are endangered and protected under the Khyber Pakhtunkhwa, Punjab and Balochistan wildlife protection acts and are included in the revised Sindh Wildlife Protection Act.
According to experts, illicit wildlife trade of freshwater turtles is escalating in Pakistan as there have been a number of cases in which these animals, particularly the black pond species, have been confiscated in large numbers in recent years. Poaching and smuggling of freshwater turtles due to their demand in East Asian countries, particularly China, Hong Kong, South Korea and Vietnam, has led to a significant decline in their populations, they believe.
"Freshwater turtles of Pakistan are found in the entire Indus River system including its tributaries, irrigation canals, ponds and water reservoirs. Pakistan has eight species of freshwater turtles which dominate aquatic habitats.
"Turtles play a significant role in aquatic ecosystem being scavengers; they are responsible for cleaning the aquatic environment by feeding upon dead organic material and diseased fish. Freshwater turtles being a keystone species also control the population of fish," says the WWF-P website.
Published in Dawn, September 19th, 2016