Montreal Olympics 1976: Pakistan played field hockey for the first time on an artificial turf that we now call astro-turf. We didn't win the gold, but we got the bronze.
Thirty years later, on a wet windswept day, I was at the forlorn stadium where Canada hosted the summer Olympics. Overgrown grass and stray shrubbery welcomed us.
Many memories flooded the mind with victory stories of Ali Iqtidar Shah Dara, Pakistan's longest-serving hockey manager (and himself a gold medalist, we'll come to that later) from hockey's golden years — Rome (1960), Mexico (1968) and Los Angeles (1984).
It was raining as I stood there imagining the Pakistani delegation in green blazers, the leader in a Jinnah cap proudly carrying the national flag. Dara's voice rang in my ears. He pushed his 'boys' to reach for the gold medal each time Pakistan played in the Olympics.
After his return from Montreal in the summer of 1976, Dara was disappointed that they could not get the gold.
"But never mind, there's always a next time," he told us. "My boys were not used to playing on artificial grass. Still, they played to win and they did!"
Read: How low can Pakistan fall?
We were kids then, so we really didn't care for the technicalities of the game; what excited us were fascinating stories about some 'wayward' players and their 'corralling' by the manager.
"You know there are always one or two boys who like to party. They resisted the 10 o'clock curfew," Dara would say. "Instead of disciplining them the harsh way, I always took a gentler approach by appealing to their better judgment. That worked eight times out of 10."
Because of its doughnut shape, Montreal's stadium was nicknamed 'The Big O'". Its humongous roof cost the city 1.48 billion dollars that took 30 years to repay. "All Olympics are magic," comments a Canadian sports fan.
"But we had Comaneci, and the [boxers] Spinks brothers and Sugar Ray Leonard, the magnificent heroes of the modern Olympics."
Pakistanis well remembers the young Romanian gymnast Nadia Comaneci. She was the star who made history by getting the perfect score of 10.0.
---
Pakistan's national game is fading away. Will the greenshirts see another Olympics?
---
The Olympic village is another spectacular sight to see. The 980 apartments surrounded by terraces are housed in two 19-storey buildings shaped like pyramids.
Today they serve as luxury rental apartments. "Every night there was a roll call to insure that my boys were in their rooms at 'curfew' time."
Dara's words are a reminder of how Pakistan's hockey team reached its pinnacle of glory through sheer discipline, team spirit and obedience to rules.
Take a look: Rise and demise of Pakistan hockey
Dara captained the hockey team at Berlin in 1936 when an undivided India won the gold, defeating the home team Germany (8-1). Sitting in the VIP stand was Chancellor Adolf Hitler, leader of the Nazi party ruling Germany.
The historic photograph in sepia tone showing Hitler awarding the gold to Dara on the victory stand still sits in the Dara family's living room 80 years later.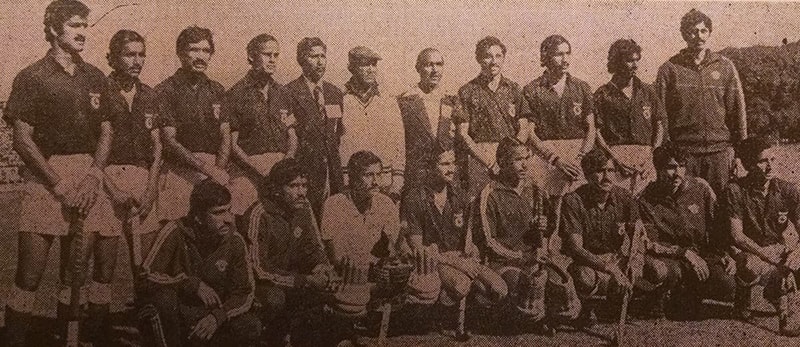 Here's a bit of historical trivia: it is said that Hitler was not a sports fan and was really not interested in Germany hosting the 1936 Olympics.
It was Joseph Goebbels, his propaganda minister who convinced him about Olympic festivities that could be "exploited to advance the Nazi cause both inside and outside of Germany."
Hitler had begun the cleansing of German Jews by keeping them out of the Olympics. Nazi genocide and systematic persecution were in force.
Fast forward to Rio Olympics 2016: Dawn's senior sports-writer Anwar Zuberi's recent column headlined 'Pakistan owes its Olympic glory to hockey teams' is a poignant reminder of hockey's pathetic downfall: "The country experienced the darkest hour of its sporting history when the national hockey team for the first time ever failed to qualify for the Rio Olympics."
His in-depth analysis details how Pakistan graced the victory stand for 36 years — from 1956 to 1992. And look where hockey is today!
The one-liner quote by gold medalist Abdul Waheed Khan who played at the Rome Olympics (1960) says it all: "It's unbelievable. No Pakistani can think that the greenshirts would fall so low and create history of sorts."
See: Can the PSL format revive Pakistan hockey?
Writing in the Boston-based Atlantic Magazine, global editor Uri Friedman says while Pakistan is the sixth-largest country with nearly 190 million people, "It is the biggest nation to be leaving Brazil without a medal. It gets worse. Pakistan dispatched its smallest-ever delegation to this year's games, composed of seven athletes. It sent twice as many officials. Pakistan has not won an Olympic medal in 24 years."
In America, Rio Olympics had a hard time competing with the crazy season of the US presidential elections.
Inevitably, most of us got drawn to the ultra-nationalist statements and even sillier tweets put out by Donald Trump daily. He's another Hitler, said many. The Republican Party candidate sucked all the oxygen out of one's brain cells.
Still we wanted more of his buffoonery instead of watching Americans walk off with the highest number of gold medals. The only exception was another buffoon named Ryan Lochte who won a gold in swimming.
Lochte lied. He and two other American swimmers went out to Rio's nightspots for a celebration, only to get dead drunk and end up at a gas station.
They were caught on camera ransacking the property and urinating in a public place. The next day they spun a tale of robbery claiming they had been held at gunpoint. The Brazilian police caught out their lie. They were ordered to appear before a judge.
Meanwhile Lochte slipped out of Rio and reached the US, leaving his two friends to face the music. The scandal shamed the Americans, robbing them of celebrating the largest cache of medals their athletes had brought home.
So while Lochte's lies overshadowed American excellence at Rio, Pakistan's politicians, past and present, ensured the end of hockey forever.
Rio sounded hockey's death knell in Pakistan. Will it yet live to see another Olympics?
Published in Dawn, Sunday Magazine, September 11th, 2016