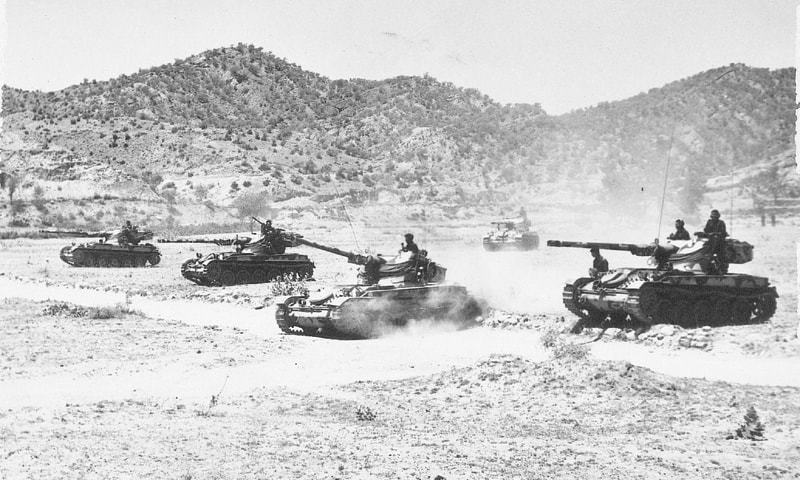 Bombay (now Mumbai), my native city, had always charmed me because of its cosmopolitanism and also because I have had a number of friends and relatives there.
In 1965, a year after I had appeared for my finals for my Master's in English literature, I thought it would be a good opportunity to revisit Bombay. I had already gone there the previous year and had met and interviewed quite a few Bollywood luminaries. A couple of years earlier, I had become the editor of Eastern Film, Pakistan's largest selling English monthly, and wanted to continue my interaction with more celebrities.
I was merely 22 at the time and my friends had warned me that Pakistan and India had already come to blows in Kashmir and the situation could worsen. I didn't take the warning seriously because a few months earlier, the two countries were involved in a skirmish over the border between the Rann of Kutch and Sindh, and the conflict had dissipated.
It was in the third week of August 1965 that I boarded the steamer Sabarmati — coincidentally the same ship that had brought me and my family to Karachi way back in 1950 when we migrated to Pakistan. The vessel dropped anchor at Bombay's Princess Docks.
I spent the first few days watching movies. Thanks to the assistant director of Dilip Kumar's and Waheeda Rahman's film Dil Diya Dard Liya, I got the opportunity to see the movie in the mini theatre of Kardar Studios.
Sitting in the row ahead of me was Dilip Kumar himself, who was discussing with composer Naushad the background music, which was yet to be recorded. A.R. Kardar's name was to appear as the producer and director of the movie but in actual fact it was Dilip Kumar who was calling the shots.
Since India and Pakistan were locked in combat in Kashmir, many Muslims avoided me like a plague.
Naushad, with whom I had a nice chat in his house on my previous trip, avoided me but Dilip Kumar was bold enough to answer a few questions. He promised to see me on his return from Madras (now Chennai), where he was shooting for his movie Aadmi.
But fate had something else in store.
At noon on 6th September, after watching Chaudhvin Ka Chand, I went to producer Irshad Ali's office to get some stills from his under-production Saaz Aur Awaaz which I wanted to publish in Eastern Film.
Sitting with him were three refugees from west Punjab. When they realised that I was from Pakistan, one of them said: "what are you doing here? Go back to your country. Your President General Ayub has declared war on India."
Irshad Ali took me to another room on the pretext of giving me the pictures. He told me to go away from the backdoor. "It is in your as also my interest that you disappear from here."
I tried to leave for Karachi by air, but all the flights between the two countries had been cancelled.
The following day's papers carried the news that Pakistanis would need exit permits to leave India. Likewise, Indians stranded in Pakistan were to seek special permission before leaving the country they were visiting.
I was staying with an uncle, who spent long hours at his office. His wife was too busy looking after her small kids.
Fortunately, Zuleikha, a school friend from Lahore, where we had spent the first three years after migrating from India, was well settled in a posh area in south Bombay. Her husband, a businessman called Yusuf, often took us out for lunch or evening tea.
One day, he dropped us at the Regal Cinema, close to the Gateway of India, where we were watching an English movie.
Suddenly, the movie stopped and the screen showed a still announcement that there was an air raid and advised the audience to go to the underground car park. "Don't panic, the staff will guide you," was the advice. Sure enough, the staff were the first to run.
When, after 16 stressful days, the ceasefire was announced, I thought exit permits would be issued soon, but that proved to be mere wishful thinking.
A couple of weeks after the war ended, I went to a large book store, Taraporewala, which was in those days located near the Museum. A professor at the University of Karachi had asked me to get a vial of eye drops for her father that were made by an old Parsi who worked at the bookstore.
I went to the elderly Parsi gentleman and told him that I was sent by Miss Rhoda Vania. "Oh! You have come from Pakistan," he said in a tone that reflected his fright.
The next day, a plainclothesman from the CID office came to my uncle's house and told me that I was to be interrogated.
I thought I was going to be interned.
I picked up the suitcase that I had packed with old clothes and a couple of books on Mr Gandhi. "Why are you taking this? We don't have residential accommodation in our office," he said. I felt relieved.
At the CID office, located near Crawford Market, I was taken to one Mr Takle (pronounced Taaklay), who examined my passport.
"You have the visa for Poona but it seems you didn't go there. Why?"
"That's because of the armed conflict between our two countries," I replied, weighing my words carefully.
"What do you think of the armed conflict?" was the next question.
"What do you want me to think of an armed conflict between two poor countries with large ill-fed populations," I replied.
"OK, that's enough," said Takle. "Now just tell me why did you go to the Taraporewala book shop?"
I realised that the old Parsi gentleman must have informed the CID office himself. Since I had nothing to hide, I told Takle the whole story. "If you forbid me, I will not go there again to collect the vial of eye drops," I said.
"I would suggest you go and take two or three vials, because I don't think there will be Pakistanis coming here for quite sometime. You seem to be a nice fellow. Just don't go near defence installations," said Takle in a gentle tone.
"Where are the defence installations?" I queried innocently, only to hear Takle laugh loudly.
"I won't tell you because tomorrow if you are arrested, you will tell the interrogators that I gave away the locations of the sensitive places. You better ask your relatives. They will tell you where they are," he said as he gave me my passport back.
"Where will I get the exit permit from?"
That was my last question.
"I shall give it but I need to get the 'go ahead' signal from Delhi. You will get to know from the newspapers."
"You will be the last man to get the exit permit," he teased me, as he offered me a cup of tea and shared a plate of puff biscuits.
"Don't worry, I shall see to it that you are the first person to be issued an exit permit."
I could see that he had taken a liking for me, a feeling that I reciprocated in equal measure. I started visiting him every third or fourth day to find out if he had gotten the notification from the Home Ministry to start issuing the exit permits.
One day Takle told me in a light-hearted tone: "Look, you are coming to my office every other day. I offer you tea but you also demand puff biscuits, as if that's your birthright. I may be an officer but only in the middle management cadre. You stay at home and I shall phone you as soon as I get the OK from the Home Ministry."
Since there were no phone connections between the two countries and telegrams and letters were not allowed to be exchanged, my parents in Karachi feared that I was interned.
A month or so later, a relative with a British passport left for London and phoned my father that I was having a good time in Bombay, watching movies and going to clubs and restaurants.
Almost three months after I had arrived in Bombay, I came to know that Pakistanis with 'connections' were able to get exit permits.
I approached a Member of Parliament who had been a Godmother to my mom. She wrote a letter to one Mr Venkatesh, a senior officer at the Sachivalya (as the Secretariat is called in Hindi). Mr Venkatesh sent for his secretary and dictated a letter to someone in the Home Ministry, asking him to send it to Delhi by a special service, along with my passport.
Three days later, I got a call from Takle. "Where the hell are you? I am issuing exit permits left, right and centre and there is no trace of you."
I told him that my passport was in Delhi and that I would get a special permission to leave. "What? You have no idea about the red tape in government offices. Go to your friend and ask him to get your passport back," came the irritated reply.
I made a dash to Mr Venkatesh's office. He summoned his secretary and dictated another letter, asking the Home Ministry to return the passport as exit permits were being issued to everyone. I left the room along with the secretary.
I was tense. I took out a pack of cigarettes from my pocket only to realise that I had no match box. I offered a cigarette to the secretary and asked him to light my cigarette. He opened his drawer and, lo and behold, my passport was there.
"Give me my passport back," I told the secretary, who it seemed had sent the letter but had forgotten to enclose the passport.
"No, I can't give it to you. I have to follow the instructions. Your passport will go to Delhi and I shall see to it that you get it back in less than a week," he pleaded.
"If you don't give it back. I shall go to Mr Venkatesh and then you'll have had it," I almost screamed.
"OK, take it but promise me that you will not tell my boss about it?" he said. I did, and have kept my word for 51 years.
Takle issued me the exit permit even though his day's work was over.
Two days later, I was on an AlItalia flight to Karachi, where a large number of relatives and friends were at the airport to welcome me.
On my next trip to Bombay, which was in 1976, I went to see my friend in the CID office. Takle, I was told, had retired and gone back to his village, where he had died soon after.