LAHORE: Pakistan's oldest red light district was for centuries a hub of traditional erotic dancers, musicians and prostitutes ─ Pigalle with a Mughal twist, deep in the heart of the vibrant city.
But as an e-commerce boom revolutionises how Pakistanis conduct the world's oldest profession, locals say the historic Heera Mandi district is under threat.
Balconies where beautiful women once stood are now empty, while rust eats away at the locked doors of vacant rooms. The only stubborn hold-outs are shops selling instruments that once facilitated the aperitifs of music and dance.
Men now can book a rendezvous online through escort websites or even directly with women over social media, instead of searching out streetside solicitation.
With location rendered meaningless, prostitutes like Reema Kanwal ─ who says the business "runs in my blood" ─ have abandoned Heera Mandi.
The district, whose name translates as "Diamond Market", is close to the echoing, centuries-old Badshahi Mosque.
During the Mughal era rule in the 15th and 16th centuries, Heera Mandi was a centre for mujra, traditional singing and dancing performed for the elites.
The wealthy even sent their sons to the salons of tawaifs, high-class courtesans that have been likened to Japanese geishas, to study etiquette.
Later, when the British came, distinctions between courtesan or mujra dancer and prostitute were blurred.
Dance and sex became intertwined, and Heera Mandi began its long slide into sordidness ─ but even so, Reema remembers "glorious" days.
Reema's mother and grandmother were also prostitutes, making her part of Heera Mandi's generations of women who danced and pleased men in the market.
"People used to respect the prostitutes of Heera Mandi, we were called artists," she says ─ but all has changed over the last decade."
"Now we don't have any honour."
She blames the loss on a rush of girls without her family background taking up the profession who have not been taught "how to treat people" the way she has.
Diamonds in the rough
Such girls, she says, need nothing to market themselves but a mobile phone, with which they can advertise on Facebook or Locanto, some offering services over Skype for as little as Rs300.
Dozens of escort services with online bookings claim to serve thousands of clients in Karachi, Lahore and Islamabad ─ some even in Dubai and Singapore.
In a Muslim country where prostitution is banned and sex outside marriage is criminalised, one website says it caters to roughly 50,000 customers.
With the old traditions falling by the wayside, girls also no longer need an entourage of musicians and teachers, say the owners of the music shops that are the final remnants of old Heera Mandi.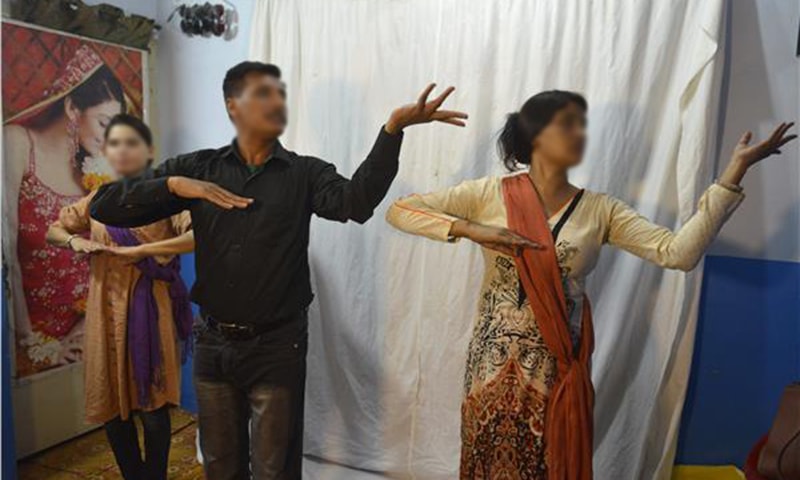 The intricate mujra dancing that was such a foundation of the red light district required years of teaching and live musicians. Now girls learn easy but provocative dance moves via YouTube.
"They take a USB or sometimes they don't even need that, they have songs in their cellphones, they plug a cable and play the music," laments Soan Ali, one of the music shop owners.
Like Reema, Ali's family has also been in Heera Mandi for generations, and he proudly recalled his father's "hospitality" as he attempted to lure clients for his mother.
He takes a deep breath. "We are having a lot of difficulties," he admits.
"Whoever is in this field is going through hard days."
'Heera Mandi is no more'
For those who have migrated beyond Heera Mandi, however, the future is bright.
Mehak, who declined to give her full name, is a cosmetic surgeon by profession, a feminist by ideology, and by night one of Pakistan's most elite madams.
Seven sleek Persian cats prowl among the expensive wooden furniture of her home, which doubles as a brothel for upper-class Pakistanis in a wealthy residential neighbourhood of Lahore.
Mehak, who is in her mid-50s, says she recruits most of her girls through elite parties ─ but adds "this online thing has really changed the business".
"A girl no longer needs a pimp to market her, she has Facebook, Twitter," she says.
"Heera Mandi is no more... even if a girl is from Heera Mandi she would never reveal it because the client would never risk sexually transmitted diseases and the bad image associated," she added.
Outside of the Diamond Market, she says, business is good.
"Medical students and MBAs have the highest rates, they get a hundred thousand (rupees) for one night," she says.
Now she plans to expand and offer male prostitutes.
"Girls from the elite class come to me and beg for boys," she says.
"They say they are ready to pay, but they need strong boys."