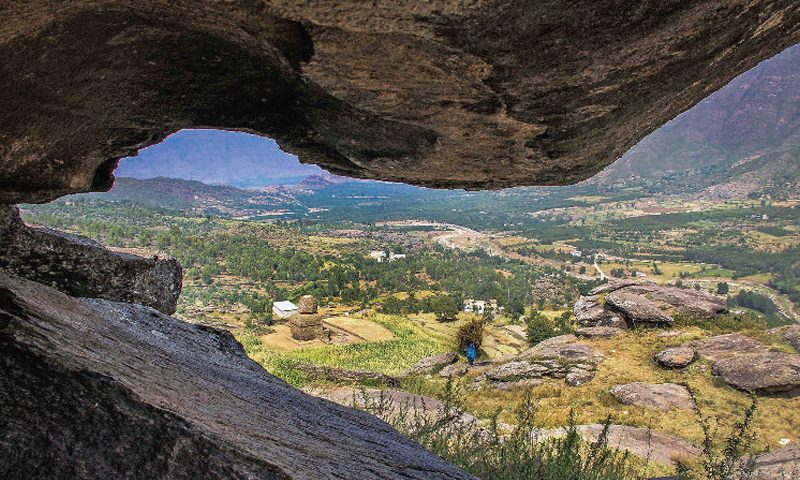 MINGORA: The second-century double-dome vihara, a Buddhist monastery, at Balokaley in Kandak valley, Barikot, is attracting a large number of tourists, architecture students and archaeology researches.
Located 8.1km from Barikot, the archaeological site, a masterpiece of ancient architecture, is located high on the mountain and is visible from a long distance.
According to archaeologists, the site was first visited by a Hungarian-British archeologist, Sir Aurel Stein, in 1926 and then hastily excavated by Burger and Wright in 1938.
Now protected, the site has been looted by vandals and smugglers for almost a century.
Restored and partially excavated, the site, which was acquired by the KP government of late, provides visitors with a clear understanding of the original layout featuring a tripartite monumental terrace with the shrine flanked by two stupas in ruins, supported by a walled terrace as well with the amazing hospitality of local community.
"The site is featured by the landmark monument of the Great Shrine, the oldest example of double-dome Gandharan architecture. Chronology of the site is supported by radiocarbon dating one wooden beam of the shrine (palosa wood or acacia modesta) back to the end of first century or the middle of second century CE). The shrine with its cella, corridor and double dome is astonishingly well preserved for the standards of Gandharan architecture," said Dr Luca Maria Olivieri, head of the visiting Italian Archaeological Mission.
He added that it was the only double-dome structure of the ancient Buddhist era left in South Asia.
Carla Biagioli, an Italian architect and heritage specialist, who visited Balokaley Gumbat of late, said she was happy to see the site well preserved and protected. "Protection and conservation of the monuments is a very important step to promote the cultural values. The restoration of Balokaley Buddhist shrine has demonstrated the potentiality of attractiveness of the area from cultural and natural point of view," she told Dawn.
She said the venue of the Buddhist shrine was really amazing and scenic, while the area presented a specific living cultural landscape including traditional settlements and typical wood-stone-mud habitat, botanic interests and rock art elements.
"The eye-catching site having rich culture and religious heritage is attractive for international tourists if durable peace prevailed in the area," she said.
Tourists and architecture students visit the site not only to have a look at the architectural landmark but also to enjoy the breathtaking view of the monument.
"On one hand, the double-dome structure constructed with stone masonry left me amazed and on the other, the view of the area was so beautiful that it gave me inner peace," said tourist Iftikhar Ali.
The archaeological area, which is just five kilometers from Bazira site, is part of a 12 km light tourist trail network marked and provided with safe water points and shelters.
The trail crosses two valleys and touches several rock painting and carving sites in the pristine breathtaking environment.
Published in Dawn, July 10th, 2016