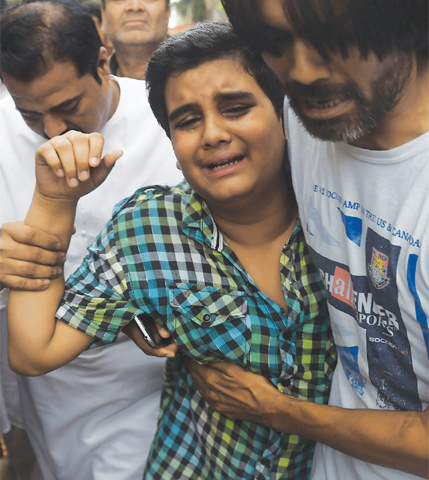 KARACHI: The crowd in the narrow congested lanes of Liaquatabad No 4 kept increasing as more and more people heard of the terrible news on Wednesday afternoon that Amjad Sabri qawwal had been shot dead while driving his car at Liaquatabad No 10.
With the circle of people closing in around him, one young man with shoulder length hair and dressed in crisp white shalwar kurta became dizzy and collapsed. A little commotion followed as he was helped up and a few chairs were passed through the crowd for him to sit on. "Please move a little backwards. He needs some air. Please, people, he is fasting," said a couple of close family friends but all who approached him wanted to hug Amjad Sabri's younger brother Talha and condole with him.
"Please pray for my brother's departed soul," he quietly requested all after gaining composure again.
Talha, who said that he was six years younger to the late Amjad, said that they were five brothers, sons of the famous older Sabri Brothers' Ghulam Fareed Sabri. "One of my brothers was handicapped. He passed away quite early. And now Amjad Bhai has left us, too, cutting us down to three brothers," he said.
"Amjad Bhai was the captain of our team."
Asked if he knew of anyone threatening his brother, Talha slowly shook his head. "He kept so busy since the beginning of Ramazan, going for recordings to different television channels and live iftar shows, that we never got the chance to sit with him for even a few minutes. And now he is gone," he broke down.
About Amjad's family Talha said he had left behind a widow and three sons and two daughters. "The children are still young. The oldest boy is 12. Now I'm the family elder. Please pray for me that I'm able to carry on my family's name in our traditional art while training and bringing up my brother's orphaned children as he would have done."
Meanwhile, anyone who first heard of the tragic shooting incident refused to believe it at first. "Who would kill a gentle soul like Amjad Sabri? He was such a simple, straightforward and down-to-earth person. He had no enemies," said Shakeel Khan who used to make paan for him at the corner paan shop just outside his lane.
"He would come himself or send someone over to me for his favourite kind of paan with tobacco in generous quantities," said Shakeel, his eyes becoming moist as he spoke about Amjad. "I have watched him grow up in these lanes since he was a little boy. Today I will have to say farewell to him here," he said, a lump forming in his throat.
Abdul Rasheed, his hairdresser until a few years ago when he wrapped up his business in the area, said he came running to the Sabri family home as soon as he heard what had happened on news channels. "I kept praying that they got the news wrong but alas ..."
Two young boys, barely 10 years of age, also stood watching with ashen faces and said that the great qawwal loved playing dubboo, a variation of carom, with his neighbourhood friends on the footpath outside his building. "We often watched him playing. He was pretty good," said young Abdul Rehman.
Apart from carom, Amjad Sabri was also a fine cricketer. Senior cricket writer and expert Qamar Ahmed told Dawn that he had the pleasure to watch him play with the veterans' team. "I knew his father, Ghulam Fareed, and uncle Maqbool Sabri as qawwal but Amjad I only saw as a brilliant cricketer. He was a great off-spinner and despite his height and weight, he was also an excellent fielder, something I realised when I saw him taking two catches during a veterans' cricket match," he said.
"He once told me that qawwali was in his blood but had he not been a qawwal, he would have surely been a cricketer. It is a terrible loss."
Published in Dawn, June 23rd, 2016