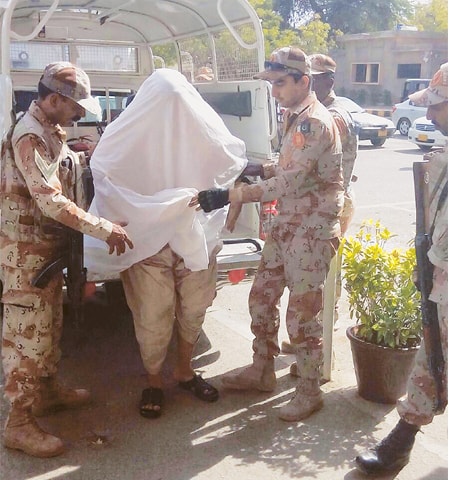 KARACHI: Pakistan Rangers, Sindh, on Wednesday informed the administrative judge of antiterrorism courts about 90-day preventive detention of three suspected hitmen who had allegedly been trained by the Indian spy agency Research and Analysis Wing (RAW) to carry out terrorist activities in Karachi.
The paramilitary force personnel along with their legal team produced Fahim alias Mirchi, Nasir alias Khajji and Riaz alias Lakkar before Justice Syed Mohammad Farooq Shah of the Sindh High Court, who is also the administrative judge of the antiterrorism courts in Karachi.
The Rangers said the suspects were picked up in Usmanabad near the Garden area on receiving credible information about their alleged involvement in targeted killing and other terror-related activities. The officials said they were put into detention for 90 days for an inquiry as provided under Section 11-EEEE of the Anti-Terrorism Act, 1997.
Later, the paramilitary officials told a press conference that the held hitmen had been trained by RAW to carry out terrorist activities in Karachi.
Without naming any political party, the officials said that the suspects were associated with an "infamous militant wing". However, they added that Fahim operated from Ranchhor Line Sector's unit-30.
They said he disclosed during initial questioning that he along with other accomplices flew to India via Sri Lanka and Thailand and were received by RAW officials at Delhi airport who later took them to different places for training.
After completing the training, the suspects were tasked with creating disturbances and carrying out terrorism activates in the city and to train their accomplices, they added.
The Rangers officials further said that Fahim reportedly confessed to killing 12 people, including law enforcers, and carrying out armed and bomb attacks on police and government installations including rocket attacks at the Sindh secretariat in 1993 and police headquarters in Garden. He was also said to have been involved in planning an attack on the central jail and in land-grabbing across the city.
They contended that Nasir was a member of unit 32 of Lyari sector and he also allegedly confessed to killing four people, including his accomplices as well as political rivals, besides taking extortion money and collecting sacrificial animal hides.
According to the Rangers, Riaz, too, was registered with the same unit of Lyari sector. He was allegedly involved in a dozen of terror activities, kidnapping and murder of political rivals. The Rangers claimed that he confessed before paramilitary officials to have carried out arson attacks during strikes called by a political party and hurled hand grenades in different parts of the city.
Published in Dawn, February 25th, 2016