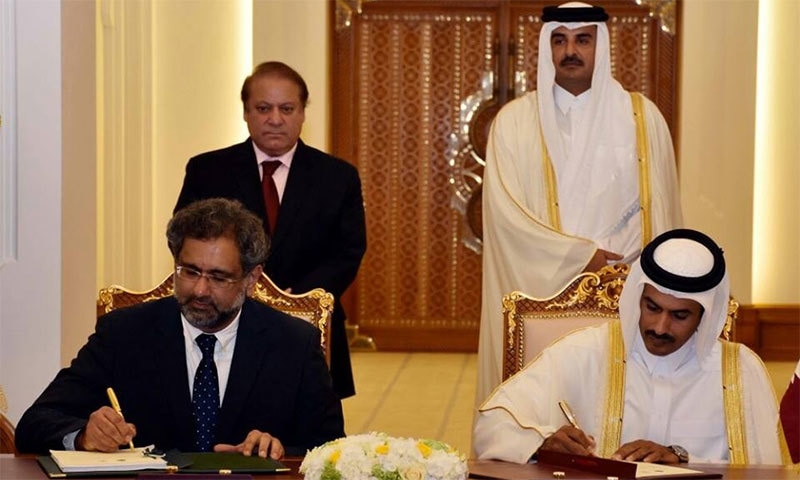 ISLAMABAD: Pakistan and Qatar signed a long term liquefied natural gas (LNG) supply agreement on Wednesday in Doha as a part of Prime Minister's two day visit to the Middle Eastern country.
The agreement was jointly signed by Federal Minister for Petroleum and Natural Resources Shahid Khaqan Abbasiand and Chairman of Qatar Gas Board of Directors Saad Sherida Al-Kaabi at a ceremony in Diwan-e-Emiri in Doha, according to which the kingdom will provide a billion dollars' worth of LNG to Pakistan annually.
Related: PSO allowed to sign $16bn LNG deal with Qatar
Qatar Liquefied Gas Company Limited will sell LNG from 2016 to year 2031 to Pakistan State Oil (PSO).
The annual contract quantity for 2016 has been agreed at a prorate of 2.25 metric tonne while the price for each cargo has been agreed at 13.37 per cent of Brent.
Abbasi later told media that the import price of LNG from Qatar was the best available rate, adding that Pakistan will get at least thirty-five million tonnes of LNG to help rid the energy crisis.
"The import of gas will also help start production of at least 2,000 megawatts of electricity from power houses that are currently non-operational," said the minister.
The Economic Coordination Committee (ECC) on January 14 had allowed PSO to sign the LNG Sale Purchase Agreement (LSPA) with Qatargas to overcome the energy shortfall.
Prime Minister Nawaz Sharif is currently on two-day visit to the State of Qatar on the invitations of His Highness Sheikh Tamim bin Hamad bin Khalifa Al-Thani, the Emir of the State of Qatar, and His Excellency Sheikh Abdullah Bin Nasser Bin Khalifa Al-Thani.
Related: Resolving energy crisis by 2018 top priority, says Nawaz
A number of Memorandums of Understanding (MoUs) in the field of health, radio & television, education & research were also signed by both sides on the occasion.