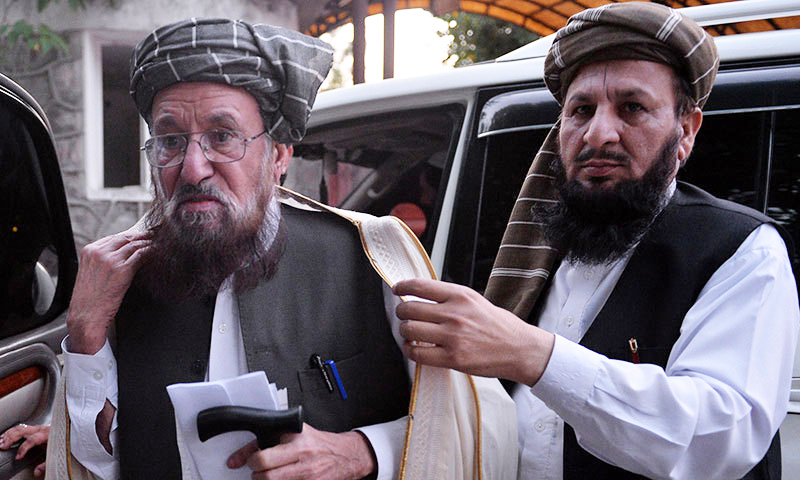 NOWSHERA: Leaders of some religious parties have criticised the prime minister for calling Pakistan a "liberal country" in a recent speech.
Speaking at a programme held at the Darul Uloom-i-Haqqania, Akora Khattak, on Thursday to pay homage to late Dr Sher Ali Shah, they called upon the Supreme Court to take suo motu action on the prime minister's statement.
The chief of his own faction of Jamiat Ulema-i-Islam, Maulana Samiul Haq, said that millions of people had sacrificed their lives for the creation of an 'Islamic country', adding that the slogan of a "liberal Pakistan" was a violation of the ideology of Pakistan.
Also read: Siraj warns against drifting away from Iqbal's philosophy
He said the constitution had no term, "liberal Pakistan" and instead had envisaged the country as "Islamic democratic Pakistan".
The JUI-S chief said ulema were united against un-Islamic forces. He called upon all religious leaders to put pressure on the government for the implementation of Islamic system in the country.
He said tribal areas were important for the country and decisions for their future should be taken by tribal people, and not just a few members of the National Assembly.
The programme was attended, among others, by Jamaat-i-Islami Emir Senator Sirajul Haq, patron-in-chief of Ansarul Ummah Maulana Fazlur Reham Khalil, Abdullah Gul (son of late Hamid Gul), deputy ambassador of Turkey Yaseen, Pakistan Shariat Council chief Fidaur Rehman, Hafiz Hussain Ahmad, Qari Mohammad Usman of Karachi, JI's provincial chief Mushtaq Ahamd Khan and Yaqoub Sheikh of Jammatud Dawa.
Maulana Fazlur Rehamn Khalil said that America and other western states were scared of religious seminaries. He urged religious parties to forge unity against anti-Islam forces in order to foil conspiracies against religious seminaries.
Hafiz Mohammad Saeed said America was trying to hide its defeat in Afghanistan by calling for action against the Haqqani network.
The programme was also attended by a 40-member grand jirga of South and North Waziristan.
The jirga was led by Malik Khan Marjan, Malik Shah Nawaz, Malik Shezad Khan and Maulana Abdul Hai Haqqani.
They also held a meeting with Maulana Samiul Haq and discussed fresh developments in tribal areas. They appealed to the JUI-S chief to take up their problems with the government and military establishment.
Maulana Sami assured them of his full cooperation in this regard.
Published in Dawn, November 13th, 2015