The word China conjures a wide variety of different images. A typical Chinese house with curved and sloping roofs, people with their pants up to their ankles and hats in paddy fields or people with pencil thin tweaked moustaches with round and red cheeks and high hairstyles similar to the Emperors of earlier dynasties, and cities that are overcrowded, funny smells, and exotic spices and foods.
Fortunately or unfortunately, none of these things hold true for China today, at least for the two cities that I visited during my predominantly business trip there.
Despite there being many flights daily to China, our geographical position is interesting.
Though China and Pakistan are neighbours, the presence of the Karakoram, Hindukush and Himalaya mountain ranges has made this region relatively inaccessible and our sense of China, unlike India, is all that is conjured in books, pictures, films and from ancient history.
Also due to the difference in language, there is a sense of forbearing and fear when we plan a visit to China, mostly to visit the Great Wall.
The progress that has happened in China during the last few decades would change your perception about Dubai.
Comfortable expressways and highways that run for thousands of miles, sleek buildings and automation has taken China miles ahead of its other Continental Asian countries.
Not only are the streets and buildings very clean but the people there are also very friendly and ready to help.
---
Exploring China to your heart's content will take more than just one visit.
---
Guangzhou, also known as Canton, is the capital and largest city of Guangdong province in South China. It's a sprawling city with high-rise buildings, a beautiful and modern mass transit (underground train) system and beautiful parks.
Although a bit crowded, its main attraction is that it is a trading port. My highlight of the trip was a visit to the shrine of Hazrat Saad Bin Abi Waqas, one of the blessed companions of the Prophet Muhammad (PBUH) who was promised heaven in his lifetime.
The mazaar is placed between a sprawling garden that also houses a historical graveyard, where Muslims from the 8th, 9th and 10th centuries are buried, a beautiful Masjid and an orchid garden. It is opposite the Yuexiu Park, famous for its light sculptures and rides.
It's a very peaceful place and although we visited during a weekend, the place was not very crowded and devotees come there to pay their respects and prayers. It was interesting to imagine Guangzhou of the 8th century where Islam was preached.
The next city I visited was Yiwu (pronounced Ivu), a city in central Zhejiang province. The city is famous for its small commodity trade market.
China Commodity City (CCC), the large wholesale market of Yiwu, was honoured by the UN, the World Bank and Morgan Stanley as the "largest small commodity wholesale market in the world". It currently covers an area of four million square metres, with 62,000 booths inside. About 100,000 suppliers exhibit 400,000 kinds of products almost every day from 9pm to 5pm.
The scale of the size and volume of the market is a sight to behold. I was there for three days and could hardly visit three per cent of it. It has literally everything under the sun, from rubber bands to laptops and from stapler pins to bicycles.
Once you get lost in the maze of the market, you will constantly discover new things. The prices are amazing and you bump into people of all nationalities, Americans, Germans, French, Brazilians, Pakistani and Indian who are there to import things to their country.
The scale of the place and the kind of things available cannot be explained in words, it really has to be experienced to believe it.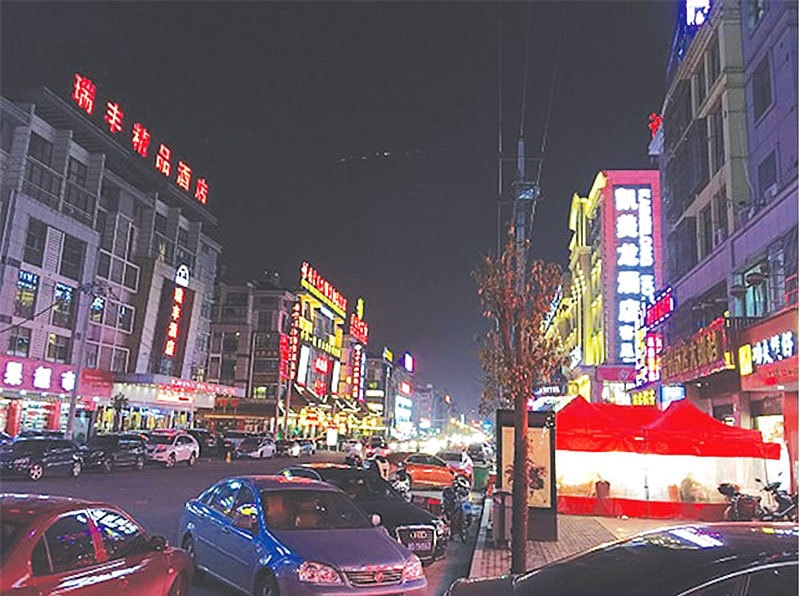 Although people told us that food would be a major issue in China, personally, I did not find it a big problem at all.
Both in Guangzhou and Yiwu, there are many halal restaurants where you can get good and economical meals. Sometimes you do have to travel a bit of distance for it but the availability is not an issue.
Not only is the food very good, due to Muslim influence, it caters to the very local Arabic and Pakistani taste. The tandoori roti and kofta I had in Yiwu were as good (if not better) than that in Pakistan.
The entrepreneurial nature of the Chinese people, the sincerity to their work and their efforts is commendable.
It consolidates in you the belief that if people anywhere in the world are provided opportunities to perform they will do wonders. China, for me, was an eye-opening experience. It made me literally 'look-East' and appreciate the efforts and achievements of the Chinese people, their government and their economy in transforming China.
There are few places that I want to visit again and China is one of them. I was sad I could not visit Beijing and Shanghai and get to see the Great Wall of China, the Terracotta Army and visit the vast mountains of Tibet; and so, I definitely plan to go back!
This time, with my family and for more than five days. China means Middle Kingdom and today it is the center of the world in trade and economy, from what I saw it will soon become the center of tourism as well.
Till we meet again, zài jiàn!
---
Published in Dawn, Sunday Magazine, November 8th, 2015
On a mobile phone? Get the Dawn Mobile App: Apple Store | Google Play