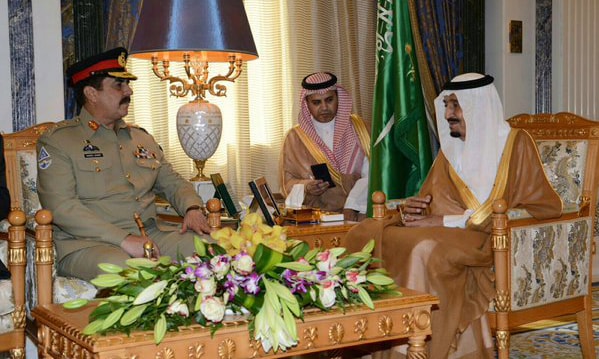 ISLAMABAD: Army Chief General Raheel Sharif called on Saudi King Salman bin Abdulaziz Al Saud on Wednesday and both leaders re-emphasised on the need to join hands to eliminate the menace of terrorism and reinvigorate the mechanism to roll back extremism, an ISPR statement said.
Details of the meeting revealed through a series of tweets by Lt Gen Asim Bajwa, General Raheel held meetings with the Saudi king, crown prince and the kingdom's defence minister to discuss matters related to mutual interests and bilateral security cooperation.
The Saudi dignitaries reassured to the army chief that the kingdom considers any threat to Pakistan as unacceptable and would support peace and stability in the country.
It was acknowledged during the meeting that both Pakistan and Kingdom of Saudi Arabia are vital players in regional stability, "with significant responsibility towards Muslim ummah".
The army chief reiterated Pakistan's commitment to the safety and protection of the Holy Mosques and also the territorial integrity of the kingdom.
The Saudi king and the army chief agreed both the countries "share great history of cordial relations and deep spirit of brotherhood which transforms into enduring partnership".
General Raheel appreciated the growing cooperation in counter terrorism, and intelligence sharing between the two countries.
He also urged to carry out efforts to limit the space for terrorists and extremists in all domains including choking the flow of funding.
The Saudi dignitaries told the army chief that the kingdom holds Pakistan Army in high esteem and appreciates the military's achievements in the ongoing operation Zarb-i-Azb.
General Raheel Sharif is in Saudi Arabia on a two-day official visit. He was received by the deputy defence minister and commander of Saudi Land Forces on Tuesday.
The army chief also met Chief of General Staff of Saudi Forces Gen Abdulreham bin Saleh Al Bunyan to discuss military to military relations, defence cooperation and regional security situation.