ISLAMABAD: The death toll from the earthquake, that shook northern parts of Pakistan on Monday, has risen to 267 while 1,856 are reported injured across the country.
The National Disaster Management Authority (NDMA) says at least 11,389 houses were damaged in the affected areas with Khyber Pakhtunkhwa (KP) province being the worst-hit with 220 deaths, 1,656 injured and at least 10,586 houses damaged.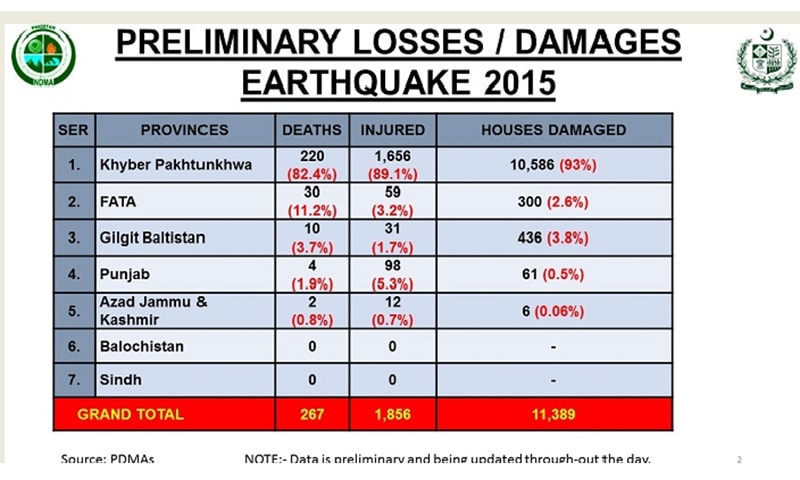 ---
District-wise distribution of causalities by region
---
Nawaz announces relief package
Prime Minister Nawaz while addressing a press conference in Peshawar, announced a Rs0.6 million relief package for those killed in the earthquake.
He also announced Rs0.1m for each person injured in the disaster.
The premier said that every person handicapped by the quake would receive Rs0.2m, while Rs0.2m was announced for building the houses destroyed in quake.
"Owners of partially damaged houses will get Rs0.1m to repair their shelter," said the PM.
Answering a question, the premier reaffirmed that the aid package was announced for affectees of KP, Fata and Gilgit-Baltistan while the expenditure will be shared by the federal and provincial governments.
The cheque distribution is to commence Monday and affectees will receive the cash through bank counters established near relief camps.
"We would have started it (cheque distribution) today, but to keep the process transparent, a verification committee has been set up to identify actual affectees and assess damages," said Nawaz.
The PM said that verification committee will comprise a local resident, a military force personnel and a federal government representative while the relief distribution will be completed til Thursday.
The initial quake — which struck the country at 2:09pm Monday — has been followed by several aftershocks, measuring as high as magnitude 4.8, according to the United States Geological Survey (USGS).
Soon after the quake, PM Nawaz had ordered for 2,000 tents to be sent to the earthquake-affected areas.
An MI-17 helicopter was also placed at the disposal of the KP government to carry out relief efforts.
"A nine-bed mobile hospital with team of surgeons will be dispatched to Dir immediately," read a statement issued by the PM House.
A crisis cell was immediately formed to coordinate with all federal, civil, military and provincial agencies for damage assessment and rescue and relief efforts.
Joint Secretary Prime Minister Office Kazim Niaz is heading cell while NDMA, respective Provincial Disaster Management Authorities, Inter-Services Public Relations (ISPR) and Earthquake Reconstruction and Rehabilitation Authority (Erra) were made a part of the cell.
After chairing a high-level meeting in PM House on Tuesday, which was also attended by COAS Raheel Sharif and Interior Minister Chaudhry Nisar, Nawaz said his government would announce a relief package to help quake victims.
Helicopters and military planes were transporting relief supplies and military engineers were working on restoring communication lines disrupted by landslides, said Lt. Gen. Asim Saleem Bajwa, the army spokesman.
Pakistan International Airline (PIA) has offered free transportation of relief goods to the federal government and the NDMA from domestic and international destinations.
A spokesperson for the national flag carrier said yesterday that PIA employees were with the people affected by the earthquake.
He said: "Pakistan International Airlines is ready to provide assistance, if necessary for the people of earthquake affected areas."
Related: Quake survivors endure crippling cold in the open
Affectees seek government help to rebuild homes
The Pakistani town closest to the epicenter is Chitral, and one of the worst-affected towns is Shangla, where 70-year-old Zurqun Nain said his extended family was living at a relatives' home after the quake damaged his house. "I had my own home before the earthquake. Now I am homeless at this old age," he said.
The PM visited Shangla on Tuesday and was told that at least 49 people were killed and 80 were injured in the town after the quake.
Another resident, Said Alam, said his family was still waiting for government help.
Monday's quake shook buildings in the capital, Islamabad, and cities elsewhere in Pakistan and Afghanistan for up to 45 seconds in the early afternoon, creating cracks in walls and causing blackouts.
The picturesque Swat Valley and areas around Dir, Malakand and Shangla towns in the mountains of Khyber Pakhtunkhwa province were hard-hit by the earthquake. Officials said 202 of the dead were killed in Khyber Pakhtunkhwa.
More than 2,000 people were injured in Monday's temblor, which also damaged more than 4,000 homes in Pakistan, officials said.
Military said in a statement that engineers succeeded in reopening portions of the Karakoram Highway blocked by landslides caused by the quake. It allowed authorities to begin transporting relief supplies to affected areas in the northern regions, where dozens were killed and hundreds of others left homeless.
A magnitude-7.6 quake hit Pakistan on Oct. 8, 2005, killing more than 80,000 people and leaving more than 3 million homeless, most of them in the northwest of the country and in the divided region of Kashmir.
That quake was much shallower — 10 kilometers (6 miles) below the surface of the earth, compared to the depth of 213 kilometers (130 miles) on Monday — and thus caused greater damage, said Mohammad Hanif, an official at the Meteorological Department.
Also Read: Afridi visits quake survivors in Peshawar, donates Rs5m
Monday's quake shook buildings in the capital, Islamabad, and cities elsewhere in Pakistan and Afghanistan for up to 45 seconds in the early afternoon, creating cracks in walls and causing blackouts.
The earthquake destroyed more than 7,600 homes across Afghanistan and injured 558 people, according to a statement from President Ashraf Ghani's office after he had met with disaster management officials. He ordered the military to make assets available for the relief effort.
In Afghanistan's Takhar province, 12 students at a girls' school were killed in a stampede as they fled a shaking building.
Sonatullah Taimor, a spokesman for the governor of Takhar province, said so far authorities had recorded 14 deaths, including the schoolgirls. More than 50 were injured and 200 houses destroyed. He said food, blankets and tents were in short supply, though people had been warned to sleep outside - in near-freezing temperatures - in case of aftershocks.
Related: Eyewitness accounts: 'Pure terror. A minute of quake'