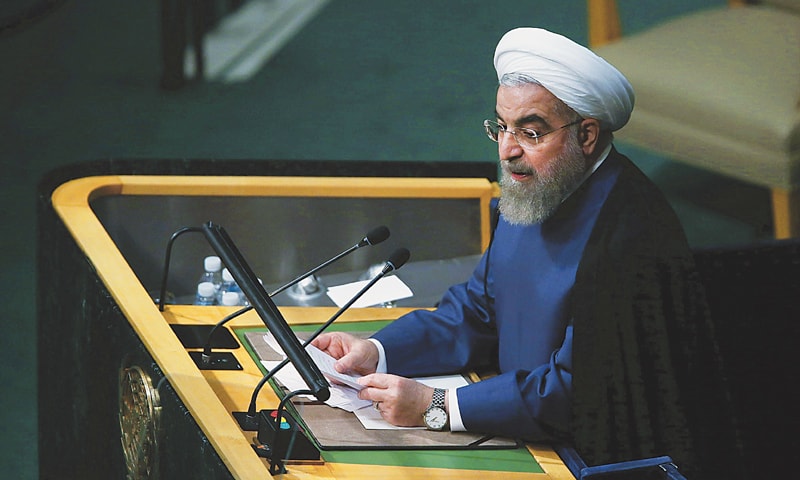 UNITED NATIONS: Iranian President Hassan Rouhani on Monday said that the rise of violent extremism in the Middle East was due to Western countries "strategic blunders".
Speaking at the United Nations General Assembly, Rouhani said the solution for the crisis had to come from within the region.
He also accused "certain intelligence agencies" of funding groups such as the self-styled Islamic State in Syria and Iraq.
Over 160 World leaders are meeting at the World body in New York to discuss the threat of IS. In his important speech, Mr Rouhani said that terrorism was now a "global threat, from New York to Mosul, from Damascus to Baghdad, from the easternmost to the westernmost parts of the world, from Al Qaeda to [Islamic State]."
"The interests of Western countries in our region are tied to their recognition of beliefs and the desire of the people for democratic governance in the region.
Our region expects that the Western world would once and for all place itself in the company of those true seekers of democracy, and, hence, soften the bitter memories of its support for dictators," he said.
Rouhani also spoke of the ongoing negotiations over Iran's nuclear programme, saying that he was "hopeful" of reaching a final agreement in the time remaining.
However, he warned that any delay in arriving at that agreement "only raises the costs," and that a deal was "in the best interest of everyone, especially that of the nations of the region".
Iran was committed to continuing its nuclear enrichment work under international law, he added.
Published in Dawn September 29th, 2015
On a mobile phone? Get the Dawn Mobile App: Apple Store | Google Play