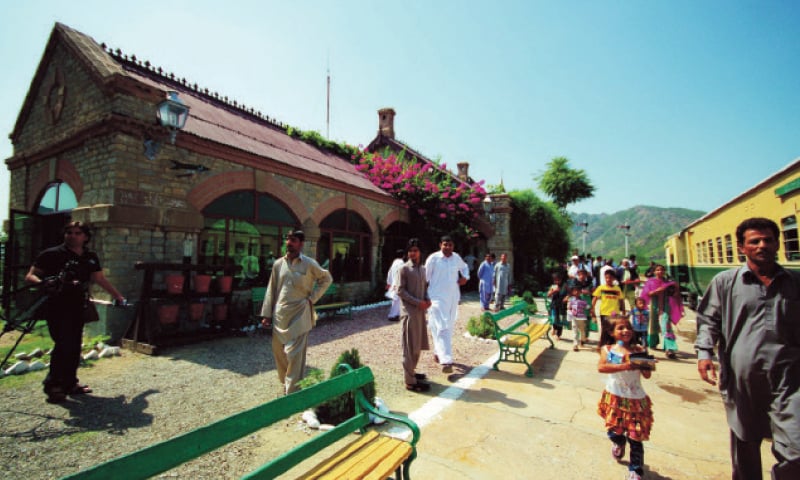 PESHAWAR: The Tourism Corporation Khyber Pakhtunkhwa in collaboration with Pakistan Railways and Sehrai Travels organised a train excursion from Peshawar to Attock Khurd for families to mark the World Tourism Day.
Additional secretary of sports, tourism, archaeology, museums and youth affairs department Tariq Khan told reporters at Attock Khurd railway station that such activities were being held to encourage domestic tourists to spend Eid holidays with family in affordable and convenient way.
He said the TCKP had maintained its record of celebrating the day, which was marked across the world on Sept 27, with full zeal and vigour.
Tariq Khan said the event was organised to give the city's residents, especially youths, a glimpse of history.
The activity involved activists of 150 youth organisations, especially Women Scouts, Women Chamber of Commerce and Peshawar cricket team.
The participants accompanied by children enjoyed the journey of one and a half hours, said a news release issued here by the TCKP.
According to the release, the historic tourist resort complex of Attock Khurd is situated on the eastern bank of the Indus River near the old iron girder bridge built in 1883, which connects Khyber Pakhtunkhwa with Punjab.
With magnificent stone masonry and beautiful Victorian architecture, the railway station built by the Britishers in around 1880 is set in a hilly backdrop of an area steeped with history.
The train tour offered a rare glimpse of a section of historic Rawalpindi-Landi Kotal route.
The journey began from Peshawar cantonment railway station and moved on passing by the famous Balahisar Fort.
After leaving the city, the train chugged through lush green fields and orchards of peaches and plums, undulating hillocks and entered the rugged Manglot mountain range.
It later passed through seven colonial-era tunnels, the last one called Aornos, which is named after the site of the last siege of Alexander The Great before he crossed the Indus into India.
The train then crossed the mighty river over the old Attock bridge and made the final stop at Attock Khurd railway station.
The Attock Khurd resort was originally built as a popular fishing spot and hunting ground for black partridge and wild fox.
On the western bank is a tall first World War memorial in the shape of a .303 bullet.
It was built in the memory of the men of 40th Pathan Regiment, who took part in the war.
The grand Attock Fort, which was built by Mughal Emperor Akbar in 1581AD, is also in close proximity.
The train passed through other historical sites e.g. Begum ki Sehrai, Bahram ki Baradari, Tomb of unknown dancer and many Hindu and Sikh temples of the bygone era, which were located close by.
Published in Dawn, September 28th, 2015
On a mobile phone? Get the Dawn Mobile App: Apple Store | Google Play