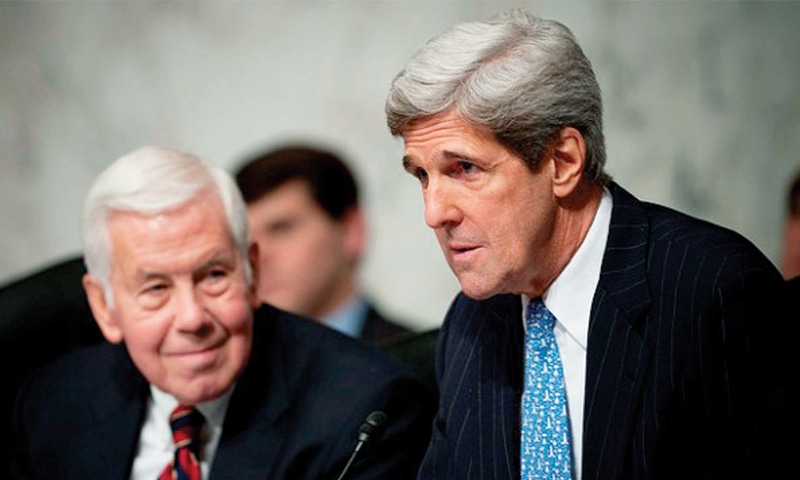 Five years ago, the Kerry-Lugar-Berman act was passed by the US Congress. Aiming to provide $7.5 billion to Pakistan over five years, the act was a bid to demonstrate American commitment to Pakistan and its people by investing in civilian sectors. This was supposed to symbolise a shift in US policy which is traditionally seen to favour military regimes in Pakistan.
Even though the money is far from having been spent in its entirety, this report examines the available numbers and the progress on the ground to trace where the aid went and what it has achieved.
WHEN the United States assigned $7.5 billion in aid to Pakistan, many well-meaning American officials were intent on using this money to improve educational opportunities for the country's estimated 52 million school-aged youth.
By Sept 30, 2014, the last day of the period of the Kerry, Lugar and Berman-sponsored Enhanced Partnership with Pakistan Act of 2009, USAID had spent $400 million on education with a focus on school construction, teacher training, and scholarships.
But the five-year long experience illustrates how hard it is to translate dollars into educational goals in a country where development is mired in patronage and politics.
"All aid funding for Pakistan continues to face one problem — it can't circumvent the politics around education," says Asif Saeed Memon, a doctoral candidate and research fellow at the Sustainable Development Policy Institute (SDPI). "For politicians, education is about patronage in two ways. One is teaching positions and the second is school construction, which is about awarding work to their favourite contractors."
Building schools
According to the USAID website, they have built or repaired 989 schools across Pakistan.
To provide a comparison of Pakistan's needs, consider that the 2010 floods damaged or destroyed more than 11,000 schools in KP and more than 5,000 in Sindh. That USAID was aware of the scale of the problem is evident from the fact that in 2009, the summer before KLB was passed, its target for school construction was 10,000 schools. It has met less than ten per cent of that goal.
The progress in Sindh reveals how ineffective aid projects can be in addressing problems.
In Sindh, 120 schools are currently being built or rehabilitated under a five-year programme worth $155 million. Over half of the money is being spent through the Sindh government and the remainder through contractors and NGOs.
In initial discussions in 2011, the Sindh Ministry of Education asked USAID not to give them the money directly due to the high risk of corruption and inefficiency.
However, USAID insisted on routing the money through the government, in order to meet its internal targets for government-to-government spending.
School construction in Sindh did not start until February 2014, over two years into the agreement. USAID broke ground on the first school in Karachi in March 2015. The programme is set to expire in September 2016.
According to a report by USAID's Inspector General, the delays in Sindh were due to the government's slow development of building plans and cost estimates, difficulty in obtaining land titles, and a hiatus during general elections.
The usual bureaucratic red tape also proved to be a villain.
For example, USAID tried to build the capacity of the Sindh Education Ministry unit responsible for construction by providing instruction manuals, but both the Sindh government and USAID staff told the auditor that the content of the manuals were irrelevant. By then, time and expense had been spent on preparing them.
More serious still is the question of how these schools will be run once the construction is complete.
As the aid money will only pay for the construction of the buildings, the government will have to find the money to hire teachers. It is unclear where this will come from.
The federal and provincial education budgets have been stagnant for years.
One can contrast this with what the Pakistani civil society has achieved in the education sector. The Citizens Foundation (TCF), which is supported almost entirely by Pakistani philanthropy, has built and sustains 1,060 schools. The endeavour now costs about $20 million a year but it has taken 20 years to build this network, showing that overnight fixes are not possible, even if the funds are available.
USAID has complemented school construction ef forts by training over 60,000 teach-ers. They have also developed associate and bachelors programmes to train teachers; these programmes have enrolled 12,000 students.
The degree programmes appear to be what Pakistan needs, at least in design.
`We need teacher training at the level of colleges and universities, like a four-year bachelors programme, rather than training courses that last a few days,` says Abbas Rashid, Executive Director at the Society for the Advancement of Education in Lahore, `But they should make sure teachers know the subjects they are teaching, not just teaching methods.
Columbia University`s Teachers College in New York is leading curriculum development, which emphasises the content of subjects alongside teaching methods, according to the programme`s website. USAID hopes that provincial governments will make the teaching degrees arequirement for hiring.
But according to experts, training will not translate into a functioning public education system. The biggest challenge facing public schools is unaccountability.
`It`s good if better teachers are getting into the pipeline, says Myra Khan, a recent graduate of Harvard School of Education, `But public school teachers are not intrinsically motivated to perform.
Evidence shows that even with 20 years of experience you`re not going to see better educational outcomes.
A seminal 2007 study led by Tahir Andrabi, Jishnu Das, and Asim Khwaja found that infrastructure, teacher qualifications and training, and pay have no ef fect on student performance. What matters is accountability or ensuring that teachers show up at the school. According to the study, a teacher in a public school is absent one-fifth of the time.
Ironically, short-term teacher training programmes can exacerbate absenteeism because they often pay teachers to attend trainings during the school day.
In a recent Op-Ed, Abbas Rashid has drawn attention to the need to ensure that government teachers are being hired on merit rather than patronage and on a contractual basis so they can be fired if they do not show up.
Scholarships
Perhaps the largest chunk of funds, or about $20 million a year since 2005, has gone into Fulbright scholarships for Pakistanis to study in the US. Pakistan has one of the largest Fulbright programmes in the world. But Fulbright is as much a diplomacy programme aimed at promoting understanding between the US and Pakistan as a development one.
As SDPI`s Memon points out, scholarships tend to benefit upperand middle-class students who have the English language skills and educational background to be competitive in applying to US universities.
Perhaps it was to counter this challenge that USAIDalso implemented a programme to provide scholarships for more than 1,800 underprivileged-but-promising Pakistanis to attend local universities.
According to an independent evaluation by Management Services International (MSI), 96 percent of those surveyed said they could not have continued their education without the scholarship. Most of these graduates are largely now employed and earning salaries on par with their more privileged peers.
Less than 2,000 graduates over five years is a mere drop in the ocean, but the government has adopted and expanded this program. The HEC has replicated the programme, announcing 10,000 scholarships for financiallydisadvantaged students to go to college in Pakistan.
The downside of aid
Apart from the problems identified above, critics also point out that aid tends to allow governments to shirk responsibilities. This appears to be an unintended consequence of KLB and other donor support to the HEC.
In 2009-2010, the government cut the HE C`s budget by more than 20pc per year, while directing universities dependent on HEC support to increase salaries by 20pc.
USAID jumped in and granted the HEC $90 million to cover salaries, scholarships, and build or rehabilitate buildings and laboratories at 41 universities.
According to an independent evaluation by MSI, the funding helped these varsities keep up with their peers.
Donors and politicians like to throw money at problems, but there are few development problems that can be solved unilaterally by donors.
The experience in Pakistan testifies to this. Here also, aid may have helped the education sector but it has done little to transform or restructure it. Without the political leverage to urge reforms and tying expenditure to progress, USAID is simply working at the edges to provide training and resources.
Read more: The (unspent) money trail
Published in Dawn, July 6th, 2015
On a mobile phone? Get the Dawn Mobile App: Apple Store | Google Play