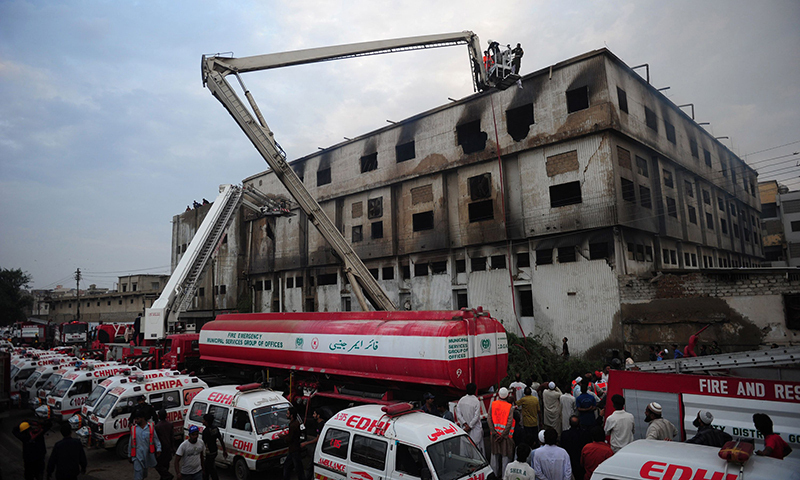 KARACHI: A sessions court on Saturday directed police to submit a re-investigation report in the fire-wrecked garment factory case till Aug 1.
The owners of the Baldia industrial unit, a general manager and three gatekeepers were initially booked and charge-sheeted in the tragic incident in which over 250 workers were burnt in September 2012.
The provincial authorities ordered reinvestigation after a joint investigation team report filed in the Sindh High Court stated the factory had been set on fire over non-payment of extortion money. When the case came up for hearing on Saturday, additional district and sessions judge (west) Naushaba Kazi expressed her displeasure over the delay in the submission of the re-investigation report. When she asked SP Sajid Sadozai, the new investigating officer, about the time frame required to complete the reinvestigation, he failed to give any. Instead the officer, who was tasked to reinvestigate the case in March, submitted two notifications pertaining to the constitution of an inquiry committee.
After examining the notifications, the court observed that the 30-day time frame given to the investigating committee had already expired.
Commenting over the non-appointment of a special public prosecutor in the case despite court orders, the court observed the government had turned a blind eye towards the case.
The court adjourned the hearing till Aug 1 and asked the IO to submit the re-investigation report.
KMC official given in Rangers custody for 90 days
The Pakistan Rangers informed on Saturday an antiterrorism court about 90-day preventive detention of a Karachi Metropolitan Corporation official for questioning.
The paramilitary soldiers along with their legal team produced Atif Ahmed, an assistant director of the KMC land department, in the chamber of an ATC judge and contended that the suspect was picked up upon receiving credible information about his involvement in extortion, targeted killing and other offences falling under the Anti-Terrorism Act, 1997.
They submitted that the detainee was placed under preventive detention for three months under Section 11EEEE (1) of the ATA for inquiry and his production along with relevant documents was made in compliance with Section 11EEEE (3) of the ATA for the information and record of the court.
After the hearing, a law officer of the paramilitary force told reporters that the suspect during initial interrogation confessed to having committed several irregularities in land owned by the now defunct Karachi Development Authority.
He said that billions of rupees were made through what was described as 'China cutting', settling people on them and then getting them regularised illegally and alleged that the amount was sent to London through a middle man named Chunnu Mamoo to a top leader of a political party.
However, the documents filed in court did not contain these claims.
Published in Dawn, July 5th, 2015
On a mobile phone? Get the Dawn Mobile App: Apple Store | Google Play