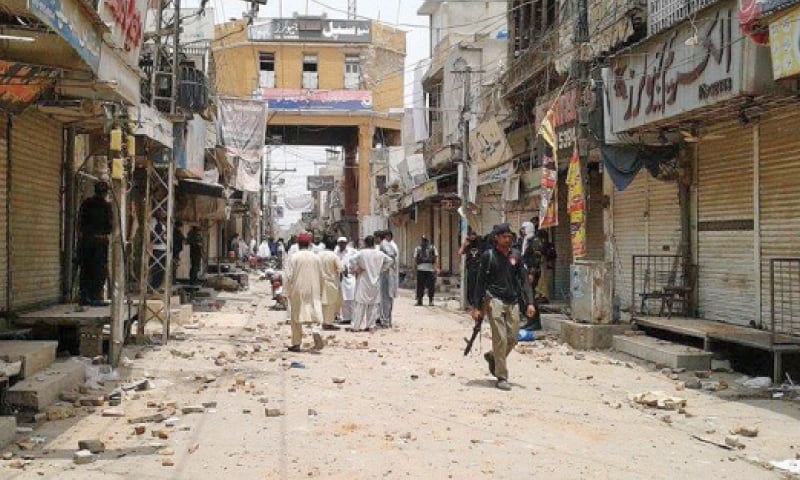 DERA ISMAIL KHAN: A trader was killed and 10 others were injured in a clash between two groups of businessmen in the busy Gomal Trade Market in Dera city here on Wednesday.
The exchange of hot words and brawl over petty issue between youth of Miani tribal Pathan and Mohajir Rajput groups turned violent when a jirga failed to resolve the dispute and bring both the sides on negotiating table.
The enraged members of both the groups used firearms, stones and batons against each other. A trader identified as Bilal, a resident of Kokar area was killed and 10 others suffered injuries in the clash.
The injured were identified as Fazalr Rahman, Farooq, Bathai Khan, Juma Khan, Zarin Khan, Hafiz Rajput and Zibair Rajput. The injured were taken to district headquarter hospital.
---
10 other businessmen receive injuries in the incident
---
Dr Karim Shah, the medical superintendent of the hospital, told Dawn that they received a dead body and 10 injured persons. He said that one of the inured was in critical condition.
Police resorted to firing in the air to disperse the warring groups of traders, who were attacking each other.
Eyewitnesses said that women and children, who had come to the market for shopping, were stranded in the shops when the clash erupted. However, later they were evacuated by police. The incident created panic and fear among the people. All markets and trade centres were closed after the incident.
The relatives of deceased trader gathered at GPO Chowk near civil hospital and blocked the road by setting tyres on fire. They were chanting slogans against the police and district administration. The closure of road by protesters caused gridlock in the city.
DPO Sadiq Hussain Baloch reached the site of clash and ordered police to control the situation. Police launched a search operation in the area.
Haji Mahbubur Rehman told Dawn that the incident occurred over minor issue that led to violent clash between the traders of the two groups.
Soon after the incident, the district police officer ordered suspension of Dera City SHO Abid Iqbal for not taking prompt action to control the situation.
Meanwhile, the Miani tribal Pathan group lodged FIR against 120 members of Mohajir Rajput group including Suhail Rajput and Advocate Mohammad Hanif Pipa.
Published in Dawn, June 18th, 2015
On a mobile phone? Get the Dawn Mobile App: Apple Store | Google Play