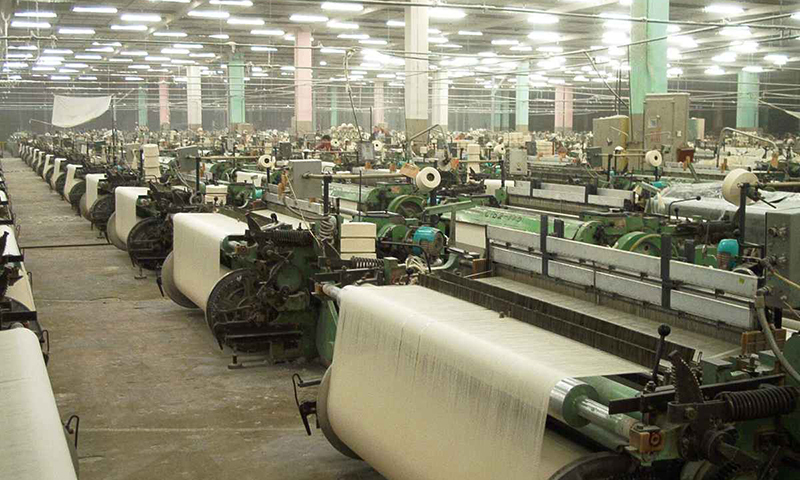 Is Pakistan's textile and clothing industry headed for a perfect storm? Factory owners across the textile supply chain say it has already hit one.
The high cost of doing business, energy shortages, aging machines, myriad of taxes on exports, influx of smuggled and imported textiles and clothing in the domestic market, absence of institutional support, rising exchange rate, raw material shortages, and the divide between policy and its implementation have eroded the economic viability of their business both at home and abroad.
"Pakistan is no longer in the race for a bigger share in the global textile business. Even our domestic market has been stolen from us by China and India. We're just struggling to survive and save our jobs," muses Gohar Ejaz, a textile business leader. "It is painful to see factories built by three generations facing an imminent threat of extinction on a very large scale because of the government's policies."
Around one quarter of the total installed capacity across the textile chain has already shut down, mainly because of the energy crunch and rising costs. The production capacity impairment in the spinning sector — at 30pc — is estimated to be higher than the industry's average.
The differential between the peak export revenues fetched by different sub-sectors and the value of their present overseas shipments stands at $3.3bn — or equal to the closed capacity — owing to falling export quantities.
---
'Our economic managers, instead of promoting exports for real economic growth, are depending on borrowed money from the IMF to show their performance, while our value-added exports are burdened by rising costs'
---
In March alone, the quantity of exported goods by every sub-sector from yarn to readymade garments recorded a loss of between 13pc and 33pc, except for knitwear.
The conditions in the domestic market aren't easier for textile manufacturers either. Almost three quarters of the 1,800m kilograms of fibre/yarn consumed by Pakistanis every year is either legally imported, smuggled as used clothing, or under the Afghan transit trade.
India's textiles and clothing imports are just one quarter of Pakistan's imports — including both official and smuggled. An estimated three-fifths of its entire production is consumed domestically.
"It is hardly possible to save textile exports without retrieving the domestic market from smugglers and importers," concludes Ahmed Kamal, a former chairman of the Faisalabad-based Pakistan Textile Exporters Association (PTEA). "Our production can rise by 50pc if we get back our domestic market from China and India," he adds.
Pakistan's textiles and clothing exports of under $14bn — or 1.8pc of the total global textile trade of almost $800bn, have increased at less than half the average world growth rate of 45pc since 2008. Bangladesh's exports, on the other hand, have grown by 160pc, while China and India have almost doubled their share in the global textile and clothing business.
The textile producers attribute the strong export performance of the regional rivals to the policy and financial support they get from their respective governments to keep their cost of doing business low and to diversify their markets and products.
Pakistan's yarn producers, for example, were much more efficient and modern in 2006 than their Indian competitors. Today, the conversion cost of 20 carded and 30 combed yarns in Pakistan is respectively 33pc and 27pc higher than those in India.
As if that is not enough, the Indian government has consistently supported its textile exports through rebates, subsidies and timely policy responses to their issues, protected its domestic market, and given huge incentives to encourage investments in new machinery and capacity.
India spent $3.5bn between 2007 and 2012 on its textile industry to add 14m spindles, 36,000 shuttles and jet air looms, grow exports by $16bn, create 16m jobs, and increase its share in the world textile trade from 3.5pc to 5pc.
Pakistan, on the other hand, spent less than $300m during 2009-14. Consequently, its exports have stagnated, jobs lost and machines rusted.
For the future, India has set aside $5bn to be spent on its textile industry till 2017, compared with the $640m package given by Pakistan for the next five years. "We can compete with exporters from India, China, Bangladesh and elsewhere. But we cannot fight with their governments," says Gohar.
Others share his feelings. PTEA Chairman Sohail Pasha says "our policymakers have been raising the cost of doing business for manufacturers, while our rivals are busy helping their exporters.
In the given conditions, it is hardly surprising that Pakistan has failed to take advantage of the European Union's trade concessions under its GSP+ scheme. Our economic managers, instead of promoting exports for real economic growth, are depending on borrowed money from the IMF to show their performance, while our value-added exports are burdened by rising costs."
Published in Dawn, Economic & Business, May 18th, 2015
On a mobile phone? Get the Dawn Mobile App: Apple Store | Google Play
Now you can follow Dawn Business on Twitter, LinkedIn, Instagram and Facebook for insights on business, finance and tech from Pakistan and across the world.