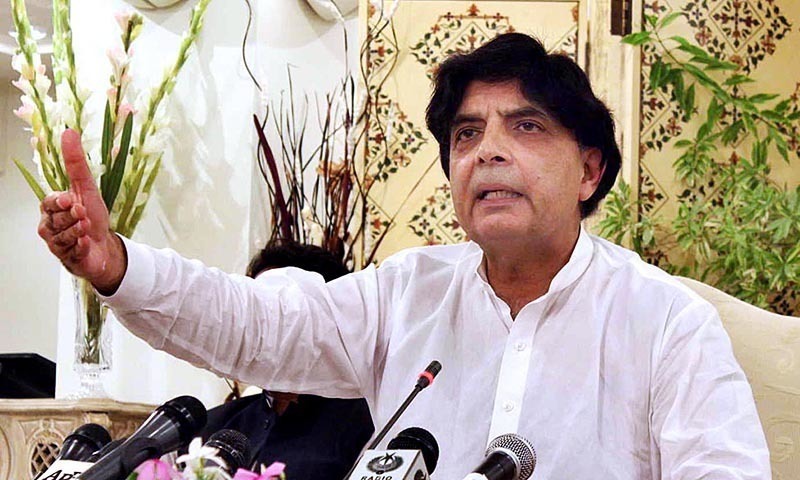 ISLAMABAD: Interior Minister Chaudhry Nisar Ali Khan has said that action would be taken against those who burnt two people alive and damaged public and private property in Lahore on Sunday.
Briefing the National Assembly's Standing Committee on Interior on his ministry's performance on Monday, he said an FIR would be registered against people who took law into their own hands.
The minister condemned terrorist attacks on two churches in Lahore and said those who had committed this act did not belong to any religion because no religion tolerated such heinous crimes.
He said terrorists wanted to create division in society. The noose around terrorists was being tightened and attacks on soft targets like mosques, churches and schools were an expression of their frustration, he added.
Chaudhry Nisar said the overall law and order situation had improved in the country as a result of an effective counter-terrorism policy adopted by the PML-N government.
Know more: Lahore lynching victim identified as local glass cutter
In reply to a demand of MQM legislator Asif Hasnain for formation of a commission to investigate alleged insulting behaviour of the Rangers with him and some other lawmakers and women during the recent raid at his party's headquarters, Nine Zero, the minister assured him that he would probe the matter himself.
He said the government had no plan to push any political party to the wall and told the house that the Rangers were operationally under the control of the GHQ and majority of its officers were from the military.
It was decided at a meeting presided over by Prime Minister Nawaz Sharif in Karachi that terrorists would not be spared irrespective of their political affiliation, Chaudhry Nisar recalled.
NEW ARMS LICENCES POLICY: The minister said that new policies about issuance of arms licences, bullet-proofing of vehicles, import of bullet-proof vehicles and registration of private security companies would be in place in a few months.
He said revalidation of 352,843 manual arms licences was under way throughout the country and 150,618 computerised arms licences had been issued so far.
He said over 2,000 licences had been declared bogus and legal action would be taken against the individuals concerned.
The minister said a scam involving operation of illegal retrofitting companies and issuance of fake NOCs had forced the government to impose a ban on issuance of NOCs, and to crack down on unauthorised companies involved in bullet-proofing of vehicles.
He said the government would allow only those people to import bullet-proof vehicles who faced threat to their life.
He said a ban had also been imposed on registration of private security companies because there was no proper system for their verification and registration. Most of them were hiring inexperienced and untrained staff, Chaudhry Nisar added.
He said the present government had registered no private security company because they did not have the requisite number of arms and expertise.
FILES MISSING: The minister said that a number of sensitive files of his ministry, including agreements signed with different countries, had gone missing.
He said he had issued a directive thrice to get the entire record digitised, but a mafia in the ministry did not want it to be done. "Now I have decided to get it done through the IT ministry and Nadra to ensure quick tracking."
Chaudhry Nisar said internal accountability would be improved in the interior ministry and officials with dubious reputation and who were inefficient or negligent would not be given important postings and positions.
E-PASSPORTS: The minister said chip-based E-passports would be launched for swift immigration at airports by the end of this year.
Machine-readable passport and visa services would be made available in another 56 foreign missions within a year, while 73 more regional passport offices would be opened in the country in two years.
He ordered the director general of passports to make arrangements for opening a passport office in Wana, South Waziristan, within a week.
Published in Dawn March 17th , 2015
On a mobile phone? Get the Dawn Mobile App: Apple Store | Google Play