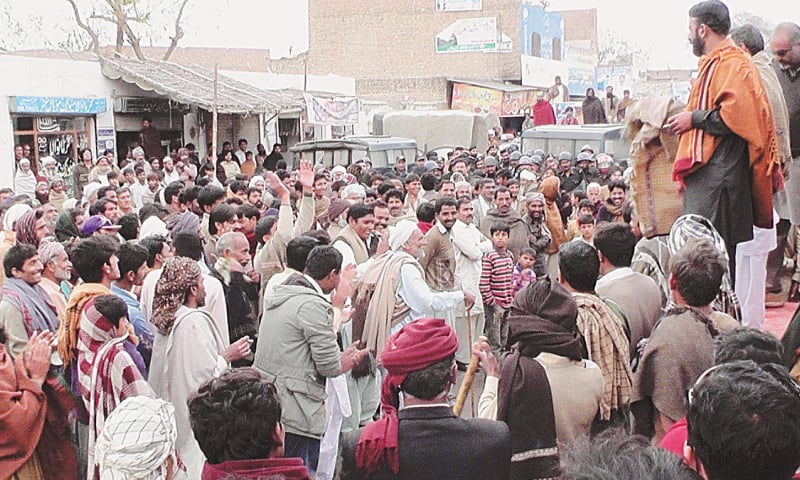 VEHARI/SAHIWAL/OKARA: Police baton-charged farmers in Okara on Sunday in an attempt to stop them from going to Islamabad to attend an anti-government meeting to be held there on Monday under the aegis of Pakistan Kissan Ittehad (PKI).
A large number of farmers, including PKI office-bearers, had gathered in front of the Government Boys College for a demonstration against 'anti-farmer' policies of the PML-N government and blocked the Multan Road.
Police baton-charged the demonstrators, fired tear gas shells at them and fired in the air in an effort to disperse them.
Take a look: The farmers' plight
At least six protesters were reportedly injured and about 70 arrested.
The farmers have been urging the government to fix support price of potato, increase wheat support price, charge flat electricity rates, withdraw GST from agriculture inputs like fertilisers and pesticides and ban agricultural trade with India.
Akram Kamboh, general secretary of the Vehari chapter of PKI, told Dawn that the protest was peaceful but police used force and injured several farmers.
Police threatened transporters and baton-charged even those farmers who were sitting in the buses waiting to depart for Islamabad, he said.
Mr Kamboh claimed that police personnel arrested the injured farmers.
Talking to Dawn, City Police Station House Officer Arshad Husain claimed that personnel resorted to firing tear gas shells when the protesters hurled stones at policemen. No injuries were reported during the clash, he added.
He said about 50 protesters, who attacked police, were arrested and a case was registered against them under Section 16 of the Maintenance of Public Order.
The SHO said police dispersed the farmers and opened Multan Road to traffic.
In Sahiwal, police stopped the farmers at different locations from going to Islamabad, arrested PKI's central leader Rizwan Iqbal and released him later after the farmers assembled at the Jamal and Nagina chowks protested over his arrest.
The demonstrators accused the PML-N government of not keeping promises made by Punjab Chief Minister Shahbaz Sharif.
Police stopped the farmers who were coming from villages of Pakpatan district at Nagina chowk, Jamal chowk and Malikpur chowk.
Talking to journalists, Rizwan Iqbal said the PKI had urged the government to fix potato price at Rs20 per kg, increase wheat support price to Rs1,350 per 40 kg, withdraw GST from agriculture inputs, give a Rs5,000 subsidy to rice farmers and ban trade with India.
A large number of members of the Khalid Mehmood Khokhar group of Kissan Ittehad arrived in Okara from other districts.
According to District Police Officer Faisal Rana, the demand of PKI leaders to meet the prime minister had been conveyed to the authorities concerned.
The protesters would not be allowed to block traffic, he added.
Published in Dawn March 9th , 2015
On a mobile phone? Get the Dawn Mobile App: Apple Store | Google Play