February 26, 2015
We really wanted to ignore 50 Shades of Grey, but the movie refuses to go away.
It earned top dollar at the box office in its first week and continues to draw crowds in week two, albeit in lesser numbers. This made us wonder – why are we so ambivalent towards 50 Shades when the film so obviously resonates with millions of viewers around the world?
After some thought we hit on an answer – this is because 50 Shades is just a few scenes removed from being your average Pakistani drama. It's basically 125 minutes of Pakistani primetime TV mashed up into a blockbuster, only with worse dialogue and a tad more heat.
How exactly is 50 Shades similar to serials like Humsafar?
Let us count the ways.
1. The man has control issues
People believe 50 Shades is all about physical intimacy. We disagree. That only serves as the backdrop for what it's really about – the power struggle between a man and a woman, a tale as old as time and one our local television shows depict over and over again with the same end result – the man comes out on top.
Thanks to Sikandar (Fahad Mustafa) from Kankar, it's easy to draw parallels between him and Christian Grey especially in terms of controlling his wife, Kiran (Sanam Baloch). In one scene for instance he rebukes her for coming home a little late from her mehka (mother's house) and when she replies that it's her right to go there, he sternly admonishes her: "Meri ijazat k bagher nahi (not without my permission). I am just trying to put some sense into your head, say 'sorry', apologise and finish it off.*"
Kiran doesn't push further and apologises, only to hear a deadpan "It's okay" from his end.
Just like he turns the fierce and independent Kiran into a blubbering mess because of the mental and physical abuse he inflicts on her, Mr. Grey is no different.
In 50 Shades, when they're at coffee, Grey places a muffin in front of Ana and says: "Eat it."
Ana says, "You're very high handed."
Grey replies: "I'm used to getting my way."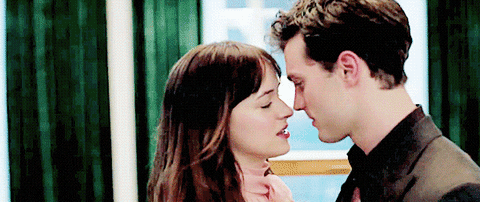 - Courtesy: giphy.com
Before they embark on their hot and heavy sexual relationship, Grey also presents Steele with a non-disclosure contract which outlines what she can eat, how much alcohol she's allowed to consume, how many breaths she can take in a minute (okay, we made that one up but you get the point). He wants to control not only her interactions with him but basically her whole life. Sound familiar?
2. The man has jealousy issues
As much as we want to romanticize Christian Grey and think he's jealous because he cares, we must call a spade a spade: he's a possessive insecure sociopath. He's suspicious of every guy in Ana's life, whether it's a platonic friend or an acquaintance.
In one scene, Grey wants to know more about Ana's friends and this is the exchange:
Grey: "So is he your boyfriend?"
Ana: "Jose? No"
Grey: "I saw the way he was smiling at you."
Ana: "No, Jose is more like family, he's not my boyfriend."
Grey: "And the guy at the store?"
Ana: "Paul? No!"
When Anastasia is out at a bar drinking with some buddies and Christian shows up unexpectedly AGAIN, he ends up shoving her male friend, who she had already friend-zoned anyway.
- Courtesy: perezhilton.com
Which brings us to our other point: how did she know that she was even at the bar in the first place? The only time they had spoken that night was when Ana drunk dialed him briefly. We'll tell you how. He tracked her phone. Only because he's a successful businessman by day and stalker with unlimited resources by night do we or Ana never stop to think he's creepy.
Jealous men in Pakistani dramas aren't a rarity and those who do become apprehensive do not waste a moment in parting ways with the woman. Case in point: the recent drama Firaaq (Hum TV) which showed a psychologist, Imroze (Mohib Mirza) temporarily leaving his wife, Paimaan (Sanam Saeed) because he suspects a fling between his best friend, Rumi (Noorul Hasan) and her. Even though Imroze is a psychologist, he couldn't help feel jealous of the man who supported him in getting married to that very girl.
3. The woman is a 'good' girl – inexperienced, fairly smart, but not too threatening
It's not only Pakistani men who expect 'bae' to also be a baechari. Ana is a 'Holier than Thou' English literature student and Christian is a 27-year-old billionaire who is into BDSM. Taking opposites attract a bit too far right? She's smart but not too smart, not smart enough to step out of line with him and that's probably why that made her so desirable for him. She'd be a challenging submissive but a submissive nonetheless.
When discussing what they do with their lives:
Ana: "Group activities aren't really my thing."
Grey: "So what is your thing?"
Ana: "I don't know. Books?"
- Courtesy: perezhilton.com
A drama that needs no introduction, Humsafar too bears a similarity with 50 Shades— it's the meek, submissive Khirad (Mahira Khan) who acts like a mirror image of Steele. From nodding at everything Ashar says to molding herself to please him, Khirad is just another Anastasia who is smart enough to know what's going on but too compliant to resist. Rather this becomes a reason for her to acquire higher studies as she says:
"Mera dil chahta hai me unki pasand k sanchay me dhal jaon, jo unko pasand hai who apna lon jo unko napasand hai wh chor don (I yearn to become everything he desires, to adopt what he likes, to shed what he dislikes)."
- Screen grab from Humsafar
4. The woman has to adopt the guy's lifestyle or get lost
When Ana refuses to sign the contract formerly mentioned, Christian pretends to be okay with it. He keeps saying he's okay with it but doesn't actually back off – he sends her the first edition of her favourite book, a new Macbook Pro, shows up at her place unannounced – all in an effort to woo her into signing that contract. With his contradictory words and actions, he manipulates her into living her life in the manner he wants her to.
- Courtesy: perezhilton.com
He gives her the illusion that she has an escape, in reality he's the one calling the shots - in the bedroom and otherwise. Ana even asks him, "Don't you like me the way I am? Why are you trying to change me?"
We see this happen in Shanakht too. Although Hashim (Noor Hassan) marries Faryal (Kanza Wayn) who has been brought up in London, he makes sure that he imposes his 'Pakistani' lifestyle on her by forcing her to fit the role of a stereotypical wife. From reminding her to look after his clothes to buying long, loose fitted shalwar kameez for her, the Grey within Hashim awakens when his wife refuses to 'obey' him.
- Photo courtesy: Shanakht Official Facebook page
With dialogues like "Tum meri pasand k muttabiq apne andar thori si change lanay ki koshish tou kar he sakti ho na (You can make an effort to change yourself a little for me, can't you now)" (Ep 17) and "Western kapron se he tou jaan churani hai (We need to get you out the grip of these Western clothes)", Hashim adheres to the belief that his other half should voice his thoughts only.
5. Both depict unrealistic expectations of sex
While 50 Shades and Pakistani dramas treat sex itself very differently -- intense, rough sexual relations that satisfy every time as opposed to no sexual relations -- one thing remains true to both: either portrayal is ultimately an unrealistic representations of sex.
- Courtesy: MTV
Admit it: our dramas portray asexual characters that have no sex drive. From romantic Humsafar to Matae Jaan (Hum TV) to Aunn Zara (A-Plus) our dramas pretend sex doesn't exist in our society except of course in the form of rape. A mere peek into the room where a bride awaits the groom is more than enough to signal that the two humans will engage in something unknown and unheard of.
- Photo courtesy: bollywoodlife.com
While sexual assault is commonly shown in dramas (Chup Raho (ARY), Mora Piya (Geo Entertainment) Kaafir (ARY)), a normal sexual relationship is never given any room which makes our serials all the more like 50 Shades because, well, both have unrealistic depictions of sex: Neither do all American couples enjoy BDSM nor do Pakistani couples live without love-making in their lives. A strange world we live in, hm?
After all that proof, we stand convinced that there's too much of the Pakistani drama in 50 Shades and vice versa for it to serve as something new or exciting.
It's enlightening to realise that both genres stick to outdated notions of how a relationship between a man and a woman should be conducted and framed. Now, to see a film that busts that myth - that would be refreshing!
---