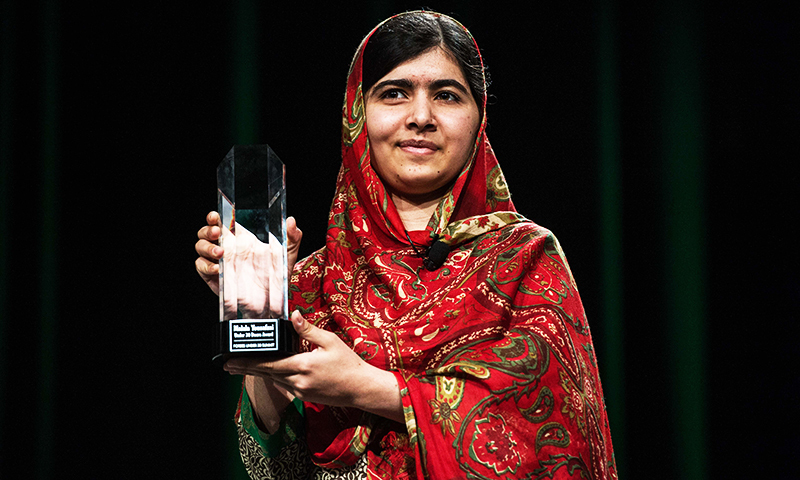 ISLAMABAD: An association of Pakistani schools held an "I am not Malala" day on Monday, condemning young Nobel peace laureate Malala Yousafzai for what it called her support for controversial novelist Salman Rushdie.
Education campaigner Malala was shot in the head by the Taliban in October 2012 but recovered and went on to win this year's Nobel peace prize.
The 17-year-old has been hailed around the world for standing up for girls' rights to education, but the response to her in Pakistan has not been universally positive, with some seeing her as a "Western agent" on a mission to shame her country.
The All Pakistan Private Schools Federation last year barred its members from buying Malala's memoir "I am Malala" because of what the group said was its "anti-Pakistan and anti-Islam content."
Read more: Pakistani private schools ban Malala's book
It said the book, written with British journalist Christina Lamb, was too sympathetic to British novelist Salman Rushdie.
Rushdie in 1989 became the target of an Iranian fatwa, or religious edict, calling for his murder for allegedly blaspheming Islam and the Prophet Mohammed (PBUH) in his book The Satanic Verses.
Mirza Kashif Ali, the president of the schools' federation, said in a statement it was "clear that Malala has nexus with Salman Rushdie and Taslima Nasrin, and also has alignment with Salman Rushdie's ideological club".
"We severely condemned the chapter of the book in which Salman Rushdie's book has been mentioned as freedom of expression by Malala while referring to father's views," Ali said.
He said walks, seminars and press conferences were held to highlight the "I am not Malala" day.
Bangladeshi author Nasrin was forced to flee her homeland in 1994 after radical Muslims accused her of blasphemy over her novel "Lajja" (Shame), in which a Hindu family is persecuted by Muslims.
Blasphemy is a sensitive issue in Pakistan also, where it can carry the death penalty.
Malala's book describes her life under the Taliban's brutal rule in northwest Pakistan's Swat valley in the mid-2000s, hints at her ambition to enter Pakistani politics and even describes her father's brief flirtation with Islamic fundamentalism as a youngster.
The book describes public floggings by the Taliban, their ban on television, dancing and music, and the family's decision to flee Swat along with nearly one million others in 2009 amid heavy fighting between the militants and Pakistani troops.
Malala, who lives in Britain where she went for treatment after being shot, was jointly awarded the Nobel Peace Prize in October alongside India's 60-year-old Kailash Satyarthi for their championing of children's rights.