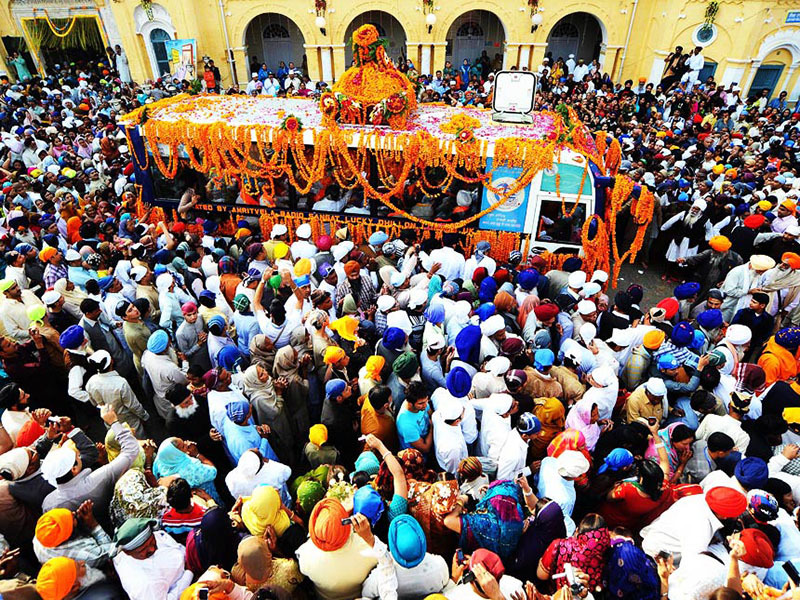 THE Gurdwara Janam Asthan in Nankana Sahib was on Thursday morning overflowing with Sikh yatrees, or pilgrims, gathered for the 446th birth anniversary celebrations of Baba Guru Nanak Dev, the founder of the Sikh religion.
Hundreds of people — men and women — had queued up for several hours for a brief 'audience' with Guru Granth Sahib, their holy book, seen as a living entity. Others were reciting hymns and verses from it. Still others sat listening to hymns being sung by a party of devotees.
The three-day celebrations began on Tuesday evening with yatrees making the holy journey to Nankana Sahib from around the world — India, Britain and other parts of Europe, Canada and elsewhere.
It was like a dream come true for Pritam Singh Sambhi for whom the journey took 28 long years. "I had been trying to come to Pakistan to participate in the birthday celebrations of Baba Guru Nanak Dev since 1987," Sambhi, who flew to Pakistan this week from Brantford, Canada, told Dawn. "My wife, who wanted so much to be here with me, couldn't make it though; she passed away in 2009," the pilgrim, in his 60s, said with a tinge of pain in his voice.
Like many other foreign Sikh yatrees attending one of their major religious festivals, he holds the restrictive Pakistani visa policy responsible for making it difficult for them to visit their holy shrines here.
"We can get Pakistani visas only on religious occasions like this one. If you ease your visa policy, thousands of people like me from Canada and elsewhere would be able to return here more frequently to visit their religious places," he said.
According to the Evacuee Trust Property Board (ETPB), around 1,600 Sikh yatrees have arrived from Europe and North America — mainly from Britain and Canada.
Many nevertheless firmly hold that only those who are called by Baba Guru Nanak can make it here, visa restrictions and other problems notwithstanding. "Our relatives and friends cautioned us against making the pilgrimage this year in the wake of the [suicide] bomb attack at Wagah. I told them if our Guru wants me to die on the other side of the border then so be it," an elderly woman from India said as she stood in the long queue waiting for her turn for an audience with Guru Granth Sahib.
Pakistan had issued visas to 3,000 Sikh yatrees from India this year, but fewer than 1,650 crossed the border on Tuesday because of the devastating suicide attack that killed more than 60 people returning from the flag-lowering ceremony on Sunday evening.
The government has taken extraordinary security measures to protect the visiting pilgrims. "We are trying to provide foolproof security to the Sikh yatrees. Still many Indians cancelled their visits," a senior ETPB official said. He added that close to 15,000 Sikh yatrees from different parts of the country were participating in the Guru Nanak Jayanti festivities along with pilgrims from abroad.
Most yatrees expressed satisfaction with the security arrangements the ETPB has made. "There is no issue of security here," said Gurubakhsh Singh from Canada, who was here for the first time. "We are grateful to the Pakistan government for taking such elaborate security measures and for facilitating our stay."
On the day, a function was organised by the Pakistan Sikh Gurdwara Parbandhak Committee, a body created under the ETPB in 1999 by the second Nawaz Sharif government to manage the Sikh shrines in the country. The objective was to afford the visiting Sikh Jatha leaders an opportunity to share their plans for the management of Sikh shrines spread across Pakistan and controlled by the trust under its new chairman Siddiqul Farooq. "We intend to build a university here and construct 1,000 rooms for yatrees," Farooq said, urging the wealthy Sikhs visiting from Europe and North America to contribute funds to help him implement his plans.
Many pledged to help him. But before they do so, they would like to see the control of Sikh properties transferred to the community leaders and the reform of the Parbandhak Committee.
Published in Dawn, November 7th, 2014