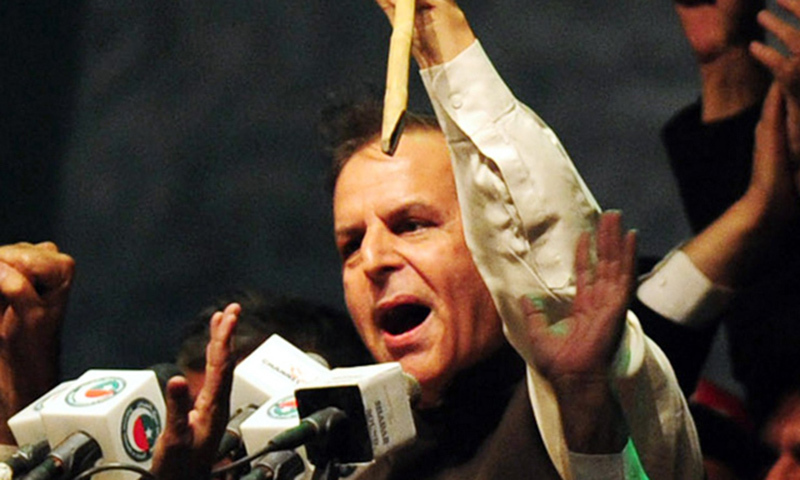 ISLAMABAD: Suspending membership of renegade President of Pakistan Tehreek-i-Insaf (PTI) Makhdoom Javed Hashmi, the party on Monday summoned him to the party secretariat to explain his case on September 29, DawnNews reported.
PTI Chairman Imran Khan had announced earlier this month that he had parted ways with Hashmi for opposing the march on the Prime Minister`s House.
Profile: Javed Hashmi, the perennial rebel
During his speech on the floor of Parliament on September 2, Hashmi had clarified that despite his differences with the party's high command, he was still PTI's democratically elected president.
In the memorable speech to the joint session of Parliament, the seasoned politician had claimed that no PTI MNA had willingly tendered resignation to the party leadership and that a system existed in the country "to engineer making and breaking of governments."
He made the claims shortly after disclosing "a scripted plan to overthrow the government, using violent protests as a pretext."
Explore more: Qureshi has been in contact with US Embassy: Hashmi
Hashmi had accused Imran Khan of bypassing a decision of the PTI's core committee not to join Dr Tahirul Qadri's march on Prime Minister's House after receiving a message from 'somewhere'.
The Pakistan Army, however, had immediately come up with a statement that it was not behind the PTI and PAT sit-ins in any manner.
Also read: Army saved system for first time: Hashmi