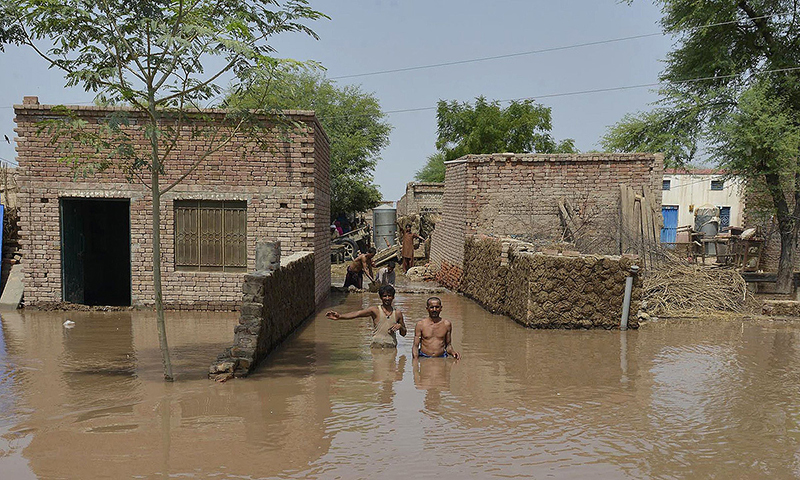 Against the backdrop of the current political deadlock in Pakistan, many other important issues affecting thousands of people have been sidelined.
The media is all eyes and ears for the fiery speeches, debates and discussions in the power play, and the awareness definitely plays an important role in stabilising the situation.
But what about the section of the populace greatly affected and displaced by the current war in north west Pakistan and the floods?
At least 193 people have lost their lives and 164 injured across Pakistan during floods in the first week of September. The overflowing rivers are wreaking havoc on already frail infrastructure in many regions in Pakistan.
Read on: Sindh prepares for looming flood
According to the National Disaster Management (NDMA) report, 28, 538 people have been affected in Punjab and Azad Jammu and Kashmir.
The number of people displaced by floods at this moment is still unknown. Sadly, even catastrophes of this magnitude can't bring our politicians together and prioritise these issues.
Just a glance at the record of floods from 2010 to 2014 shows how major a threat monsoon rains currently are. Surprisingly, in the 2010 floods, the number of individuals affected exceed the total of individuals affected by the Indian Ocean tsunami in 2004, Kashmir earthquake in 2005 and the Haiti earthquake in 2010.
And the loss of lives is not limited to the figures or numbers reported every time in the media.
How many more red flags do we need to realise that climate change is an issue which affects all of us?
It is sad to know that globally, the people most affected by climate change are the ones who are least responsible for it.
Perhaps that's why we're so resistant to the climate change alarm, which sits comfortably amidst us as we go about our agendas with the 'business as usual' approach.
Take a look: Chenab now torments south Punjab
There is near-universal agreement among activists that efforts to limit carbon emissions have failed miserably, and that failure doesn't come because the movement has embraced the oxymoron of "sustainable growth" or because it needs to work more closely with the business community. Rather, it's because climate change activism is not challenging the key invisible narratives that drive our civilisation.
Being part of the Rio+20 UN Earth Summit held in Brazil, I can say that the willingness to acknowledge the threat and act accordingly is lacking.
Now with another UN Summit on climate crisis in September, it is hoped that meaningful action will be taken. We have had enough talks sitting comfortably in the past behind closed doors.
Earlier talks have ended mostly without reaching any important conclusion or an action plan. It should be more than just about choosing an exotic destination, inviting world leaders and activists to talk. We have had enough talks and it is no rocket science that we are destroying the biodiversity which allows nature systems to work efficiently.
It is time to take action if we want the seven billion people living on this planet to live with finite resources. No amount of funds can save us if we keep on destroying and polluting the soil, water and air which keep us alive.
Read on: Sindh prepares for looming flood
The People's Climate March to be held on September 21 aims at gathering hundreds of thousands of people in the streets of Delhi, New York, London , Berlin, Rio de Janeiro and Jakarta; and pressure world leaders who will be gathered for the UN Secretary General's Climate Summit to take action on global warming.
This is the largest mobilisation in the history of climate change and it wants to send a strong message to the world leaders — it is time to take action.
"People from across the planet will be making sure that leaders gathered in New York know the demand for action comes from every corner. This is the first truly global problem, and it has spawned the first truly global movement," says Bill McKibben, co-founder of 350.org.
In Pakistan, the issue of climate change is often sidelined and replaced with more "important issues", without the acknowledgement that the social, economic and political issues are all intertwined.
The earthquakes, the floods, the energy crisis, the rising temperatures, the unavailability of clean drinking water — are these not 'important' enough problems? Or is it just that we choose to stay aloof?
Also see: A flood of wrong moves
Recently, most Pakistanis rejected the hypothetical UN Study based on a conjectural 9.0 magnitude earthquake in the Makran Trench (a meeting point for Arabian and Eurasian tectonic plates, off the coast of Pakistan). The study stated that Karachi, home to around 18 million people, could be wiped out by a tsunami if something like that happens.
Karachi experienced a tsunami in the past too. In 1945, around 4000 people lost their lives to it.
Instead of being sceptic about it, it is time to take aggressive measures to counter climate change. We are already seeing and feeling its effects.
Let's not shut our eyes to it.