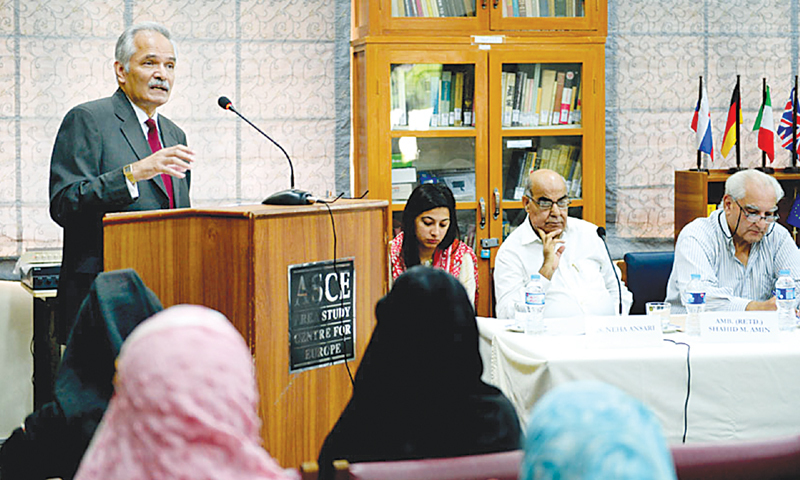 KARACHI: Predicting what is going to happen in Afghanistan is a hazardous and a perilous business, as the situation in Afghanistan is complicated due to regional dynamics, said Dr Rifaat Hussain, head of the department of government and public policy at the National University of Sciences and Technology, on Thursday.
Dr Hussain, who has written four books including Afghanistan and 9/11: The Anatomy of a Conflict, was speaking at a seminar held at the Area Study Centre for Europe, Karachi University.
He presented his paper on four competing powers and their overlapping interests pertaining to Nato's drawdown in Afghanistan at the seminar.
In his introductory remarks, Dr Hussain said that he'd have preferred to talk about the brewing crisis in Islamabad where he is based. One could see several people nodding in agreement as the academic promised to speak on the subject towards the end of the seminar.
Speaking at length about four countries and their involvement in Afghanistan, he began with Pakistan's interests, the instrumentalities to achieve them and factors complicating these interests. "Pakistan wants peace and stability in the country and this has been articulated by Pakistan's policymakers. Moreover, unlike in the past, Pakistan does not have preferred partners which is a fundamental change in Pakistan's stance at least in its rhetoric. For instance, previously we always thought that without giving the Pashtuns their share in power there would be no peace in Afghanistan but this is no longer the case. Regardless of the ethnicity of the next Afghan president, Pakistan does not have preferences."
Another interest is the stability of Pak-Afghan border that Dr Hussain opined was not being achieved despite several mechanisms in place.
He referred to two instrumentalities which Pakistan was trying to negotiate with Afghanistan. One was the desire to build a gas pipeline. "I am referring to the Turkmenistan-Afghanistan-Pakistan-India pipeline, which is supposed to be a stabilizing force." By aligning with China, Pakistan was attempting to secure its neighbour, he added.
But due to the protracted conflict, peace spoilers such as criminal gangs, mafia groups flourished in the country, which was one of the complicating factors, according to Dr Hussain. Moreover, he said, civil-military relations in Pakistan could also add to the complication. "Are these sectors totally aligned with each other vis-à-vis Afghanistan? That is a key question."
Chinese interests in Afghanistan
The academic was of the opinion that China pursued peace and development and was extremely interested in insulating itself against the negative political influences and the outflow of arms in Xinjiang. "Those of you who follow China would have noticed that a national commission on security was set up by the Chinese president whose primary responsibility is to manage security in Xinjiang. The unrest in Xinjiang has linkages to Afghanistan," he said.
According to him, the Chinese have invested in Afghanistan in several development projects driven purely by commercial considerations. "They are reluctant to entangle themselves in the security situation post-withdrawal of the US and Nato forces. They are looking to Pakistan to stabilise Afghanistan to provide support for its commercial interests," he added.
Indian goals
"India would loathe seeing Taliban's return to power as that would mean an end to Indian investment in Afghanistan and reduction of its security presence. Another goal is to reduce Pakistan's influence in Afghanistan."
One of the ways, he said, was to provide alternative access to Afghanistan for reaching ports through Iran. "Indian infrastructure projects in Afghanistan include building an extensive road network linking to the Iranian port of Chahbahar." According to estimates, Indian investment in the social sector that includes schools and hospitals in Afghanistan is approximately three billion dollars.
Dr Hussain said rivalry with Pakistan and lack of a contiguous border with Afghanistan were the difficulties that India would have to deal with. "However, how hard India may try to shape Afghanistan future to its liking, by destablising Pakistan, it will not be able to have an enduring influence in Afghanistan."
Iran and non-Taliban actors
"Iran also will not like the return of the Taliban to power. It is working with non-Taliban actors to consolidate its presence in Afghanistan," said Dr Hussain.
According to his assessment, Iran would seek deeper engagement with non-Pashtun Farsi-speaking elements and try to work with India to stabilise Afghanistan. Difficulties that Iran could encounter in relation to Afghanistan include competition with Pakistan, threatening US military presence in Afghanistan and danger of Pashtun anger.
Islamabad deadlock
Talking about the brewing crisis in Islamabad, Dr Hussain commented that Imran Khan and Tahirul Qadri were saying the right things for the wrong reasons. "I am not inclined towards them but the fact of the matter is that there has been a total impracticality of the political system that has failed to address the problems of the general public. Khan is highlighting the corrupt system and massive rigging during elections. Qadri wants to know that with 11 people killed in broad daylight and more than 100 persons wounded, how is it that the Punjab government continues to function," he said, adding that they needed to be given credit for at least raising the questions.
Former ambassador Shahid M. Amin discussed European involvement in Afghanistan role at the seminar which was done in collaboration with the Hanns Siedel Foundation. Other speakers included Dr Tanweer Khalid who presented a paper on the prospects of peace in South Asia in the context of inter-state conflicts and Dr Uzma Shujaat, director of the Area Study Centre for Europe, talked at length about the possible emerging regional dynamics after the withdrawal of Nato forces from Afghanistan.
Published in Dawn, August 22nd, 2014