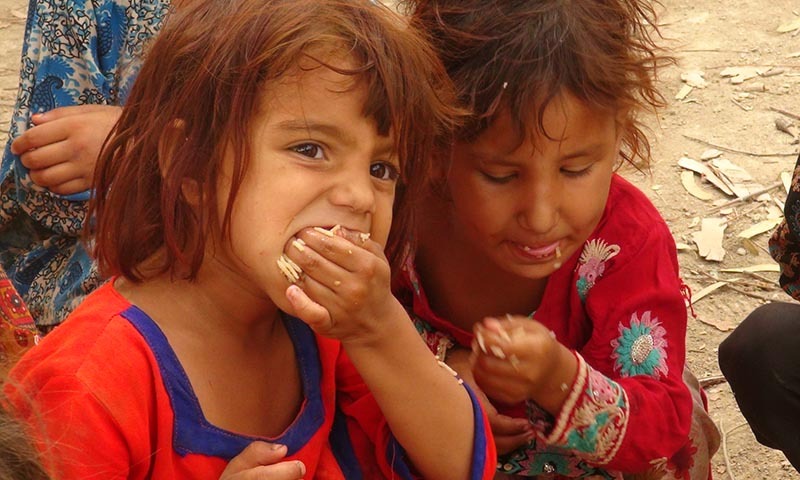 BANNU: The number of internally displaced people (IDPs) registered with the Fata Disaster Management Authority (FDMA) reached 910,040 on Saturday and those feeling from North Waziristan Agency face health related challenges.
As the registration of the internally displaced persons (IDPs) continued for the sixth day in Peshawar, 4,500 people were added to the list, which according to the FDMA has reached to 80,122 families, among them 235,499 are male and 261,734 are female, and the rest 393,636 are children who are faced with sever health hazards and ailments.
Almost half of that number, mostly children and women, face serious health hazards due to poor hygienic conditions, in addition to severe hot weather which has increased ARI (Acute Respiratory Infection), gastro infections, skin and other water borne diseases.
Hundreds of patients mostly children, women and elderly tribesmen are arriving at hospitals with gastroenteritis, ARI infections and diarrhea infections but further, the hospital conditions and facilities are inadequate to cope with the situation.
Many of the IDPS are complaining that the children are the most affected as many of them are malnourished as well.
Living in highly unhygienic conditions has multiplied their problems and the infection ratio is very high due to poor sanitation.
Yousaf Shah of Mirali, who brought his two children to the Khalifa Gul Nawaz Hospital now run and managed by the army stated that rashes and break outs of the skin have appeared on his children who are also suffering from stomach ailments.
He said that most people are suffering from diseases as they are living in highly congested environment with at least 20 to 25 people living in one room.
Furthermore, he said the drinking water and toilet facilities at the host families houses and schools were really poor and could not cater to their needs.
Akran Wazir from Dattakhel who was visiting the District Headquarters Hospital for treatment had a severe heat stroke, while his children were also suffering from gastro infection.
He said that the people living beyond Miramshah belonged to colder areas and the heat here (at the IDP camps) was beyond tolerance.
Dr Sartaj Khan DMS women and children Hospital Bannu says that mostly children are coming with cases of diarrhea, vomiting and severe heat strokes, adding that cases of malaria and typhoid were also on the surge.
He said that since May 16 so far the hospital has treated more than 21,780 patients out of which more than 5000 are children, while the remaining are women. He also said that about 532 deliveries have taken place out of which 85 were through surgery and the remaining were normal births.
He said that earlier they were faced with shortage of medicines and vaccines but now because of the support provided by the army and the donors, the supplies are sufficient to cater to the needs of the patients.
The load shedding he said had also added to their problems, however, now the authorities have provided a direct line which has solved that problem.
Medical Superintendent of District Headquarters Hospital Bannu, Dr Nazir Ahmed says that the hospital OPD treated at least 77 IDP patients with gastro and Acute Respiratory Infections (ARI) on Friday while the number was around the same on Saturday.
He further said around 250 to 300 patients have also been treated by the PIMS doctors at the District Headquarters Hospital for gastro and ARI infections, adding the other hospital are also receiving patients for similar ailments due to severe hot weather and poor hygienic conditions.
Health experts are also of the view that severe heat, congested environment, unhygienic food and water besides the dust and environmental contamination is also causing respiratory diseases among the IDPs, especially in children and elderly patients with low level of immunity.
The World Health Organisation has already cautioned about the health of the IDPs population and called for medicine supplies for water borne diseases, besides the availability of trained staff to cope with the growing health problems of the IDPs.
The displacment of North Waziristan residents began with the Pakistan Army's announcement of a grand operation named 'Zarb-i-Azb' against Taliban militants in the stronghold following a Tehreek-i-Taliban Pakisitan-claimed attack on Karachi airport and failure of peace talks between government and Taliban negotiators.
---
Safron disburses Rs346.152m in cash to IDPs
---
According to a report submitted to the Prime Minister Muhammad Nawaz Sharif, all federal institutions under the directions of PM are coordinating effectively for better IDP's management, which includes Ministry of States and Frontier Regions (Safron), Pakistan Army, National Disaster Management Authority (NDMA), Fata Disaster Management Authority (FDMA), National Database & Registration Authority (NADRA), Water and Power Development Authority (WAPDA), etc.
Cash amount to 28,846 families has been distributed so far.
Total cash distributed by Safron stands at Rs346.152 million. Further financial assistance will be distributed through Zong SIMS only.
So far 27,767 SIMS have been distributed and more than 15,000 SIMS have been activated.
In addition to the establishment of IDP's Camp, availability of refreshment boxes with mineral water and dates for all arriving families, provision of polio vaccination and availability of electricity, the details of facilities at registration and facilitation points are as under:
10 Waiting areas set up for both males and females with shades
20 Registration desks established
20 Water and Tanks
Five Ambulances - 5
Four NADRA Facilitation points
Six Lavatories
Initially, the site of the camp was selected at Kashoo Bridge on Bannu-Indus Highway Link Road at a distance of 15 Km from Bannu City. Therefore, the activity was required to be managed by the Provincial Disaster Management Authority (PDMA) having their administrative jurisdiction.
However, on the insistence of Law Enforcing Agencies, the site has now been shifted to Baka Khel (Frontier Region Bannu) near Baran Dam.