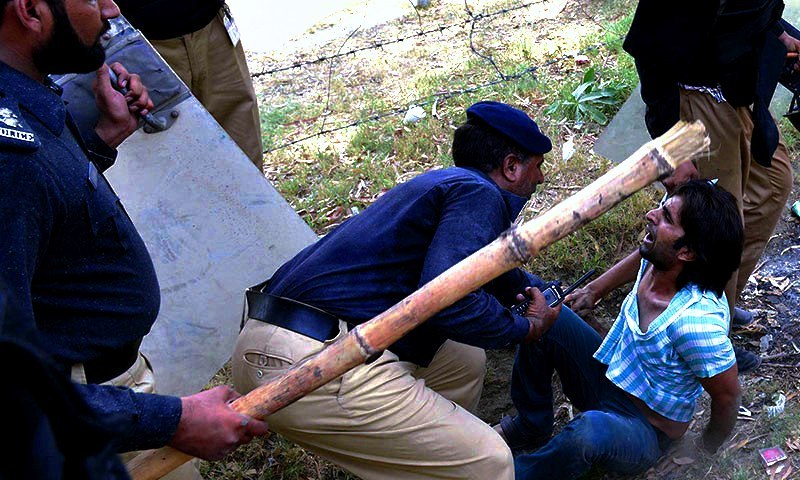 Tuesday's senseless bloodshed in Lahore suddenly sent the political temperature in the country soaring and people are wondering what to expect on June 23 – sense or more senselessness – when Dr Tahirul Qadri, chief of Pakistan Awami Tehrik (PAT), arrives from Canada to launch his anti-government campaign.
Though the rulers of Punjab immediately distanced themselves from the brutal police crackdown on PAT workers in Lahore and took some actions to calm down the situation, they are yet to tell the Rawalpindi police how to deal with the potentially explosive situation that many in the force think awaits them on the arrival of the PAT chief.
Dr Qadri, whose Emirates Flight EK-612 is scheduled to land at the Benazir Bhutto International Airport at 7:30am on Monday June 23, has already rejected the judicial probe and other actions of the Punjab government as symbolic and designed to contain the political damage the police brutality has caused to the ruling Pakistan Muslim League-Nawaz (PML-N).
Intelligence agencies have reportedly suggested to the government to let the opposition stage peaceful protests and avoid violent political confrontations. The resignation of Rana Sanaullah from the Punjab cabinet shows the top PML-N leadership is willing to rein in its hawks.
Still the onslaughts planned by Dr Qadri's PAT, Imran Khan's Pakistan Tehrik-e-Insaf and Sheikh Rashid's Awami Muslim League during the sizzling summer loom as fearsome.
"Tuesday's police action in Model Town (Lahore) will be remebered as 'Operation Nonsense', and will not go without divine retribution," said a high-ranking police officer who has served in Islamabad, Rawalpindi and with UN peace missions abroad and is currently posted in Lahore.
"How our police system deteriorated so much without a civil war," he wondered, and appeared to reply himself by adding "I am ashamed as a police officer that my colleagues are in such a mad 'compliance mode'."
In his opinion, "it is time to decide to make police independent, accountable and professionally competent".
Meanwhile his colleagues in Rawalpindi had other pressing thoughts on their minds.
Asked about police's crowd control plan on Dr Qadri's arrival, Regional Police Officer Akhtar Umar Hayat Laleka said that any citizen, belonging to any party, who wanted to protest "will be made to follow discipline". "And if a law and order problem is created, then it would be solved in a manner the situation demands," he added.
According to him, it is not yet decided whether to allow people access to the airport or restrict them to some place at a distance.
But at the same time RPO Laleka echoed Airport Security Force's decision to let only passengers holding air tickets into "the airport premises" and nobody else.
"Due to security concerns, nobody would be allowed inside the airport premises or to disturb the air-traffic and passengers," he said.
Despite the potential of a violent home-coming of the Canada-based religious leader, RPO Laleka did not feel the need of asking for extra police from Punjab. "The local police force is enough to handle the situation," he said.
His confidence may be reassuring, but the local police had been without an operational chief since SSP Muhammad Maqbool left the post rather than work under City Police Officer Humayun Bashir Tarar, an officer junior to him.
Other senior officers too are unwilling to fill the vacant post of Operations Chief for the same reason. And Tarar remains in his post because, according police sources, he enjoys "good relations" with PML-N scion Hamza Sharif, son of Chief Minister of Punjab and newphew of Prime Minister Nawaz Sharif.
Tarar's relations with media have soured since a SHO put up a notice at his police station asking journalists not to visit him for information. Mr Tarar believes the SHO did a good job in keeping the news seekers out, who in response announced a boycott of the CPO.
Published in Dawn, June 21st, 2014