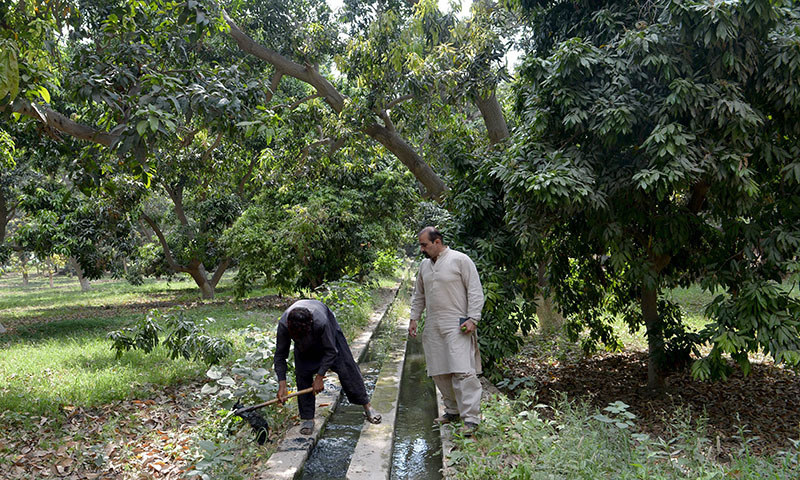 RAJBAH CHAWAN: Pakistani mango growers are hoping to take a slice out of rival India's export market thanks to tough new European regulations.
The sweet yellow fruit is a contentious matter regionally, with both countries proclaiming it a national treasure and fighting over whose specimens are superior.
Economically, at least, mango exports are one area where Pakistan appears to have a slight edge.
According to respective official figures, Pakistan last year exported around 100,000 tonnes for a revenue of $48.6 million over India's 56,000 tonnes for $44.6 million.
But a European Union (EU) ban on India's prized Alphonsos, known as the "King of Fruits", has presented Pakistan with a chance to widen the gap.
The embargo came into force on May 1 after many shipments were found to contain fruit flies and also affected four types of vegetable.
For Raja Ijaz Ahmed Noon, parliamentary secretary for Pakistan's breadbasket Punjab province, improving farming standards and learning where India went wrong is critical to cashing in.
"We are taking this development as positive. We are trying to learn from the mistake which India has made," he said.
In this photograph taken on May 10, 2014, Pakistani landowner-farmers gather in a seminar at a fruit farm some 40 kilometres north-east of the central city of Multan. — Photo by AFP
Noon was speaking after a seminar of 50 landowner-farmers at a fruit-farm 40 kilometres north-east of the central city of Multan to learn new methods of protecting mangoes from hazardous insects.
"We have a potential to export 40 per cent of our total production of mangoes and this year we will try to improve our exports up to 16 percent," he told AFP.
---
Sex-traps and hot baths
---
Syed Ismat Hussain, a senior pest control official, said his department was visiting farms and orchards to spread the word about the lucrative profits available if Pakistan can continue to meet EU standards.
"Fruit fly hasn't only affected India but has threatened our orchards also. So we have devised simple but scientific methods to control it," he said.
In this photograph taken on May 10, 2014, Syed Ismat Hussain (L), a senior pest control official hangs plastic bowls on a mango tree that are laced with chemicals that mimic female-fly pheromones to attract males, at a mango farm some 40 kilometres north-east of the central city of Multan. — Photo by AFP
Experts are busy hanging plastic bowls on mango trees that are laced with chemicals that mimic female-fly pheromones to attract males.
"The holes are for the flies to enter, but they never fly out," said Hussain. The so-called sex-trap is fast becoming an industry standard.
Meanwhile, a special awareness campaign on fighting the insect has also been initiated in newspapers and on television and social media.
Syed Zahid Hussain Gardezi, President of the Mango Growers Association of Pakistan (MGAP), described the taste of Pakistani mangoes as "mesmerising" and said he was hopeful about the chances for global growth in markets such as the EU, America and Canada if the campaign was a success.
"We have to work very meticulously, very scientifically to capture those markets," he said.
The experts had also being extolling the benefits of so-called "hot water treatment" which involves immersing the fruit in water at 52 degrees Celsius to kill larvae within the mango pulp.
The practice has become a common substitute for fumigation that is seen as harmful to human health.
Habib Agha, an exporter who sends his fruit to Scandinavia, told AFP his mangoes were already of top quality and he hoped to increase his shipments four-fold this year.
"There is a demand from the European Union that there should be no fruit fly in our fruits, it should be hot water treated, it should be anti-fungus, it should be washed properly. We (have) got these facilities in Multan now," he said.
---
Sensitive fruit
---
Despite a growing sense of optimism, there are several factors holding back the export market.
The fruit is most abundant in the southern Punjab, but the regional airport in Multan lacks direct flights to many major international capitals, meaning the mangoes must travel for hours by road to either Lahore or Karachi.
The mango is a sensitive fruit and needs plenty of irrigation, while long periods in cold-storage can negatively impact on fruit quality.
Pakistan's chronic energy crisis means farmers are at times unable to use their water pumps to irrigate fields, while the increasing irregularity of the traditional monsoon season has exacerbated the issue.
"We are facing a shortage of water, simultaneously we have power cuts,"said grower Muhammad Ali.
"We can't produce good quality mangoes unless we have a proper watering system."
---
Indian mango ban prompts protest in Britain
---
A ban on European imports of India's Alphonso mango, prized for its perfumed aroma and buttery flesh, is drawing anger from British Indians, who say the move is unfair and deprives them of one of summer's sweetest flavours.
The "king of fruits" and other Indian mangoes were banned by the European Union from May 1 after fruit flies which officials said could threaten crops were found in shipments last year.
While a fightback has been launched, many British Indians are resigned to going without their favourite Alphonsos for now, while the businesses who supply them are losing out financially.
Ahmed Khan, working on his stall in Tooting, south London, an area with a large south Asian population, said the move would hit him hard.
"It's not fair, it's going to mean we miss out on half our mangoes this year, half our business," Khan, 55, told AFP. "Life is too short for politicians to interfere, I hear they are now exporting Alphonsos to Pakistan, because there is a glut and they are very cheap."
Rohit Shah, of nearby Bhavin's grocers, said the Alphonso, which can be eaten alone or used in everything from lassis to chutney, had no rival in terms of taste.
"It's the smoothness of the flesh and the unique flavour, the flesh is fibreless which is what makes them so good," said Shah, 62. "Even during the time of the British Empire they said they were the best."-
---
'Brussels sprouts vs mighty mango'
---
Britain, the former colonial power in India, has the EU's largest Indian diaspora community.
British Indians number around 1.4 million out of a total population of some 60 million.
Citing pressure from disappointed constituents, one lawmaker raised the ban in the House of Commons last week.
Keith Vaz said British citizens consumed 12 million mangoes last year alone and predicted the ban, due to run to December 2015, could cost British businesses over £10 million ($16.8 million).
"The EU has treated an important trading ally, which represents a sixth of the population of the globe, with disrespect," said Vaz, of the opposition Labour party, in a special debate. "The Brussels sprouts have decided to take on the mighty mango. I know whose side I am on."
A petition to the British government urging a reversal of the ban on Alphonso mangoes, first grafted in Portugal's Indian colonies in the 1500s, has attracted over 2,300 signatures.
Prime Minister David Cameron has pledged to raise the issue with his new Indian counterpart, expected to be Narendra Modi following his party's landslide win in the general election.
Some, including Vaz, also argue that the issue could have wider repercussions for trade relations with India at a crucial point.
Talks between India and the EU on free trade have been dragging on since 2007 and India has threatened to take the EU to the World Trade Organisation over the ban, warning it could have "very negative fallout".
"With a new Indian government expected to put long-stalled EU free trade talks at the top of its agenda, the mango ban could not have come at a worse time as it risks souring discussions before they even get going," Allie Renison of business lobby group the Institute of Directors wrote in the Daily Telegraph.
"But while the geopolitics of trade rattle on, financial losses incurred by thousands of businesses importing and selling India's lucrative Alphonso mangoes will accrue by the day."
Now you can follow Dawn Business on Twitter, LinkedIn, Instagram and Facebook for insights on business, finance and tech from Pakistan and across the world.