A scene from movie, "Gunday". – Courtesy Photo
Ruffian, coal-robbing blood-brothers, separated by a woman's touch.
When the frames in
Gunday
aren't marveling at the chiseled, sweat-dripping, bronzed-out physiques of its leading actors – which is seldom – the movie accomplishes a rare feat in today's oh-so-modern Bollywood moviemaking flair: it goes 80-ish retrograde.
For the most part the groundwork, which begins in 70's Bangladesh partition, fixes on Bikram and Bala (Darshan Gurjar and Jayesh V. Kardak), two early teens who eventually, and narrowly, escape the long (and cruel intentioned) arm of the law, on a coal train to Calcutta (cue in, a lot of establishing shots of Howrah Bridge).
A scene from movie, "Gunday". – Courtesy Photo
Bikram and Bala, sans adult compassion, and desperate for recognition (they are labeled worthless refugees), kick-up their survivalist tendencies and become modern-day "gunday" (they grow up to be Arjun Kapoor and Ravir Singh), living an above-the-law, common man championing, romance-free, booze-gulping existence. At times, up until the intermission it's tricky telling them apart (one has a wry-smile and a thick twisty moustache, the other is easy to tick off).
Here enters, out of a men's room toilet, Nandita, a cabaret dancer whose off-screen wardrobe includes a lot of scantily designed sarees – and the two, as if they've never seen a confident, sultry, out-of-their-reach woman, go ga-ga. Soon, the two are tossing coins, over who gets to woo her first. Meanwhile, Satyajit Sarkar (Irrfan Khan), India's only honest cop chock-full of his own hammy-ego, declares open war on our gunday's. (In a fit of man-ego, he burns down years of evidence on our guys).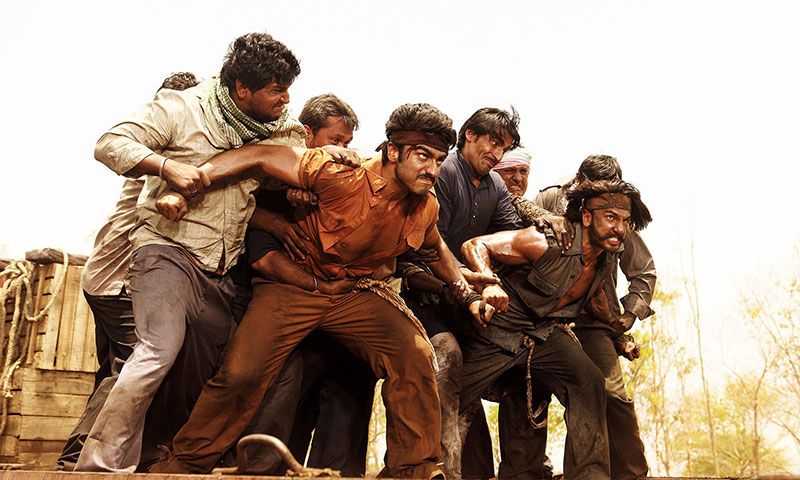 A scene from movie, "Gunday". – Courtesy Photo
There are a couple of things I don't get in writer/director Ali Abbas Zafar's screenplay: although the narrative (and the dialogues by Mr Zafar and Sanjay Masoom) emphasizes on Bikram and Bala being ruffians, we don't see them committing acts of larceny; it's almost as if the screenplay is wary of portraying them as anything but heroes. Instead these boys – mostly governed by their sense of self-righteousness – are kind entrepreneurs, building a businesses and charity hospitals.
We're also expected to take the movie's word of their immediate love-lost hearts at the expense of an utter lack of compelling romantic evidence (the lackluster songs by Sohail Sen don't help their situation at all).
A scene from movie, "Gunday". – Courtesy Photo
Bikram and Bala's bro-mance is a far better substitute – and for the most of part, Mr Zafar, (his skills fine-tuned since "Meri Brother Ki Dulhan"), is content framing his hair-free chested leading men, exchanging knowing glances. Their blood-brother bond, and Mr Singh's and Mr Kapoor's chemistry, is so strong at times, that one doubts the rift a "woman's touch", creates.
Mr Singh, no matter the ridiculousness of the story's narrative, has a compelling presence; Mr Kapoor, four movies old now, meanwhile, is still green. Ms Chopra is pedestrian, with one good scene, and Mr Khan still has concentration problems (his acting style often has him looking away from, or at the shoulders, of his co-actors).
A scene from movie, "Gunday". – Courtesy Photo
Notwithstanding the superficial performances of its cast, Gunday is excellent, but only until Mr Gurjar and Mr Kardak's part. After that, the movie's only interest seems to be Mr Singh's Ram-Leela-esque hair, Mr Kapoor's latter-part Gulshan Grover-esque turn, or the brief twist one may see coming a mile away.
Rated U/A, "Gunday" is released by Yash Raj Films in association with Geo Films.
Directed by Ali Abbas Zafar; Produced by Aditya Chopra; Screenplay by Mr. Zafar; Cinematography by Aseem Mishra; Edited by Rameshwar S. Bhagat; Music by Sohail Sen.
Starring: Ranveer Singh, Arjun Kapoor, Irrfan Khan, Priyanka Chopra, Saurabh Shukla, Anant Sharma, Darshan Gurjar and Jayesh V. Kardak.