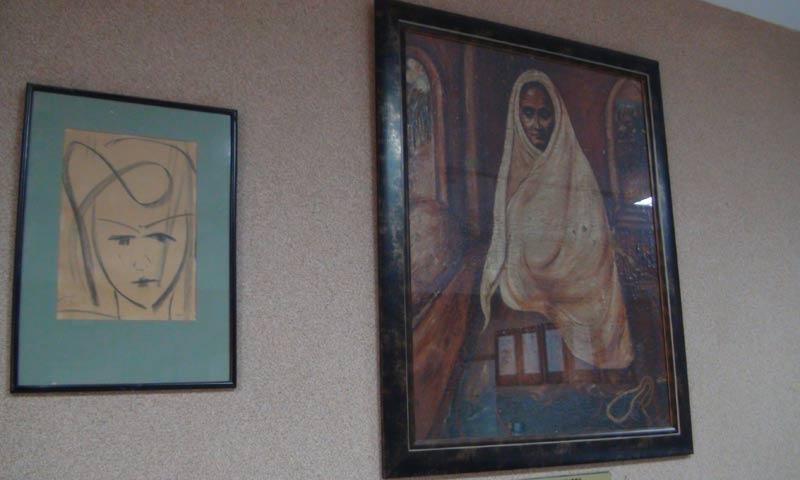 Dr Salimuzzaman Siddiqui can be called the last Renaissance man, as he was a polymath of social and natural sciences. He was a chemist, philosopher, artist, critic of literature and a visionary of science.
Born at October 19, 1897 in Subeha, district Bara Banki, India. He absorbed the literary tradition of Lucknow and finished his BA in Persian literature and Philosophy. In his biography, S.M Ismail mentioned his date of birth as October 17.
Dr Siddiqui spent much of his childhood reading epic stories like Tilism –e-Hosh Ruba and Daastan–e-Amir Hamza, or observing nature which most likely broadened his thinking. He also finished five basic Urdu books of Ismail Meeruthi and basic Persian language during his early education at home.
At the eve of World War I, he moved to University College London to study medicine but was later urged by his elder brother, Chaudhry Khaliquzzaman, to go to Germany for chemistry as it was the best place for this field.
Artist first, then chemist
In 1921, the young Salimuzzaman went to Germany to learn chemistry at the University of Frankfurt.
During time consuming chemical procedures, he sketched many pieces. In 1924, Siddiqui's first drawings were displayed at the Galerie Schames in Frankfurt.
His work was exhibited alongside painters like Emile Nolde and Muller. The leading newspapers of the day appreciated his work.
The second exhibition of his paintings was held in 1927 at the Uzielli Gallery, Frankfurt, and on that occasion he received a thousand gold mark – his first earning in life.
At the University of Frankfurt, he usually worked from 8am in the morning till 8pm and often slept in the lab. In 1927, he completed his doctorate under eminent chemist Julius von Braun.
At that period in time, Germany was hit by extreme inflation and Salimuzzaman was out of cash. In these tough times, eminent physician and philanthropist Hakeem Ajmal Khan regularly sent him Rs400 every month. Years later, Salimuzzaman repaid Khan's kindness by dedicating his discoveries after him.
Father of Holarrhena chemistry
He published more than 300 research papers and obtained 40 patents mainly from the field of natural product chemistry.
Dr Siddiqui was a pioneer of research on Rauwolfia Serpentina, a flowering plant of Asia with many medicinal agents.
After his return to India, at the newly established college of research on traditional medicine led by Hakim Ajmal Khan, he found nine new alkaloids from Rauwolfia Serpentina.
Alkaloids are useful chemicals that occur naturally in plants or trees. Morphine, caffeine and quinine are a few examples of such compounds.
Dr Siddiqui named them as ajmaline, ajmalanine, ajmalacine, isoajmaline and others, dedicating them to Hakim Ajmal Khan.
The world found amazing healing effect for blood pressure, cardiovascular and mental diseases in the alkaloids discovered by Salimuzzaman. Many pharmaceutical companies translated them into drugs and earned tens of millions of rupees.
Similarly he also discovered an effective treatment of dysentery – an inflammatory disease of intestine causing blood and mucus in the feces – by extracting many important medicinal compounds from a plant called Holarrhena antidysenterica.
In 1966, he was called the 'the father of Holarrhena chemistry' in a conference at Prague University, in then Czechoslovakia.
Salimuzzaman wrote 18 research papers on Holarrhena chemistry. He also worked on many medicinal plants and extracted vital chemicals from them. Study of Neem tree – the natural drug factory – was another passion of his research.
He wrote more than 15 research papers on Neem (Melia Azadirachta) and also discovered many important chemicals and isolated three new crystalline triterpenoids called nimolicine, nimoline and 17-B-hydroxyazadiradine.
In 1940, he became the Director of the Indian Council of Scientific and Industrial Research (ICSIR), Calcutta, where Dr Shanti Saroop Bhatnagar was incharge and he asked Dr Siddiqui to work on election ink to curb bogus voting.
In his book about Dr Salimuzzaman, Dr S M Ismail mentioned: 'Bhatnagar sent a sample containing silver chloride which when applied would not stain the skin until much later. I fixed it with silver bromide and the staining power improved instantly. I sent the sample back with the same messenger who had brought it. It was shown to 8 members of the Election Commission, all of whom tried it on their fingertips. It instantly dyed their skin.'
The same formula is still being used in Pakistan and India.
Services for Pakistan
He was Director of ICSIR in 1947 and was supervisor of some 40 students, 38 of whom were Hindus. During the eve of anti-Muslim riots in Delhi, his Hindu students protected him particularly on his way to the labs and his home.
In 1948, Dr Siddiqui called upon Prime Minister Jawaharlal Nehru and showed him a letter of Liaquat Ali Khan who requested from India to acquire the services of Dr Salimuzzaman Siddiqui. Nehru also advised him to go to Pakistan.
In 1951, he came to Pakistan and established many laboratories under an umbrella institute named Pakistan Council for Scientific and Industrial Research (PCSIR). Modern laboratories were later established at Lahore, Dacca, Rajshahi, Chittagong and Peshawar.
He can be considered as a pioneer of research and development in Pakistan. He also established Pakistan National Science Council and was appointed as its first chairman in 1961. In the same year he became the Fellow of the Royal Society (FRS).
He was also a founding member of the Pakistan and Indian Academy of Sciences.
Among his countless achievements, two are of great economic importance; he worked on desulphurization of Pakistani coal and extracted a powerful insecticide as a by-product and also discovered feasible ways to extract iron from Kalabagh area.
Pakistan's top mathematician and educationist, Dr Raziuddin Siddiqui wrote; 'When war with India broke out suddenly in 1965, it was found that the Defence Services required a number of immediate measures for repairs and service ability of arms and other machines and tools of defence. Dr. Salimuzzaman made the necessary arrangements for this vital task he did it with his colleagues at the PSCIR. It was the most valuable work in the national emergency.'
HEJ research institute of Chemistry
In 1966 he retired from PSCIR and started work on a postgraduate research institute in Karachi. Later it was named as the Hussain Ebrahim Jamal (HEJ) Research Institute of Chemistry. The Hussain Ebrahim Jamal Foundation generously donated Rs 50 lakhs for the construction and expenditure of the institute.
The institute is now a hallmark for chemistry research in Pakistan. Half of all the PhD scholars produced in Pakistan annually belong to the HEJ institute. Here many research groups are now working at the frontiers of science gaining world recognition and international patents.
Dr Salimuzzan Siddiqui was a simple man. He even came to his lab even in his 90s. He never thought about fame and wealth.
He used to say that in his childhood he often observed dung beetle's which rolled small balls of dust, dirt and dung for their survival. This inspired the young Salim to not to live for the smaller things in life and be tied down by the burdens of a monotonous routine. He felt that he wanted to do bigger things in life such as working for the betterment of all human beings.
His reflections were imminent in his whole career as he established several state of the art laboratories in Pakistan and India but never built his own home.
He breathed his last on April 14, 1994 at the age of 97.