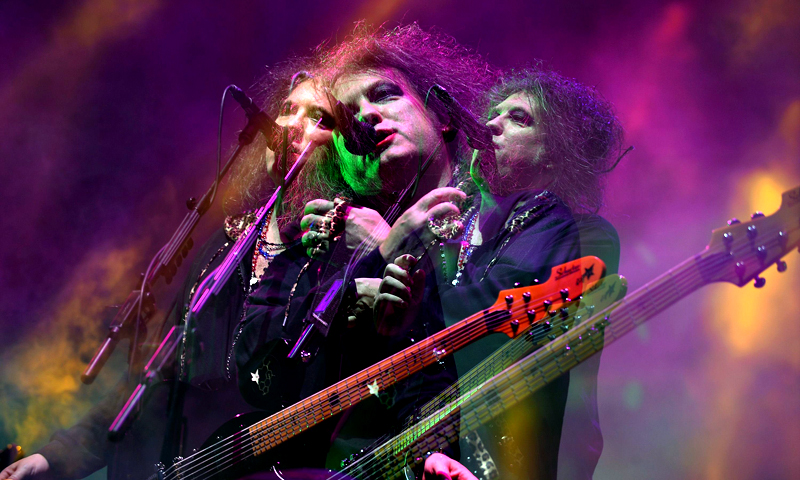 CHICAGO: Lollapalooza, the three-day music festival in Chicago's historic Grant Park, was bigger than ever this year with a lineup that honored its alternative rock roots and broadened its appeal to fans of folk, dance, rap and even country music.
A record 300,000 people took in nearly 150 bands playing on eight stages set up across the mile-long park lawn just across the street from the shores of Lake Michigan.
The varieties of music were as disparate as the concert attendees. Teens in brightly-colored tank tops bobbed to the bass music of Dillon Francis in the dance arena on Friday while goths in black swayed to Sunday's closing set by alternative veterans the Cure.
Vampire Weekend supplied the literary pop, singing about the Oxford comma, while country-rocker Eric Church sang about drinking Jack Daniels and getting stoned.
The chart-topping pop folk group Mumford and Sons drew some of the largest crowds on Saturday who heard their banjo-and-acoustic guitar rave-ups "I Will Wait" and "The Cave," after another folk group on the rise, the Lumineers, warmed up the crowd from a stage across the park's lawn.
The sold-out annual summer event, which last year pumped $120 million into the local economy and booked many downtown hotels to capacity this year, is Chicago's largest concert.
Nine Inch Nails, the veteran alternative band fronted by Trent Reznor, played the first Lollapalooza in 1991 and closed Friday night with their first U.S. gig in four years.
A large portion of the crowd was not even born when Reznor burst onto the scene with his aggressive industrial rock, breaking through with the song "Head Like a Hole," which they performed toward the end of their set. "I came here for the girls and (band) the Killers. I don't know who Nine Inch Nails are," said 15-year-old Ryan Coolidge, a resident of Chicago's northwest suburbs.
Two artists scheduled to perform Saturday night on the same stage abruptly canceled appearances. Rapper Azealia Banks was said to have come down with a throat ailment while Lollapalooza organizers announced that Death Grips, a rap group from California, "chose not to appear."
The festival largely went off without a hitch otherwise, with rains muddying fields early on Friday before sunshine and cooler-than-normal temperatures provided comfortable conditions for the fans.
Ben Gibbard announced that the show would be the last for his group the Postal Service. Local hip-hop artist Chance the Rapper, whose uplifting tales about rising above the gun violence on Chicago's streets, was such a success on a smaller stage that many could not get close enough to see the 20-year-old.
The dance stage Perry's - named after Lollapalooza organizer Perry Farrell - was one of the most popular. Bottom-heavy bass music dubstep dominated that area, with acts such as Baauer - known for his track "Harlem Shake" and the hundreds of social media dance routine videos it spawned.
Grant Kwiecinski, aka GRiZ, played saxophone over his squelching bass tunes. He first attended four years ago as a fan, an event that contributed to him making a career of music.
"My one experience with Lollapalooza was in 2009 - it was actually the first music festival I've ever been to," he said in an interview. "It was one of those very cool memories where it all starts to make sense to you very quickly."